Making Exercise a Priority
Much of the western world has cultivated a sedentary lifestyle. Because of technology much of our work is done at the computer, and much of our entertainment is done in front of a screen. Advancements in technology give us both benefits and hindrances, and we must change to compensate for both. We as a society have been quick to accept the benefits of technology, but we've had trouble adjusting to the hindrances, one of which is a lack of exercise.
We don't have to milk a cow. We don't have to walk to the store. We don't have to till our own ground. Our daily exercise has been lost, which is why we have to create our own. Our bodies and souls were created to enjoy the vigors of exercise. Without it, we lack energy, stamina and mental sharpness.
We fill our schedules with busyness, and we think we don't have time to work out. However, our priorities will always dictate their presence in our day. What we deem most important will inevitably make its way into our daily activities. Therefore, we need to understand the overarching importance of exercise to our health and quality of life, so we can make it a priority.
If we don't feel good, we can't fully embrace others and our destiny."
To be sure, God will give us grace when we are sick, and that sickness is out of our control. However, there are repercussions to living a sedentary lifestyle that we are fully capable of avoiding if we were to simply add exercise to our schedule.
For an easy-to-understand guide to exercise and health, read my award-winning fitness book, Fearlessly Fit: A 6-Week Fitness, Food & Faith Bible Study.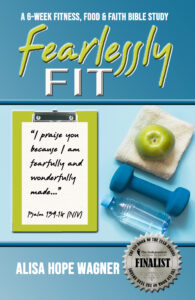 The following are 8 tricks to add 30 minutes of exercise into a busy schedule. Make working out a priority, and I promise you'll find a way to fit it into your day.
Trick 1 to Fit in a 30-Minute Workout: Wake up 30 minutes Early
I know this one seems basic, but it is one of the easiest ways to get your exercise done and feel good the rest of the day. Fasted exercise (working out before breakfast) can kickstart your metabolism and create a hunger for breakfast. Set your alarm for 35 minutes earlier. This will give you five minutes to get ready and thirty minutes to work out. Then you can jump into the shower like usual and get ready for your day. However, now you will feel energized and awake. Plus, you will have an important priority checked off of your to-do list, which will boost your confidence the rest of the day. Once you set waking up 35 minutes earlier as a priority, your body and mind will easily adapt to this healthy habit.
Trick 2 to Fit in a 30-Minute Workout: Combine your Quiet Time with your Workout
Many people aim to pray and read their Bible 30 minutes a day. Why not combine your workout with your prayer time? You can go for a walk and listen to the Bible on a Bible App or on Audible. Then when you've read (listened) to about 10-15 minutes of Scripture, you can switch to worship music and pray for your needs and for the needs of others. You can also worship the Father and let Him know how thankful you are for all of His blessings. You will be surprised at how being thankful and recognizing all God's goodness will uplift your spirit.
Trick 3 to Fit in a 30-Minute Workout: Combine your Entertainment with your Workout
This one takes a little training, but soon you'll be able to work out while allowing your mind to be entertained by a show, book, video, Podcast, etc. One of my favorite exercises while watching a show is to take a basic aerobic step and small hand weights. Then, I walk up and down on the step doing bicep curls with my hand weights for a 30-minute show or longer. But be careful! One time I watched an entire 2-hour movie while stepping, and my calves were sore for a week! You can listen to an audiobook while riding a stationary bike. You can watch a show while walking/jogging on a treadmill. The possibilities are endless!
Trick 4 to Fit in a 30-Minute Workout: Pack your Lunch and Walk the Steps
If you work at an office, instead of going out to lunch (which usually has more calories and costs more money) bring a packed lunch instead. This will not only save you money but time! If your office building has steps, grab your headphones and walk the steps going up and down for thirty minutes while listening to upbeat music. Then you can cool down at your desk while eating your healthy lunch. If you don't have stairs, then you can use a simple workout app that offers an exercise program using your own body weight. Or you can take a nice walk outside for thirty minutes. Whatever you decide, just get your body moving during lunch!
Trick 5 to Fit in a 30-Minute Workout: Find a New Hobby that Keeps you Active
There are so many fun things to do that don't include sitting in front of a screen. Why not take up a new hobby or revisit an old hobby? You can go golfing, swimming, salsa dancing, fishing, cycling, kayaking — there are so many exciting activities that get the heart rate going. If you are married, you can learn a new hobby with your spouse. Not only will you get exercise, but you will be adding quality time to your marriage. Or grab some friends and/or siblings and plan a weekly activity together.
Trick 6 to Fit in a 30-Minute Workout: Don't Just Sit There and Wait. Get Moving
If you are a parent, you know that your kids have so many activities. From piano lessons to ballet lessons to football practice and band practice, your kids stay busy and keep you busy waiting. Instead of just sitting in the lobby waiting for your kid to finish his/her 30-minute lesson, why not use that time to get moving. When my daughter took ballet, I would drop her off and take a thirty-minute jog. When my son had football practice, I would walk around the track. When my other son had piano lessons at the mall, I would walk the mall. There is no need to just sit there looking through social media on your phone. Keep a good pair of running shoes in your car, so whenever you have to wait, you can move instead.
Trick 7 to Fit in a 30-Minute Workout: Make the Park your Personal Gym
When my kids were very young, I used to take them to the park. While they were running around getting their exercise, I would get mine as well. I used all the different elements of the playground as my personal gym. The curb became my box for box jumps. The picnic table was used for tricep dips. The monkey bars allowed me to do pull-ups or hanging pull-ups (holding a pull-up position for 30 seconds). I would do lunges down the field. Push-ups on the basketball court. I would intermix some basic training exercises–jumping jacks, sit-ups and sprints — while keeping a watchful eye on my kids. After 30 minutes of exercise, I too was ready for my afternoon nap!
Trick 8 to Fit in a 30-Minute Workout: Do your Workout in Increments
If all else fails, and you just can't get a full 30-minutes, you can break your workout into increments. For example, when you go to the grocery store, park at the end of the lot and take a 3 to 5-minute walk to the store. If you have to take an elevator, take the stairs instead. If you have to get the mail, walk to the mailbox if it is farther away. If you're at the airport, skip the moving walkway and walk to your gate. Make every effort to get in 6 to 10 increments of exercise (3-5 minutes) a day, and you will hit your 30-minute mark.
Those are my 8 tricks to fitting in your 30-minute workout 5 days a week! If you have another trick, please leave it in the messages so others can add it to their repertoire of workout tricks!