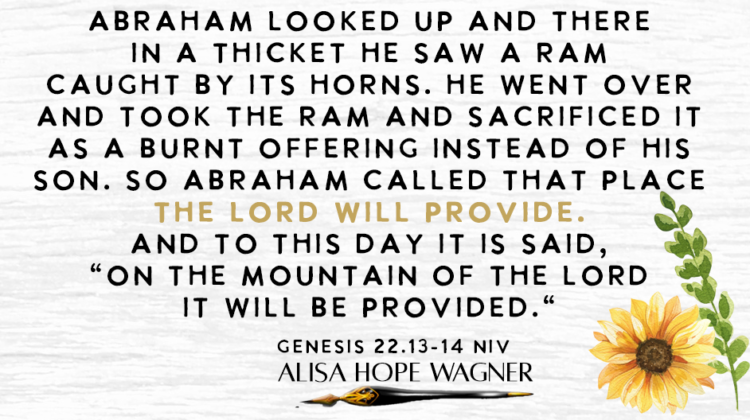 "Abraham looked up and there in a thicket he saw a ram caught by its horns. He went over and took the ram and sacrificed it as a burnt offering instead of his son. So Abraham called that place The Lord Will Provide. And to this day it is said, 'On the mountain of the Lord it will be provided'" (Genesis 22.13-14 NIV).
One of the names that Abraham gave God is Yahweh Yireh, which means "The Lord will Provide."
The context of this Provision is so precious. God asked Abraham to sacrifice the very Promise he and his wife had waited for so long. And though they were beyond the age of childbearing, God did a miracle and Provided their son, Isaac, in their old age (Genesis 21.1-7). However, God asked Abraham to sacrifice this Promise to test his heart. Would Abraham put his realized Promise above God? Abraham knew he had a Promise of being a father to many nations (Genesis 17.4-6), and despite the contradiction of sacrificing the very person who was to be a continuation of this Promise, Abraham trusted God would Provide. When his son, Isaac, noted that they had the wood and fire but no sacrifice, Abraham answered, "God himself will provide the lamb for the burnt offering, my son" (Genesis 22.8 NIV).
"He who did not spare his own Son, but gave him up for us all—how will he not also, along with him, graciously give us all things?" (Romans 32.2 NIV).
The story of God Providing a ram to be sacrificed instead of Isaac is a beautiful picture of God Providing Jesus to be sacrificed for us.
And if God would Provide us with Jesus, His One Begotten Son (John 3.16), so we could be reconciled back to Him, what else would He not graciously give? Jesus is the Ultimate Provision. Everything else is easy and simple for God to Provide. Our Place in God is a Place of Provision. Sometimes we miss this Provision because our ways are not His ways, but He will Provide for us in creative ways if we keep our spiritual eyes and ears seeking and listening (Isaiah 55.8-9). Sometimes that Provision will come instantly; however, many times that Provision will take years. Either way, we can continue to trust that God is outside of time, and He will Provide according to His will, not our timetable.
"For God is the one who provides seed for the farmer and then bread to eat. In the same way, he will provide and increase your resources and then produce a great harvest of generosity in you" (2 Corinthians 9.10 NLT).
God wants to Provide graciously to us, but we must give Him seeds of faith that open a portal to His Provision from heaven to earth.
Our words are so important. We must believe God will Provide and speak words of faith in His Provision. It is so easy to speak about the lack we see before us. However, "…we live by faith, not by sight" (2 Corinthians 5.7 NIV). If we know that God has Provided His Son, we can trust that He can Provide all things "according to the riches of his glory in Christ Jesus" (Philippians 4.19 NIV). We must speak words of belief that God is actively Providing everything we need each day. No matter the bleakness of the situation, we must believe in the greatness of our God. Our words can bind things in our lives and loose things in our lives. So let us loose God's Provision and bind up the hindering spirit of the enemy.
"Truly, I say to you, whatever you bind on earth shall be bound in heaven, and whatever you loose on earth shall be loosed in heaven" (Matthew 18.18 ESV).
Once we align our words with God's Provision, our actions must follow suit.
When Abraham spoke words of faith that God would Provide a sacrifice, He also had to walk up the mountain in that belief and receive that Provision. Many times, we claim that God will Provide, but we don't move our feet according to our belief. If we are believing God for an honorable husband, we need to become an honorable wife. If we are believing God for financial breakthrough, we must take steps to learn and gain experience stewarding money. If we are believing God for a platform to share Christ with the world, we need to take time to get to know Him daily in our personal life. Our actions must line up with our words which line up with our beliefs. God wants to Provide, but we need to take part in His Provision. Once we are overflowing with God's Provision, then we can share that abundance with the people of the world who are in need.
"And God will generously provide all you need. Then you will always have everything you need and plenty left over to share with others" (2 Corinthians 9.8 NLT).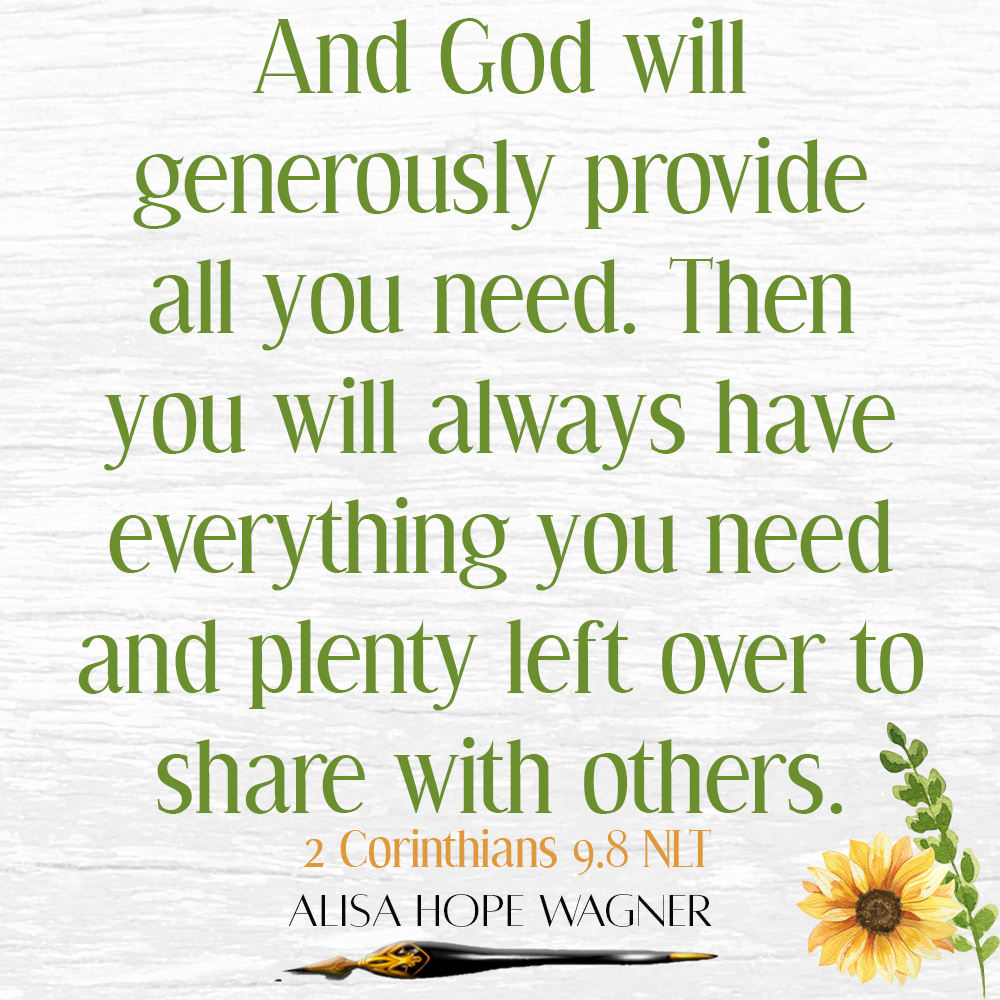 Here are seven more verses on Provision that we can speak by faith as we follow the Holy Spirit's leading in obedience.
"And God will generously provide all you need. Then you will always have everything you need and plenty left over to share with others" (Psalm 132.15 NIV).
 "The disciples, as each one was able, decided to provide help for the brothers and sisters living in Judea" (Acts 11.29 NIV).

"The young lions lack and suffer hunger;

But those who seek the 

Lord

 shall not lack any good thing" (Psalm 34.10 NKJV). 
"So if you faithfully obey the commands I am giving you today—to love the

Lord

your God and to serve him with all your heart and with all your soul— then I will send rain on your land in its season, both autumn and spring rains, so that you may gather in your grain, new wine and olive oil. I will provide grass in the fields for your cattle, and you will eat and be satisfied" (Deuteronomy 11.13-15 NIV).
"You provide a broad path for my feet,

 

so that my ankles do not give way (Psalm 18.36 NIV). 

"For He satisfies the parched throat a

nd fills the hungry appetite with what is good" (Psalm 107.9 AMP).

For the 

Lord

God is our sun and our shield.

 

He gives us grace and glory.

The 

Lord

will withhold no good thing

from those who do what is right" (Psalm 84.11 NLT).