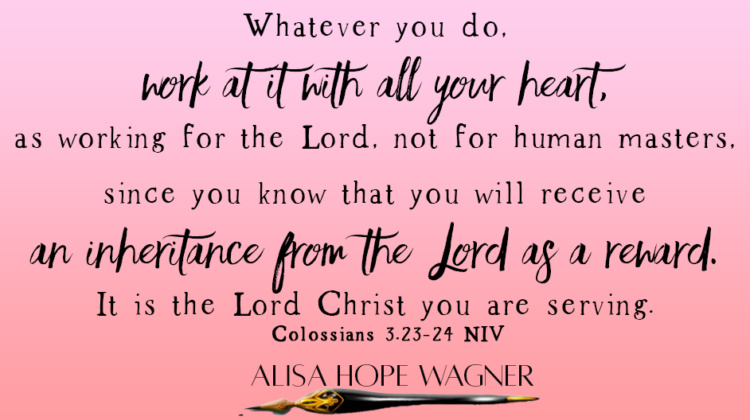 "Brothers and sisters, I do not consider myself yet to have taken hold of it. But one thing I do: Forgetting what is behind and straining toward what is ahead, I press on toward the goal to win the prize for which God has called me heavenward in Christ Jesus" (Philippians 3.13-14 NIV). 
We have an assignment on earth. Once we accept Jesus as our Lord and Savior our life of faith is just beginning.
There is a "race," as the Apostle Paul calls it during our time on earth. And we want to run our race to win the Prize! The most brilliant aspect of this Prize is hearing Jesus say to us, "Well done, good and faithful servant!" (Matthew 25.23 NIV). God has a race that we are guaranteed to win because it was created just for us. We have been given a purpose that is part of God's greater plan. Each of us has our very own Prize waiting for us on the other side of our obedience and steadfastness, which is why we must not compare our lives to others. They have their own race with their own Prize created just for them, according to their design, purpose and promises. Paul says that everyone runs, but not everyone gets the Prize. For this reason, it is imperative we are not running in vain, committing to do works outside of God's will. We must first make sure we are in the right race (for us) and then run to win!
"Don't you realize that in a race everyone runs, but only one person gets the prize? So run to win!" (1 Corinthians 9.24 NLT).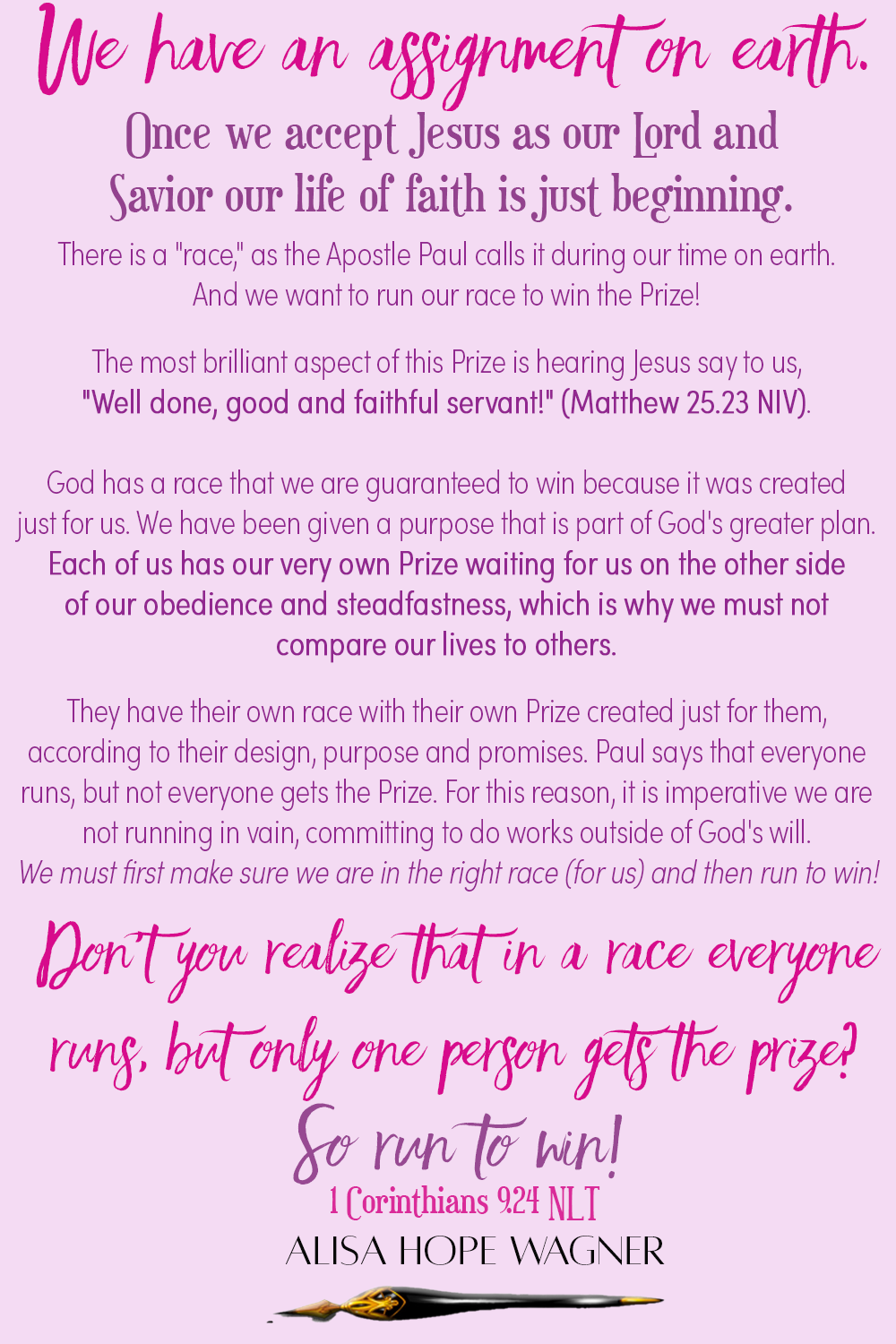 Christ's blood covers our sins when we accept His righteousness as our own, so we won't be judged based on our repented sins when we arrive before the throne of judgment. Those have been wiped clean by the redemptive power of Christ's blood.
However, when we get to heaven, we will be judged based on the good works we produced in obedience to the Holy Spirit. If we have sat idly on our God-given talents or if we have run a race that wasn't meant for us, we may have nothing to show for the life we had on earth. We will be like the foolish virgins who didn't plan ahead and didn't have enough oil to celebrate with the Bridegroom (Matthew 25.1-13). Yes, we can enter heaven because we have been reconciled to God through Christ, but many people will have nothing to show for their years on earth, and they may not hear the words, "Well done."
"And I saw the dead, great and small, standing before the throne, and books were opened. Another book was opened, which is the book of life. The dead were judged according to what they had done as recorded in the books" (Revelation 20.12 NIV).
A great example of winning the Prize or Reward is found in Jesus' Parable of the Talents (Matthew 25.14-29 NKJV).
In this story, there are three men to whom the Master gave Talents (money, resources, gifts, abilities, connections, etc.). To the first man, He gave five talents. To the second man, he gave two talents. And to the third man, He gave one talent. Then the Master went away, allowing His servants to steward what they had been given. The man with five talents doubled his money, and the man with two talents also doubled his money. To these two men, the Master made them rulers over many things, and they entered into the joy of the Lord (Matthew 25.21 & 23). The third man did not multiply his talents. In fact, he just buried them away. Instead of running his race, he sat on the sidelines. This man wasn't not given the Prize of rulership and joy. The man buried his talents because he was lazy and had the wrong view of the Master. He said the Master was hard man without integrity (Matthew 25.24-25). Clearly, this man did not have an intimate relationship with the Master and, therefore, had a completely skewed view of Him. The Master took the one talent the third man had buried and gave it to the man who had multiplied his talents to ten. Then the third man was not allowed to experience the joy of a job well done. Finally, Jesus gave a bold statement. He said the ones who steward well will be given more, but the ones who steward poorly will be given less. Obviously, more is given to whom the Master can trust to do a good job of stewarding and running the race well.
"For to everyone who has, more will be given, and he will have abundance; but from him who does not have, even what he has will be taken away" (Matthew 25.29 NKJV). 
For this reason, we want to run our race to win the Prize of a job well done and all the Rewards that it entails.
Some people are scared to run their race because they will mess up and many times fail, but that is what grace is for. Grace gives us the ability to do things that scare us, that are above our pay grade and that are beyond what we ever thought we could do. Yes, we will make mistakes. Just like the person who walks more will have more opportunity to trip than the person who sits on the couch all day, but we can't let fear of mistakes prevent us from running our race. Jesus' grace is more than enough to fill in the cracks of our imperfections. We are not called to run our race perfectly. We are called to run it with "all our heart, working as for the Lord." God, the Great Rewarder, we sees our pure hearts, our honest motives, our good intentions and our hard work; and He will reward us–even if we tripped a few or even several times running our race. Remember, Jesus' blood is constantly washing us clean (1 John 1.7 & Hebrews 9.14).
"Whatever you do, work at it with all your heart, as working for the Lord, not for human masters, since you know that you will receive an inheritance from the Lord as a reward. It is the Lord Christ you are serving" (Colossians 3.23-24 NIV). 
Moreover, others may give up on their race because they don't see fruit right away. In fact, they may not see fruit for years and years.
However, if we are being faithful to the call of God on our lives, and we are working according to the guidance of the Holy Spirit, we must trust that we will see a Prize (aka a harvest) when the time is right. We can't give up hope. It is the darkest right before the dawn, which means when we think all is lost, God can instantly move His mighty hand on our behalf, watering the seeds of faithfulness we have sown all along. If we know we are on the right race, we must trust that at the end of it will be a Prize if we don't give up. And once we lay hold of our Prize, we can be sure that our joy will overflow, and we will be so thankful that we didn't quit even when the circumstances made us believe we would never win.
"So let's not allow ourselves to get fatigued doing good. At the right time we will harvest a good crop if we don't give up, or quit. Right now, therefore, every time we get the chance, let us work for the benefit of all, starting with the people closest to us in the community of faith" (Galatians 6.9-10 MSG).
Eight Verses on God being a Rewarder: 
"And behold, I am coming quickly, and

 My reward is with Me, 

to give to every one according to his work" (Revelation 22.12 NLT). 

"I have fought the good fight, I have finished the race, and I have remained faithful.

 And now the prize awaits me—the crown of righteousness, which the Lord, the righteous Judge, will give me on the day of his return. And the prize is not just for me but for all who eagerly look forward to his appearing" (2 Timothy 4.7-8 NLT). 
"But when you pray, go into your room, close the door and pray to your Father, who is unseen. Then your Father, who sees what is done in secret, will reward you" (Matthew 6.6 NIV).
"Look, I am coming soon, bringing my reward with me to repay all people according to their deeds" (Revelation 22.12 NLT).
"And it is impossible to please God without faith. Anyone who wants to come to him must believe that God exists and that he rewards those who sincerely seek him" (Hebrews 11.6 NLT).
"God blesses those who patiently endure testing and temptation. Afterward they will receive the crown of life that God has promised to those who love him" (James 1.12 NLT).
"Whoever welcomes a prophet as a prophet will receive a prophet's reward, and whoever welcomes a righteous person as a righteous person will receive a righteous person's reward. And if anyone gives even a cup of cold water to one of these little ones who is my disciple, truly I tell you, that person will certainly not lose their reward" (Matthew 10.41-42 NIV). 
"So do not throw away this confident trust in the Lord. Remember the great reward it brings you!" (Hebrews 10.35 NLT).