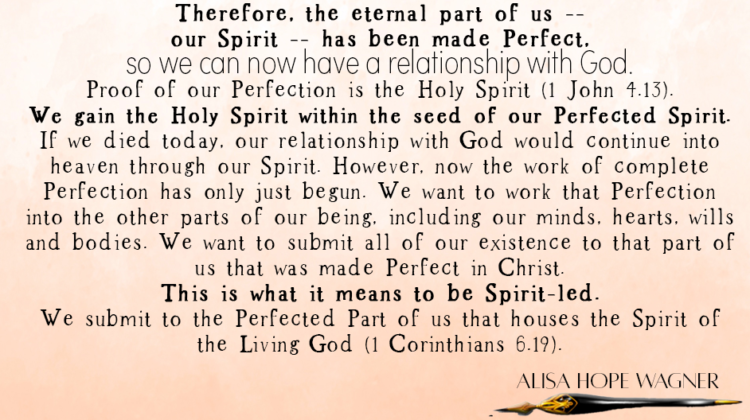 "But our High Priest offered himself to God as a single sacrifice for sins, good for all time. Then he sat down in the place of honor at God's right hand. There he waits until his enemies are humbled and made a footstool under his feet. For by that one offering he forever made perfect those who are being made holy" (Hebrews 10.12-14 NLT). 
How can we possibly believe we have been made Perfect in Christ when we stumble and fall so often?
The answer is simple. We are made up of three parts: Spirit, Soul (mind, heart and will) and Body. Once we accept Jesus as our Lord and Savior, it is the Spirit part of us that is Perfected through the Finished Work of Jesus. Our Spirit, which was once separated from God, has now passed from death to life, and we are reconciled back to God (John 5.25). This reconciliation can only come via the Cross of Christ. Jesus gave us His Perfect status with God, and He took our sinful status. Then He brought our sinful status with Him into death and rose from the grave three days later leaving that sinful status behind. He became our Holy and Final Sacrifice (Ephesians 5.2), erasing sin once and for all for those who accept His gift of salvation (1 John 1.7).
"Much more then, having now been justified by His blood, we shall be saved from wrath through Him. For if when we were enemies we were reconciled to God through the death of His Son, much more, having been reconciled, we shall be saved by His life" (Romans 5.9-10 NKJV). 
Therefore, the eternal part of us — our Spirit — has been made Perfect, so we can now have a relationship with God. Proof of our Perfection is the Holy Spirit (1 John 4.13). We gain the Holy Spirit within the seed of our Perfected Spirit. If we died today, our relationship with God would continue into heaven through our Spirit. However, now the work of complete Perfection has only just begun. We want to work that Perfection into the other parts of our being, including our minds, hearts, wills and bodies. We want to submit all of our existence to that part of us that was made Perfect in Christ. This is what it means to be Spirit-led. We submit to the Perfected Part of us that houses the Spirit of the Living God (1 Corinthians 6.19).
"Not that I have already obtained it [this goal of being Christlike] or have already been made perfect, but I actively press on so that I may take hold of that [perfection] for which Christ Jesus took hold of me and made me His own. Brothers and sisters, I do not consider that I have made it my own yet; but one thing I do: forgetting what lies behind and reaching forward to what lies ahead" (Philippians 3.12-13 AMP).
The words above penned by the Apostle Paul may sound a bit confusing at first glance. Are we Perfect or not?
He writes earlier in Philippians that we have been made righteous by faith (Philippians 3.8-9). Then he goes on to explain that Jesus took hold of us with His Perfection and made us His own. However, now it is our turn to take hold of Him and work His Perfection into all areas of our life. We have been Perfected in Christ, but it takes time for our hearts and minds to receive, believe and live in this truth. Paul writes that he hasn't achieved this complete Perfection yet, but he is actively reaching toward it. And we can actively reach toward it by allowing the Perfected part of us (our Spirit) to encompass the entirety of us. This is why we can both embody the Perfection of Christ and still work on gaining the Perfection of Christ in all areas of life. We can be confident of our Perfection by faith, realizing that the process of achieving Perfection in our minds, hearts, wills and bodies will take effort and time.
"How foolish can you be? After starting your new lives in the Spirit, why are you now trying to become perfect by your own human effort?" (Galatians 3.3 NLT).
We can not be Perfect in all areas in our own efforts. We need the Holy Spirit's guidance, grace and favor to lead us to the Perfection of Christ.
It is by faith that our Spirit has been made Perfect, and it is by faith and obedience that we will walk in growing Perfection. Yet, we can be joyful knowing that God has given us His Promise. We shall be made fully Perfect! Jesus did the hard part. He died to give us His Perfection that we receive by faith. Now all we need to do is keep our eyes on Him and walk in obedience to the guidance of the Holy Spirit within us (Acts 5.32). As we walk in faith daily, we will transform into the likeness of Christ from glory to glory (2 Corinthians 3.18).
"Therefore you shall be perfect, just as your Father in heaven is perfect" (Matthew 5.48 NKJV). 
Not only has our Spirit been made Perfect, and that Perfection is working its way into all areas of our life, but we also have a continuous Perfecting gift, as well.
This Perfecting gift is the Blood of Jesus Christ, cleansing us of all unrighteousness continuously as we admit our wrongs to God. How amazing! When we stumble and fall, we can confess our sin, turn toward God and allow the Blood of Jesus to wash us clean. The Blood of Jesus can cleanse our minds, hearts, wills and bodies; bringing us into alignment with the Perfect standard of God. There are no hopeless scenarios with God. He has given us a 3-part Place of Perfection in Him through Jesus Christ. Our Spirit has been made Perfect by faith. That Perfection is working itself into all areas of life as we pursue the Holy Spirit, and we have the Perfecting Blood of Christ washing us clean.
"But if we walk in the light, as he is in the light, we have fellowship with one another, and the blood of Jesus, his Son, purifies us from all sin. If we claim to be without sin, we deceive ourselves and the truth is not in us. If we confess our sins, he is faithful and just and will forgive us our sins and purify us from all unrighteousness" (1 John 1.7-9 NIV).
Here are seven verses about your Perfect Place in God through Christ.
"In bringing many sons and daughters to glory, it was fitting that God, for whom and through whom everything exists, should make the pioneer of their salvation perfect through what he suffered" (Hebrews 2.10 NIV).
"But may the God of all grace, who called us to His eternal glory by Christ Jesus, after you have suffered a while, perfect, establish, strengthen, and settle you" (1 Peter 5.10 NKJV).
"But he said to me, 'My grace is sufficient for you, for my power is made perfect in weakness.' Therefore I will boast all the more gladly of my weaknesses, so that the power of Christ may rest upon me" (2 Corinthians 12.9 ESV).
"For the upright shall dwell in the land, and the perfect shall remain in it" (Proverbs 2.21 KJV).
"So let it grow, for when your endurance is fully developed, you will be perfect and complete, needing nothing" (James 1.4 NLT).

"God arms me with strength,

and he makes my way perfect" (Psalm 18.32 NLT). 
"For the law never made anything perfect. But now we have confidence in a better hope, through which we draw near to God" (Hebrews 7.19 NLT).