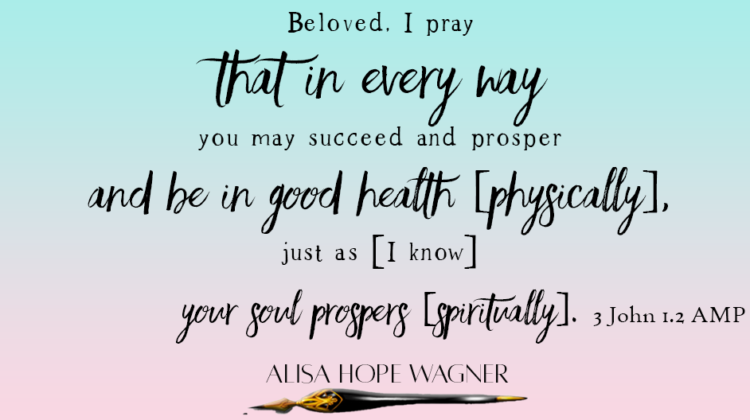 Prosperity is a tricky word in Christian culture today. It almost seems like a bad word, but our Place in God is to Prosper — growing, not decreasing. The question is that if we are not prospering in our resources, finances, relationships, spirituality, knowledge, character, love, faith, health, etc., how will we be a mighty force for the Kingdom of God and gain ground for His will to reach people with His love? Prosperity is simply not financial. The Bible makes it clear that we can Prosper in EVERY WAY!
"Beloved, I pray that in every way you may succeed and prosper and be in good health [physically], just as [I know] your soul prospers [spiritually]" (3 John 1.2 AMP).
I've read books where the writer cites the Bible story of the Rich Young Ruler's interaction with Jesus as a reason to be poor. However, this is taking a single Bible verse out of context without comparing it to other verses. The reason Jesus told this particular young man to sell all He had and to follow Him was because money was a stronghold in his life.
"Jesus said to him, 'If you want to be perfect, go, sell what you have and give to the poor, and you will have treasure in heaven; and come, follow Me'" (Matthew 19.21 NKJV). 
The young man walked away sad because he was extremely wealthy (v. 22). He wouldn't give the money up, and it became an idol in his life, causing him to miss the wonderful things of God. But what if the young man did obey? God could have easily blessed the young man with double his wealth because now he could be trusted to be a good steward of the money.
When Jesus encountered Zacchaeus — a tax collector who was also very rich — Jesus never asked him to sell all his possessions. Rather, Zacchaeus volunteered to give up half his money to the poor.
"Then Zacchaeus stood and said to the Lord, 'Look, Lord, I give half of my goods to the poor; and if I have taken anything from anyone by false accusation, I restore fourfold'" (Luke 19.8 NKJV).
Half is defintely not ALL like Jesus asked from the Rich Young Ruler, yet Jesus told Zacchaeus and the crowd around them that "Today salvation has come to this [Zacchaeus's] house, because he also is a son of Abraham; for the Son of Man has come to seek and to save that which was lost" (Luke 19.9 NKJV). Zacchaeus gave half of all he owned, and salvation entered his home and life. He wanted salvation more than he wanted money. Money may have once been an idol in Zacchaeus's life but no more. Now he put God first.
The truth about Jesus is that He could read the hearts of all people: "and He [Jesus] did not need anyone to testify concerning man [and human nature], for He Himself knew what was in man [in their hearts—in the very core of their being]" (John 2.25 AMP).
His interactions with people varied, but His Love, Truth and Purpose were immovable. Just like a good parent or teacher knows, we can't treat everyone the same because our love for them moves in equally powerful yet uniquely different ways according to individual's needs, experiences, strengths, weaknesses and personalities. We are each designed differently and have to deal with our own strongholds and struggles.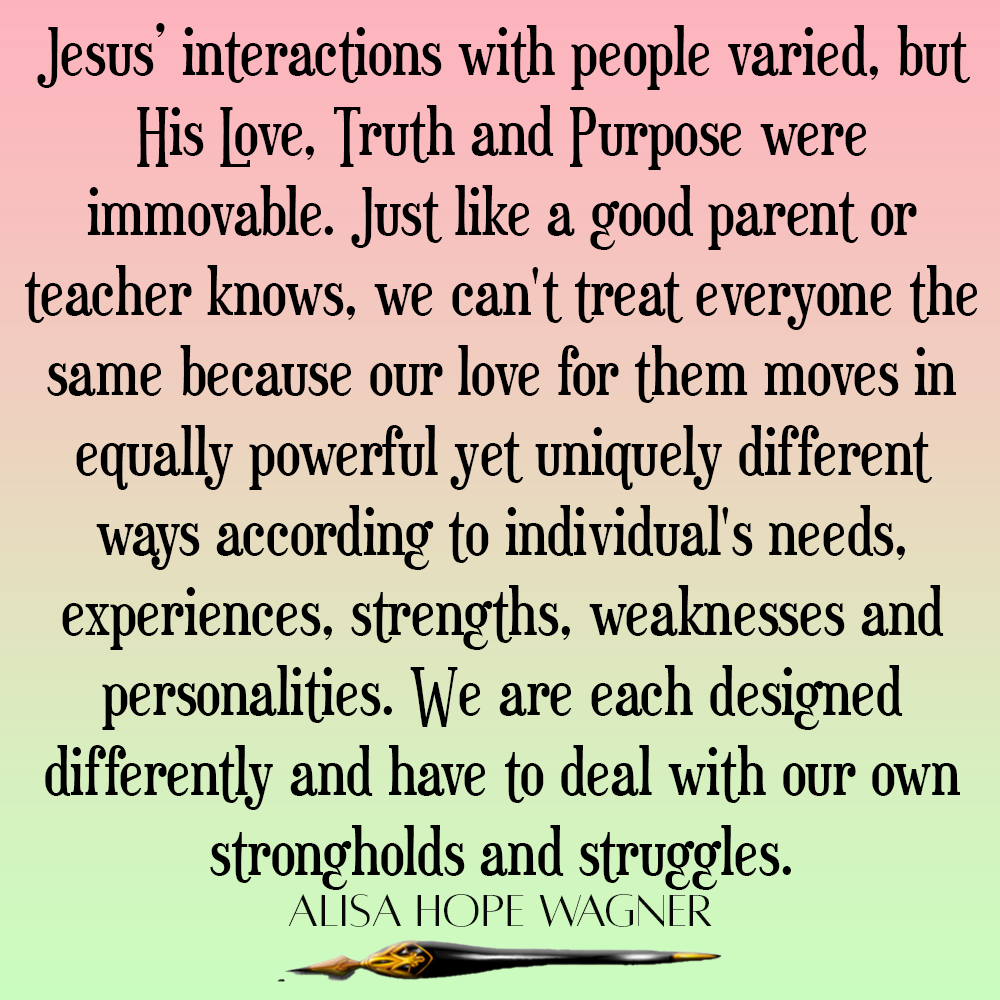 Another example of this variance is found in Luke Chapter 8 when the woman with the issue of blood for twelve years touched Jesus's garment and was healed. There was a great crowd around them, and Jesus stopped everything to find out who received power from Him. When she was discovered, He showcased her and her healing to the multitude. He would not allow her or the miracle that she received to stay hidden.
"When the woman realized that she could not stay hidden, she began to tremble and fell to her knees in front of him. The whole crowd heard her explain why she had touched him and that she had been immediately healed. 'Daughter,' he said to her, 'your faith has made you well. Go in peace'" (Luke 8.47-48 NLT). 
But right after He heals the woman with the issue of blood, Jesus goes into Jairus's home and heals his twelve-year-old daughter. But this time Jesus wants the miracle to stay hidden. Jesus actually insisted that her parents tell absolutely no one about the healing.
"Her parents were overwhelmed, but Jesus insisted that they not tell anyone what had happened" (Luke 8.56 NLT).
Who knows why Jesus would keep one miracle hidden and another out in the open? Why did Jesus tell one man to tell no one (other than the priest to be cleaned) of his healing (Matthew 8.4), yet He told another man to go back to his people and tell everyone what the Lord has done (Matthew 5.19)? There is plenty of speculation, but the main conclusion is that Jesus was obeying the Father's will. Therefore, He can tell one person to sell all their possessions and allow another person — who has learned to be obedient with money — to keep half his wealth to further the Kingdom. Either way, the will of God was being obeyed.
"So Jesus said to them, 'Truly, truly, I say to you, the Son can do nothing of his own accord, but only what he sees the Father doing. For whatever the Father does, that the Son does likewise'" (John 5.29 ESV). 
Another verse taken out of context concerning Prosperity is the following: "For the love of money is a root of all kinds of evils. It is through this craving that some have wandered away from the faith and pierced themselves with many pangs" (1 Timothy 6.10 ESV).
This verse doesn't say money is evil. Plenty of people in the Bible had wealth: Job, Noah (he had enough money for materials and workers to build a huge ark to be the home for his family and the world's animals for months), Abraham, Joseph (second in command of the richest nation of his time), King David and Queen Esther. And all of these people used their wealth in obedience to God–even Queen Esther who was willing to risk her position as queen and her very life to obey the will of God. Money isn't evil. In fact, it can and is being used for great good on Earth.
The problem comes — just like with the Young Rich Ruler — when we put money above God. Money gives us power, and if we are not aligned with God's heart, it will be used for evil not good. There is evidence all around us today of money being used for evil. But there is also evidence all around us of money being used for good. Money can be used to support ministries and charities that bring the Good News of Jesus Christ to the world along with providing basic needs of life: water, food, shelter, clothing, medical care and information.
Moreover, money can be used in personal interactions with people in order for them to have a tangible experience of the goodness of God. This can especially be seen in Jesus's parable about the Good Samaritan (Luke 10.25-27).
A man lay dying on the side of the road. The Priest and Levite both offer him no help and pass him by. Yet, a Samaritan stops and helps him. The Samaritan brings the dying man to an innkeeper and pays him to take care of the dying man. Without wealth, the story of the Good Samaritan would not be possible. The Samaritan needed a surplus in order to provide for the dying man.
We can't offer help to others if we can't even take care of our own needs. This means we need an overflow of resources that supersedes our lifestyle expenses. And this overflow will vary depending on each individual and every season of life. Yes, sometimes the overflow takes time because we are investing in our future, in our business and in our education; but, eventually, we should be gaining, not decreasing. And even if we do lose it all, as Job in the Bible did, we can trust that God will redeem our situation and our obedience with His abundance as we follow and obey Him.
The final point of our Place of Prosperity in God is that to be Prosperous, we must be Generous. We must give God His tithe. Then we can give above our tithe with offerings to the works of God on Earth that we are passionate about. We can be generous with the people around us, trusting that God's supply is limitless. The less our hands hold tightly onto money, the more God can pour His resources into our open palms.
"'Bring the whole tithe into the storehouse, that there may be food in my house. Test me in this,' says the Lord Almighty, 'and see if I will not throw open the floodgates of heaven and pour out so much blessing that there will not be room enough to store it'" (Malachi 3.10 NIV).
The following verses will help us better understand what it is to have a Prosperous Place in God, growing in ALL areas of life, not just money.
"But grow in the grace and knowledge of our Lord and Savior Jesus Christ. To him be the glory both now and to the day of eternity. Amen" (2 Peter 3.18 ESV).
"Give, and it will be given to you. A good measure, pressed down, shaken together and running over, will be poured into your lap. For with the measure you use, it will be measured to you" (Luke 6.38 NIV).
"The point is this: whoever sows sparingly will also reap sparingly, and whoever sows bountifully will also reap bountifully" (2 Corinthians 9.6 ESV).
"The generous man [is a source of blessing and] shall be prosperous and enriched,

And he who waters will himself be watered [reaping the generosity he has sown]" (Proverbs 11.25 AMP). 

"You will be enriched in every way so that you may be generous, and this [generosity, administered] through us is producing thanksgiving to God [from those who benefit]" (2 Corinthians 9.11 AMP).
"But seek first his kingdom and his righteousness, and all these things will be given to you as well" (Matthew 6.33 NIV).
"If any of you lacks wisdom, you should ask God, who gives generously to all without finding fault, and it will be given to you" (James 1.5 NIV).
"If you then, though you are evil, know how to give good gifts to your children, how much more will your Father in heaven give the Holy Spirit to those who ask him!" (Luke 11.13 NIV).
"You did not choose me, but I chose you and appointed you that you should go and bear fruit and that your fruit should abide, so that whatever you ask the Father in my name, he may give it to you" (John 15.16 ESV).

"Be generous: Invest in acts of charity.

Charity yields high returns" (Ecclesiastes 11.1 MSG). 
"Instead, we will speak the truth in love, growing in every way more and more like Christ, who is the head of his body, the church" (Ephesians 4.15 NLT).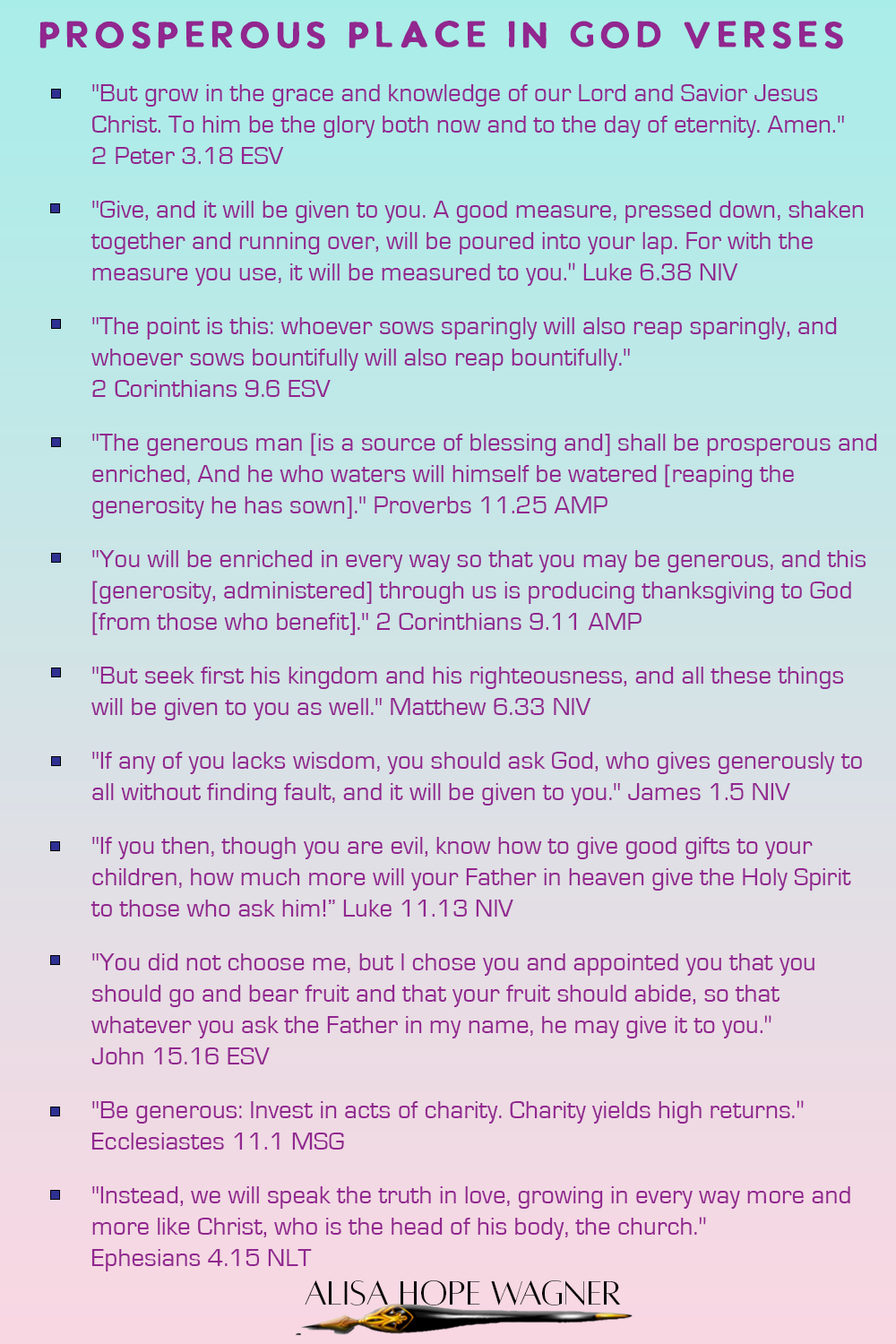 One last thing. Sometimes, God will ask us to give up something (to be generous), and our blessing will come back to us in another form. The story of The Widow's Offering is a wonderful example (Mark 12:41-44). This widow gave the very last she had (only a few cents) to God. And what she received in return was eternal and priceless. Jesus (the Son of God) mentioned her to His disciples as a learning lesson, and her story is written in the Holy Spirit Inspired Book of the Bible. Now, her step of obedience has influenced countless lives throughout history. Now that is better than gold and rubies!
Sometimes, our generosity doesn't return to us as we thought it would, but God's ways are not our ways (Isaiah 55.8-9). And we can trust that if we are obedient, God sees and will reward us either in this life or the next (Matthew 6.4). Remember, money is meant to be used for good. And as we use it to bless our families, others and our churches; we can trust that we are building up an even better treasure in Heaven that time can never take away from us. We can "treasure" God and His People, so our Prosperity will be a blessing in the Kingdom of God.
"Do not store up for yourselves treasures on earth, where moths and vermin destroy, and where thieves break in and steal. But store up for yourselves treasures in heaven, where moths and vermin do not destroy, and where thieves do not break in and steal. For where your treasure is, there your heart will be also" (Matthew 6.19-21 NIV).