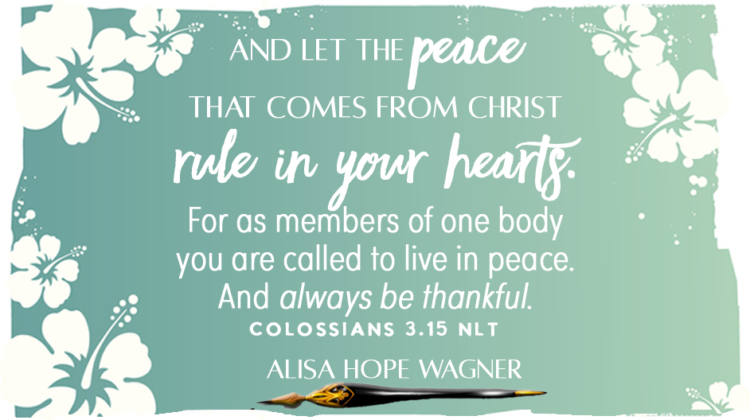 "For to us a child is born, to us a son is given, and the government will be on his shoulders. And he will be called Wonderful Counselor, Mighty God, Everlasting Father, Prince of Peace. Of the greatness of his government and peace there will be no end. He will reign on David's throne and over his kingdom, establishing and upholding it with justice and righteousness from that time on and forever. The zeal of the Lord Almighty will accomplish this" (Isaiah 9.6-7 NIV). 
One of Jesus's main objectives in coming to the earth was not only to offer us salvation through His Finished Work on the Cross but to finally offer us true and lasting Peace.
How? We have been reconciled back to God through Jesus (Romans 5.10-11), and God is the Author of Peace: "For God is not the author of confusion but of peace, as in all the churches of the saints" (1 Corinthians 14.33 NKJV). God, as the Author of Peace, surrounds and fills us with His Perfect Peace as we learn to trust in Him and grow in intimacy with His presence. This Peace can't be bought or received through any human or earthly means. It only comes through a relationship with God via the Cross.
"And let the peace that comes from Christ rule in your hearts. For as members of one body you are called to live in peace. And always be thankful" (Colossians 3.15 NLT).
God's Peace is a supernatural exchange for our anxiety, confusion, worry, fear, doubt, etc., and this Peace takes a believing faith to receive. God's Peace is a Promise found in His Word. We must acknowledge this Promise, believe it and walk in it. We don't have to ask for it because it is already ours to claim by faith through Jesus Christ. We simply say, "I have complete Peace in Christ," over and over again until that truth moves from our minds to our hearts. Jesus said that He has left us His Peace before His ascension to the right-hand side of the Father after His death and resurrection (1 Peter 3.22). His Peace is a gift that is already here on Earth for us to grab hold of and to experience.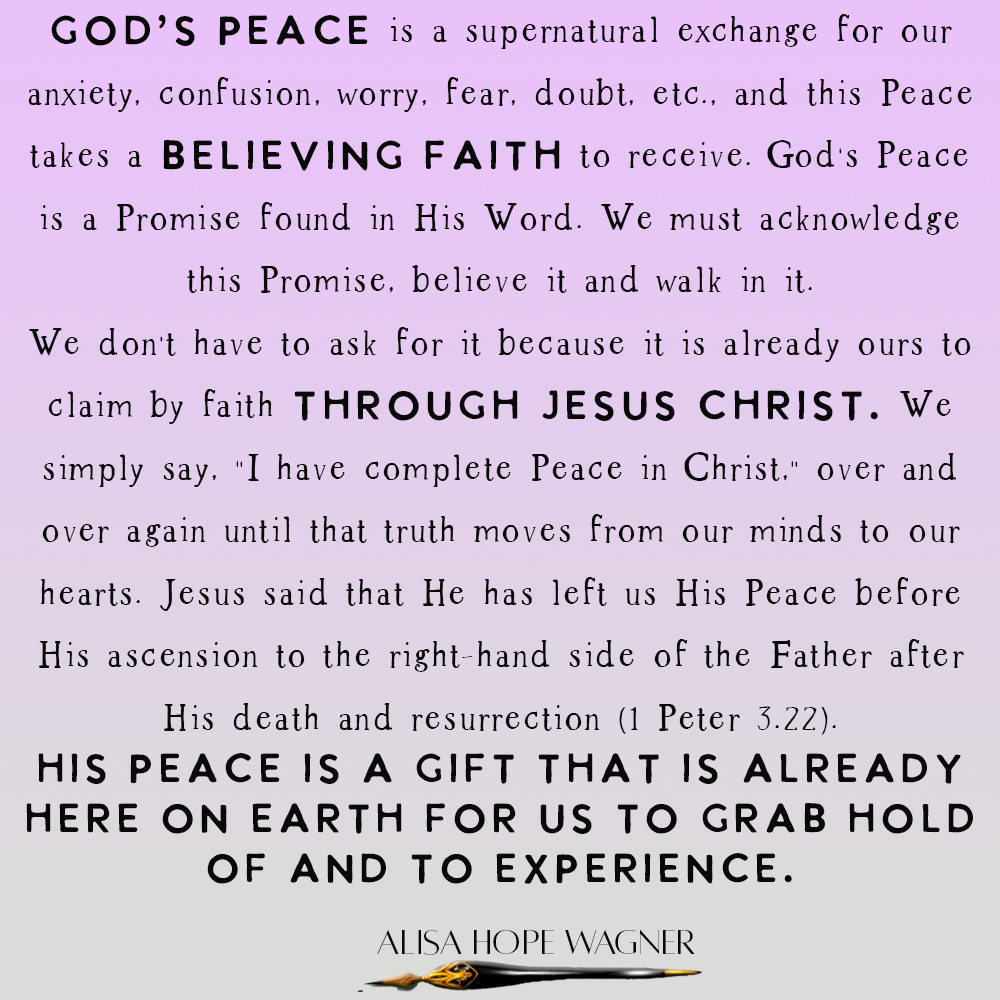 "I am leaving you with a gift—peace of mind and heart. And the peace I give is a gift the world cannot give. So don't be troubled or afraid" (John 14.27 NLT).
Yes, life will have storms. Just like Jesus sleeping in the boat while the wind and waves stormed around Him, we can have Peace regardless of the storms in our life because we know that God is with us.
Jesus inferred that it takes faith to choose Peace over fear when He rebuked His disciples for showing a lack of faith when they feared: "You of little faith, why are you so afraid?" (Matthew 8.26 NIV). By this time, the disciples had seen Jesus do many miracles. Just before the storm, Jesus had healed a man with leprosy, healed the Centurion's servant, healed Peter's mother-in-law and healed many who were demon-possessed (Matthew 8.1-27). If Jesus could accomplish those miracles, He could accomplish anything — even the storm — because He has overcome the world for us.
"I have told you all this so that you may have peace in me. Here on earth you will have many trials and sorrows. But take heart, because I have overcome the world" (John 16.33 NLT).
Many times we fear because we are facing a new storm. We have seen God's hand working in times before; however, this new situation is nothing like we've ever experienced. It is in those moments that we need to pour our faith from God's previous miraculous works in our life into the new circumstance. The disciples may have never experienced a storm that fierce before, so they needed to pour their faith from the previous times Jesus miraculously moved into the new situation of the storm. Pouring our faith into every new circumstance will ensure our Peace. The situation may seem scary at first, but we can trust that in every way, every situation and every trial, God gives us His Peace always.
 "Now may the Lord of peace Himself give you peace always in every way. The Lord be with you all" (2 Thessalonians 3.16 NKJV). 
We can believe that just as Jesus made the storm completely calm, He can make our hearts and minds completely calm. However, it takes us choosing to embrace His Peace instead of embracing fear. God is in this "boat" with us. He will never leave or forsake us, so we can be strong and courageous in this truth (Deuteronomy 31.6). Then we can be at Peace, knowing that we are not alone. In fact, we have the King of the Universe on our side. There is nothing too hard for Him to accomplish (Genesis 18.14). Today, we can start claiming the Peace of God and rebuking fear, worry, anxiety, doubt, etc. Though the process of letting go of fear and taking hold of God's Peace may take some time, we can trust that if we keep at it, our minds will be renewed in Christ and we can finally abide in His perfect Peace (Romans 12.2).
The following are 10 Bible verses with Promises of God's Peace.
"I have told you all this so that you may have peace in me. Here on earth you will have many trials and sorrows. But take heart, because I have overcome the world" (John 16.33 NLT). 

"God the Father was pleased to have everything made perfect by Christ, His Son.

 Everything in heaven and on earth can come to God because of Christ's death on the cross. Christ's blood has made peace" (Colossians 1.19-20 NLV). 
"Therefore, since we have been justified by faith, we have peace with God through our Lord Jesus Christ" (Romans 5.1 ESV).

"For he himself is our peace, who has made us both one and has broken down in his flesh the dividing wall of hostility

 by abolishing the law of commandments expressed in ordinances, that he might create in himself one new man in place of the two, so making peace, and might reconcile us both to God in one body through the cross, thereby killing the hostility" (Ephesians 2.14-16 ESV). 

"Therefore do not let your good be spoken of as evil;

for the kingdom of God is not eating and drinking, but righteousness and peace and joy in the Holy Spirit" (Romans 14.16-17 NKJV).
"You will keep him in perfect peace, Whose mind is stayed on You,

Because he trusts in You" (Isaiah 26.3 NKJV). 

"But the Holy Spirit produces this kind of fruit in our lives: love, joy, peace, patience, kindness, goodness, faithfulness, 

gentleness, and self-control. There is no law against these things!" (Galatians 5.22-23 NLT). 

"You will keep in perfect peace

 

those whose minds are steadfast,

 

because they trust in you" (Isaiah 26.3 NIV). 

"The

Lord

gives his people strength. The 

Lord

blesses them with peace" (Psalm 29.11 NLT).

"But he was pierced for our transgressions,

he was crushed for our iniquities;

the punishment that brought us peace was on him,

and by his wounds we are healed" (Isaiah 53.5 NIV).