Should Christians Use Social Media Bots?
Social Media Bots perform menial tasks on social media that people don't want to waste time doing. This sounds harmless, right? Wrong. I've had years of experience dealing with these menacing bots. And there is nothing harmless about them. There is something strangely wrong when bots begin replacing human interactions on social media, especially in ministries that are there to serve others.
I've had countless ministries that I respect and admire friend me on social media only to unfriend me after I've accepted their friendship–moving me from "Friend" to "Follower."  One ministry leader's bot "accidentally" unfriended all of her friends leaving her with zero friends and all fans. When her friends called her out on it, she tried to say it wasn't her fault. She blamed the bot she paid to do the unfriending for her, not expecting it to unfriend everyone…just the people she was using as head-counts to grow her platform.
I have been friended and unfriended three times on Twitter in less than a week by a single pastor. I have been unfriended on Instagram by a pastor's wife I know only to receive a request on Facebook to be her follower on Instagram. Meaning she demoted me as her friend but wanted to keep me as her fan. I recently was friended by a ministry, and I bought the pastor's book and subscribed to his podcast. But, yet again, I was unfriended.
People in Ministry are Using Bots
Christian leaders and ministries use bots to increase their Follower Count. They want to gain more "Fans," which is deemed valuable in the world's eyes. But they are forgetting one thing: God's heart.
"…What people value highly is detestable in God's sight" (Luke 16.15 NIV).
Yes, the world does this. They pay for followers and for comments and for bots to friend up to a thousand people a day only to unfriend them the next day. But Christians live at the standard Jesus set: the standard of a servant. Servants don't go around knocking people off their friends' list in order to appear more popular.
"The greatest among you will be your servant" (Matthew 23.11 NIV).
Using Bots to Do the Dirty Work
Instead of doing the dirty work themselves, Christian leaders hire a bot to friend and unfriend hundreds or even thousands of people a week. However, their list of broken social media friendships grows long, and people are starting to notice. They forget that God sent John the Baptist into the wilderness to preach. God literally had to send the crowds to John to prove that he was truly the Voice in the Wilderness. If God wants a ministry or leader to have a large follower base, He will send the people. Friending people only to unfriend them later in order to gather more fans is dishonest and detestable.
"The Lord detests dishonest scales, but accurate weights find favor with him" (Proverbs 11.1 NIV). 
Here is the thing. I follow a lot of people. I don't mind being a fan. I want to learn and be mentored, and I love seeing what God is doing in other people's lives. But don't trick me into being your follower. I've learned that if God wants to give people a platform, He will do it. But friending and unfriending people to create more followers is human-centered, calculating and hurtful. And truly it is all smoke and mirrors, not a true ministry.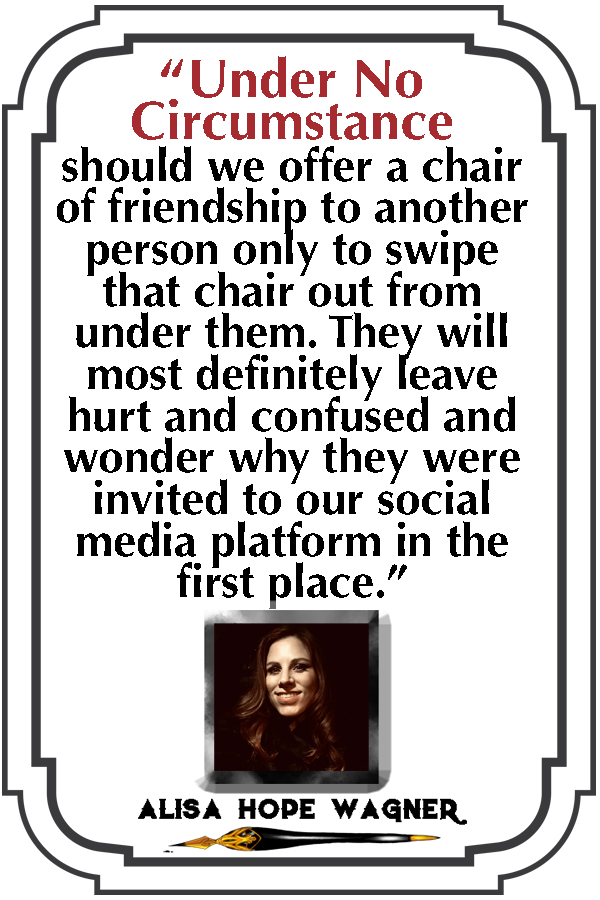 A Call to Stop Using Social Media Bots
I think if people in ministry are using bots to grow their fanbase, they shouldn't be in ministry at all. I know how easy and tempting it is to get caught up in what the world is doing. As a Christian writer, I must follow the Holy Spirit closely on how He wants me to make my books available to others. I'm not always perfect, and sometimes I cross the line and God corrects me. But I know the Bible is very clear: we work on humbling ourselves and God works on lifting us up according to His timing.
"Humble yourselves, therefore, under God's mighty hand, that he may lift you up in due time" (1 Peter 5.6 NIV).
We choose the last seat, and if someone wants to move us up to a place of honor in their lives, so be it. If not, that's okay too because our value is in how God sees us, not people. However, under no circumstance should we offer a chair of friendship to another person only to swipe that chair out from under them. They will most definitely leave hurt and confused and wonder why they were invited to our social media platform in the first place.
"But when you are invited, take the lowest place, so that when your host comes, he will say to you, 'Friend, move up to a better place.' Then you will be honored in the presence of all the other guests" (Luke 14.10 NIV).