Finding Freedom from Disturbance
Peace is defined as "freedom from disturbance." We can think of a disturbance as small doors in our mind. These doors have a doorknob on the left side and the right. If we open the left knob, we walk into a room of disturbance. If we open the right knob, we walk into a room of freedom. Once we know what these doors are, we can become better at opening them into God's peace instead of chaos.
There are six doors that can lead to disturbances. These are the ABC Doors. A) Your Attitude, B) Your Biology, C) Your Circumstance, D) Your Design, E) Your Emotions, and  F) Your Family.
Choosing to open these doors the right way, is a choice. Having peace doesn't mean we don't have responsibilities. It doesn't mean that we won't have struggles or that our life is easy or perfect. Having peace is a choice. It simply means we have learned to tap into a lifestyle that is free of disturbance. Jesus gave us His gift of peace and it is up to us to open it.
 Peace I leave with you; my peace I give you. I do not give to you as the world gives. Do not let your hearts be troubled and do not be afraid" (John 14.27 NIV).
PIN ME FOR LATER!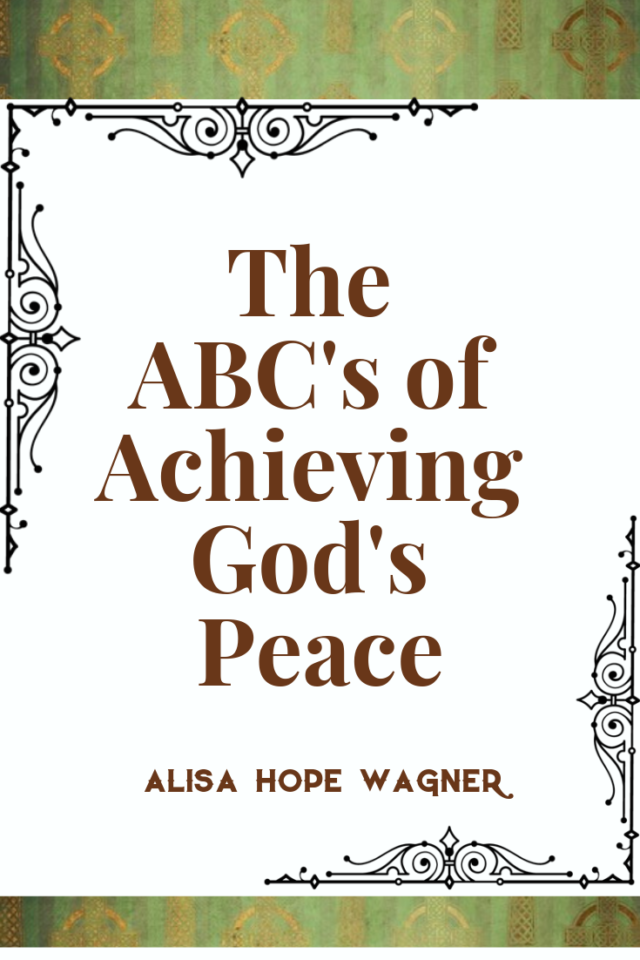 The ABCs of Achieving Peace of Mind
 Door A: Your Attitude
Finally, brothers and sisters, whatever is true, whatever is noble, whatever is right, whatever is pure, whatever is lovely, whatever is admirable—if anything is excellent or praiseworthy—think about such things" (Philippians 4.8 NIV).
As the saying goes, attitude is everything. It is the one thing in life that we can control. We can wake up on the right side of the bed or the wrong side according to our attitude. We can make it a daily routine to wake up and instantly check our thoughts. We have been saved from the depths of hell through the Finished Work of Jesus Christ on the Cross. Nothing is worse than eternity separated from God. We have so much to be grateful for! We must choose to walk in a positive attitude of peace from the start of every day.
 Door B: Your Biology
This day the Lord will deliver you into my hands, and I'll strike you down and cut off your head. This very day I will give the carcasses of the Philistine army to the birds and the wild animals, and the whole world will know that there is a God in Israel" (1 Samuel 17.46 NIV).
When King David was young, he chose to fight Goliath. Although King David said that God would fight for him, he still needed a two-part offensive system to bring Goliath down. First, he needed a sling. Second, he needed a sword (the Bible). Some people have difficulty attaining peace due to biological and medical issues. In order to overcome, they need God's strength and a two-part offensive system of medical help and God's Word. With God and medicine, they can achieve peace.
Door C: Your Circumstances
Dear brothers and sisters, when troubles of any kind come your way, consider it an opportunity for great joy. For you know that when your faith is tested, your endurance has a chance to grow. So let it grow, for when your endurance is fully developed, you will be perfect and complete, needing nothing" (James 1.2-4 NLT).
God uses our circumstances to mold us into the image of Jesus. Just like we go into a gym to put resistance on our muscles to grow them, God will allow resistance in our lives to grow us. We will not mature spiritually without circumstances that force us to grow. We can have peace in our circumstances because we know that nothing surprises God. He has allowed the circumstance for a reason. We maintain peace in the eye of the storm of our situation because God is there with us. God is mighty to calm even the wind and the waves of our minds, so we can have peace (Mark 4.39)
PIN ME FOR LATER!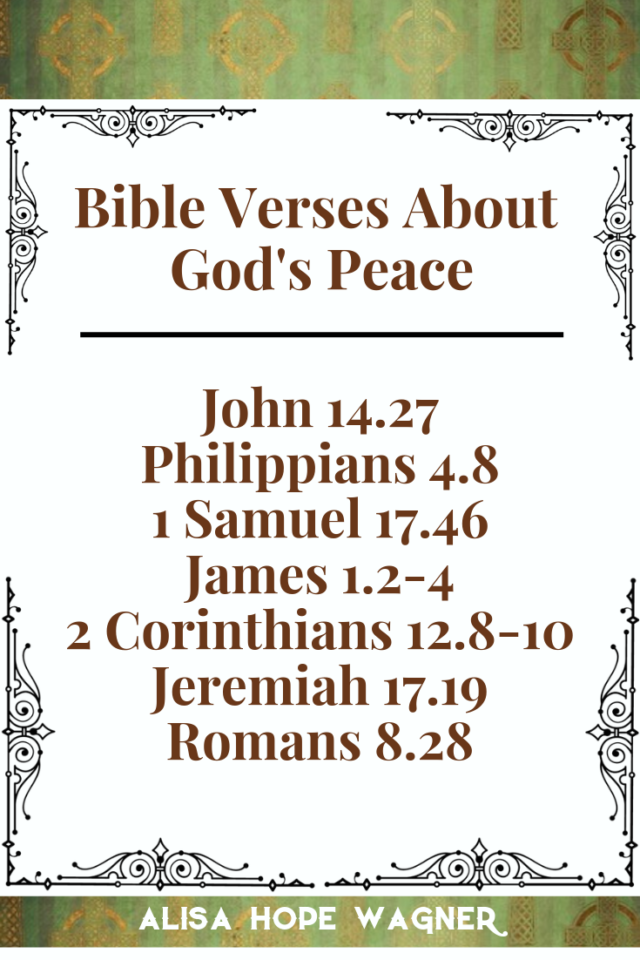 Door D: Your Design
Three different times I begged the Lord to take it away.  Each time he said, 'My grace is all you need. My power works best in weakness.' So now I am glad to boast about my weaknesses, so that the power of Christ can work through me. That's why I take pleasure in my weaknesses, and in the insults, hardships, persecutions, and troubles that I suffer for Christ. For when I am weak, then I am strong" (2 Corinthians 12.8-10 NLT).
Every person is different. We all have strengths, and we have all weaknesses. Many times our greatest strength are stemmed to our greatest weakness. God designed us uniquely to fulfill a special purpose. Both our strengths and weaknesses will propel us to our destiny if they are submitted to God. Our weaknesses do not have to rob us of our peace. We will never be perfect, but we can have a relationship with the One Who is. God's power is made perfect in our weakness. They keep us humble and reliant on God. We can have peace knowing that He designed us wonderfully (Psalm 139.14).
Door E: Your Emotions
The heart is deceitful above all things and beyond cure. Who can understand it?" (Jeremiah 17.19 NIV).
We are emotional beings. Just like anything, our emotions can be used for good or evil whether or not they are submitted to God. The honest truth is that sometimes our feelings can't be trusted. If what we feel contradicts what we know in God's Word to be true, it can cause disturbances in our lives. We must choose to exchange our worries, anxiety, fears, and insecurities for God's peace. His peace is always there ready to be used. If our emotions get in the way of that peace, we may need to close the door on them for a while.
Door F: Your Family
And we know that in all things God works for the good of those who love him, who have been called according to his purpose" (Romans 8.28 NIV).
Our family and childhood does much to shape who we are. We can inherit family strengths and strongholds. Family dynamics (birth order, divorce, parental figures) and childhood experiences all influence us and create possible doors of disturbance in our lives. God gave us our family and upbringing for a reason. He can use all things for His good. We can have peace with our family by offering forgiveness, mercy, and grace. We can work closely with the Holy Spirit, so He can let us know when our past is trying to steal our peace.
Be sure to also read: