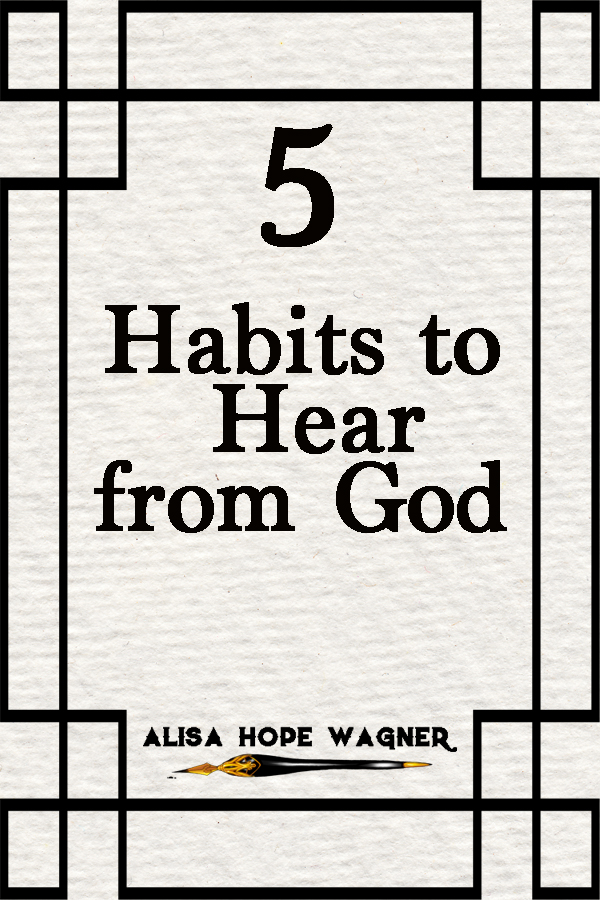 How to Hear from God
Hearing from God on a consistent basis doesn't happen overnight. Yes, God is always speaking to us through the Bible, other people, nature and circumstances. He is all around us in heaven and earth (Jeremiah 23.23-24). He also speaks to us directly since His Spirit resides within us (Romans 8.9).
However, our spiritual ears and eyes need time to develop. When we accept Jesus as our Lord and Savior, we in essence become like newborn babies. We must grow in our faith as we learn to listen to the still, soft voice of God (1 Kings 19.12). Many people become frustrated because they either don't think God is speaking or they can't discern His voice. Like learning any new skill, though, it will take time and we will make mistakes.
We can extend grace to ourselves knowing that every day is a new chance to grow. Plus, we can give ourselves room to make mistakes without feeling defeated. Learning to hear God is a process. Nothing valuable happens overnight, and hearing from God is simply part of growing up in the faith (Ephesians 4.15 NIV).
Here are 5 habits to help you hear from God as you become spiritually mature in Christ.
"Trust God from the bottom of your heart;
    don't try to figure out everything on your own.
Listen for God's voice in everything you do, everywhere you go;
    he's the one who will keep you on track.
Don't assume that you know it all…" (Proverbs 3.6 MSG). 

How to Hear from God: Habit 1 — ASK 
First things first. Ask God in Jesus' name to help you hear His voice. God allowed His Son, Jesus, to die for us, so He could have a relationship with us. He wants us to hear Him. When we pray anything according to God's will, we know that He will answer our prayer request (John 14.13 NIV). So when we ask God to help us hear Him, He will!
"I love the Lord, for he heard my voice; he heard my cry for mercy. Because he turned his ear to me, I will call on him as long as I live" (Psalm 116.1-2 NIV).
How to Hear from God: Habit 2 — SLOW
Rushing is a sure-fire to miss God's voice. How many times have we regretted actions because we jumped ahead without thinking? God is continually speaking to us, and He has words of wisdom to share with us. As we learn to slow down, we will become better and better at hearing God.
"He says, 'Be still, and know that I am God; I will be exalted among the nations, I will be exalted in the earth'" (Psalm 46.10 NIV). 
How to Hear from God: Habit 3 — READ
Reading helps us learn God's language. It is hard to hear God if we aren't accustomed to His words. As we read (or listen) to the Bible and other biblical resources, our spiritual language will become richer and more versed. We will better hear from God when His words are in our heart.
"I have hidden your word in my heart, that I might not sin against you" (Psalm 119.11 NLT). 
How to Hear from God: Habit 4 — PRAY
Opening dialogue with God will help us hear from Him more. When we go to pray, it is in invitation to God to join us for a time of communication and intimacy. We can pray to God and then listen for His reply. As we pray everyday, we will get better and better at hearing God's voice.
"In the morning, Lord, you hear my voice; in the morning I lay my requests before you and wait expectantly" (Psalm 5.3 NIV). 
How to Hear from God: Habit 5 — WAIT
Waiting is a very undervalued skill. We think idle time is a waste of time. However, waiting patiently for God to speak opens up a supernatural world of possibilities. Waiting shows God that we earnestly desire to hear from Him. Time spent away from distractions to wait on God will develop our spiritual ears to hear from God.
"Wait patiently for the Lord. Be brave and courageous. Yes, wait patiently for the Lord" (Psalm 27.14 NLT). 
To help you on your journey to hear from God, Alisa Hope Wagner has written a one year devotional, Slay the Day: Your Daily Dose of Victory.