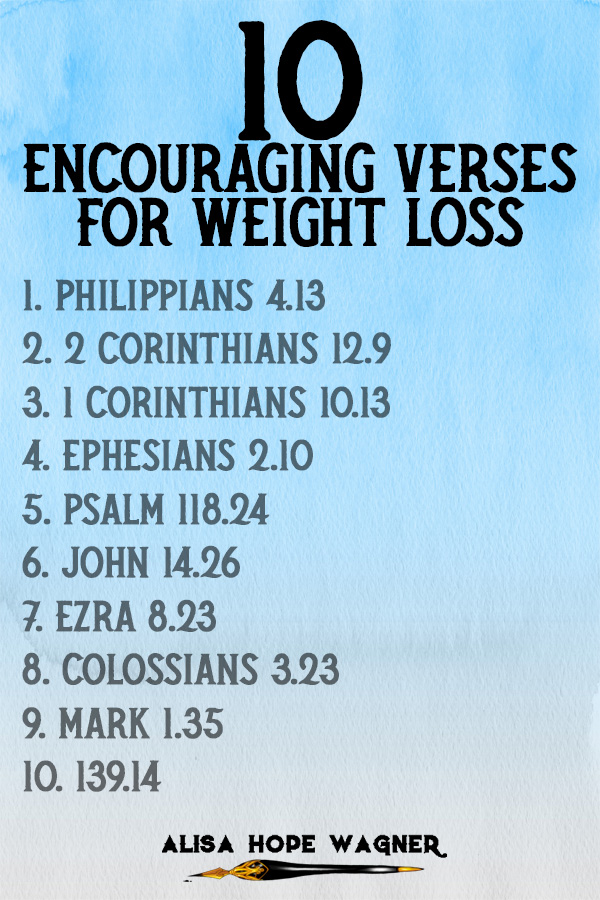 10 Encouraging Bible Verses for Weight Loss
There are a lot of encouraging verses that can help us with our weight loss journey. However, I have found that these 10 verses empower us the most by offering motivation that we truly need without guilt or shame. Shame is probably the number one stronghold that prevents people from losing weight, and it does not inspire change. Jesus loves us into transformation, while the world would seek to condemn us. Guilt will never work.
We can lose weight while still maintaining the joy of each day. We can lose weight knowing that we have the power of the Holy Spirit on our side. God sees the best in us, and He wants to bring that person to completion. We are not alone. We are all in the process of growing, changing and becoming our best selves. It is never too late to transform our lives. In fact, a new turn off the beaten path may be just what we need to revitalize the beauty of life.
Below are my 10 Encouraging Verses for Weight Loss.
I also offer a short description of how each verse can be applied to your weight loss journey. I pray that the God of the Universe shows Himself so powerfully in your life through the grace of Jesus Christ! Your weight loss journey will be a victorious as you lean on God!
Weight Loss Verse 1: You Can Do All Things
"I can do all this through him who gives me strength." – Philippians 4.13 (NIV)
This verse is well known but rarely applied. If it is in the Bible, it is a promise that cannot be broken. God does not lie. If He has called you to lose weight, you can do it! Just believe that He will give you the grace you need each day on your weight loss journey. Change is most difficult in the beginning, but Jesus has already won the victory for you! He promises that you CAN DO ALL THINGS, including losing weight!
Weight Loss Verse 2: God's Power is Make Perfect
"But he said to me, 'My grace is sufficient for you, for my power is made perfect in weakness.' Therefore I will boast all the more gladly about my weaknesses, so that Christ's power may rest on me." – 2 Corinthians 12.9 (NIV)
We can trust that God's power will be strong in our weakness. We don't have to be embarrassed by our weaknesses. In fact, it is our weaknesses that causes us to lean on God and His strength. If we were "perfect" at everything, we would be tempted to rely solely on ourselves. Our weaknesses are not a curse. They are a gift because they enable us to put our faith and hope in God and allow His strength to shine in our lives. We can look at our weight loss as a chance for God's power to be made perfect in our lives!
Weight Loss Verse 3: No Temptation will Overtake You
"No temptation has overtaken you except what is common to mankind. And God is faithful; he will not let you be tempted beyond what you can bear. But when you are tempted, he will also provide a way out so that you can endure it." – 1 Corinthians 10.13 (NIV)
The world is full of temptation, especially in the USA where we are abundantly blessed with food, entertainment, resources, etc. And whenever we are faced with a temptation, we must ask God: "God, is this for me?" We would rid ourselves of jealous, covetousness and gluttonous appetites if we asked that simple question. God is good. He's not trying to withhold blessings from us. He has exactly what we need each day. We don't need to desire something that's not for us because we are already blessed with every good thing  (James 1.17).
Weight Loss Verse 4: We are God's Handiwork
"For we are God's handiwork, created in Christ Jesus to do good works, which God prepared in advance for us to do." – Ephesians 2.10 (NIV) 
We are God's amazing works of art! No matter your body type, you are beautiful in His eyes. Before we can even take one step on our weight loss journey, we must thank God for the way He has created us. With all the social media out there, we can get trapped in "I wish I had this" or "I wish I looked like that." I wrote a body image book for children about loving exactly how we were made called, Spreading Her Wings: Butterfly Princess Book 1. In this parable story, Laia must come to grips with her body differences and learn to embrace how she was created. Before we can lose weight, we must embrace who God created us to be.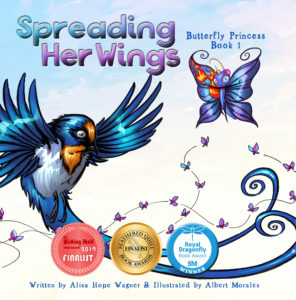 Weight Loss Verse 5: We Will Rejoice and be Glad
"This is the day the Lord has made; We will rejoice and be glad in it." – Psalm 118.24 (NKJV)
There is so much beauty all around us. If we fully take a look at the breathtaking world God has created and the blessings He has surrounded us with, there won't be room for the constant desire for more. Overeating is a way to fill our lives with good things, and it can become a spiral effect of constantly wanting more. However, if we take a look and literally "count our blessings," we will see how very much blessed we are. Before we take that next bite or open that new package, let us count a few of our blessings, and wey may very well find that the desire for more has left us. When we rejoice and fill our hearts with gladness, eating less or eating differently won't seem as much of an impossibility.
Weight Loss Verse 6: We have the Holy Spirit to Help Us
"But when the Father sends the Advocate as my representative—that is, the Holy Spirit—he will teach you everything and will remind you of everything I have told you." – John 14.26 (NLT)
Jesus died on the Cross, so we could have God's Spirit, the Holy Spirit, helping us every moment of each day. Jesus died, redeeming us by His grace, so God's Spirit could enter a broken world. Not only can we look forward to being with God in heaven for eternity, but we can also look forward to His presence right here with us on earth. We have the Comforter in us. We have Jesus interceding for us (Romans 8.34). Jesus has overcome the world on our behalf (John 16.33). And we have the victory in Christ (1 Corinthians 15.57). We can cultivate our intimacy with the Lord, as we rely on Him daily for comfort and strength. If you want to know more about cultivating a relationship with Jesus, read my book, Why Jesus: A 50 Day Holy Spirit Experience.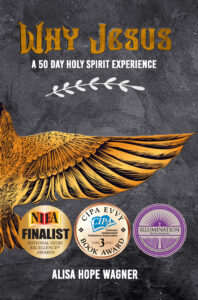 Weight Loss Verse 7: Fasting is Powerful
"So we fasted and petitioned our God about this, and he answered our prayer." – Ezra 8.23 (NIV)
Fasting is a powerful force for God to move in our hearts and circumstances. One fast that will help us with our weight loss journey is intermittent fasting. I wrote about fasting and its positive effects in my article, 7 Types of Fasts and & Spiritual Benefits on my blog. However, a simple way to intermittent fast is to skip a different meal each day. If you skip breakfast on Monday, then skip lunch on Tuesday. And if you skip lunch on Tuesday, skip dinner on Wednesday and so forth. Skip one meal a day while not overeating on the other two meals, but take the weekends off to eat your normal 3 meals a day. This will not only reap the spiritual benefits of fasting, but it will also give you that calorie deficit your body needs to lose weight. Plus, it will keep your metabolism running strong because it won't be able to get comfortable in a predictable diet.
Weight Loss Verse 8: Don't Try to Please People
"Work willingly at whatever you do, as though you were working for the Lord rather than for people." – Colossians 3.23 (NLT)
Our weight loss journey is not to get the approval of people. When our motivation is to work for the Lord, then the pressure of pleasing people is gone. We are already beautiful and valuable in God's eyes. However, He has a lot He wants for us to do in this life, and He wants to do a lot through us. He knows that our weight can limit what we do because 1) our health is impeded and 2) our confidence is impeded. When we work towards losing weight for the purposes of God and not the demands of others, our weight loss journey becomes more of an adventure and less of a chore. Not only are we getting an opportunity to draw closer to God, but we also get better at working with Him toward a common goal!
Weight Loss Verse 9: Pray and Seek God Daily
"Before daybreak the next morning, Jesus got up and went out to an isolated place to pray." – Mark 1.35 (NLT) 
Jesus faced temptations, death threats, hurting people, unfaithful family and friends and constant scrutiny from the others. He had to pray every day and receive the power and strength of God to accomplish His destiny of being the Light into this world (John 8.12). Anytime we begin a difficult journey, we must have our daily time with God, especially when trying to lose weight. If you want to lose weight and keep it off, seek God and receive His overflowing favor, grace and love. With God on your side, there is nothing out there that can stop you from achieving weight loss (Isaiah 54.17).
Weight Loss Verse 10: You Are Fearfully and Wonderfully Made
"I praise you because I am fearfully and wonderfully made; your works are wonderful, I know that full well." – Psalm 139.14 (NIV)
Your body has been fearfully and wonderfully made by the God of the Universe. Your body is strong, intricate and adaptable. You can set your mind to having the healthy, fit body you've once had or always longed for. All you need to do is decide that the time is now! If you need a basic guide to jump start your weight loss journey or you need to refresh your motivation, check out my book, Fearlessly Fit, which covers food, fitness and faith for complete and lasting health! This Bible study can be done alone or as a group study with friends or a church group! So what are you waiting for? It's time to get Fearlessly Fit!