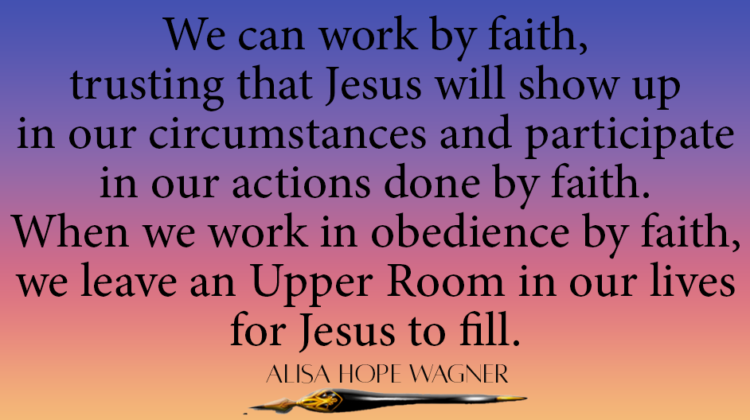 Today's Devotional
It's Passover and Jesus and His disciples don't have a place for Passover. In just a few hours, Jesus will be heading for the cross. But a man carrying a jug of water happens to have an Upper Room already ready for them.
We can work by faith, trusting that Jesus will show up in our circumstances and participate in our actions done by faith. When we work in obedience by faith, we leave an Upper Room in our lives for Jesus to fill.
Sometimes God will have us prepare for something that we have no attendants for. He'll have us prepare by faith, and He will show up. Then He will send His disciples to us. So, when Jesus finally comes into our work that is by faith, we need to be carrying water, which is symbolic of carrying the Living Water–doing what the Holy Spirit wants us to do. So, when Jesus comes to our acts done by faith, we will already be ready. The Upper Room will be ready, and the Passover meal will be prepared for Jesus in whatever He wants to do.
And He sent two of his disciples and said to them,

"Go into the city, and a man carrying a jar of water will meet you. Follow him,

 and wherever he enters, say to the master of the house, 'The Teacher says, Where is my guest room, where I may eat the Passover with my disciples?' And he will show you a large upper room furnished and ready; there prepare for us." And the disciples set out and went to the city and found it just as He had told them, and they prepared the Passover.
  Mark 14:13-16 ESV