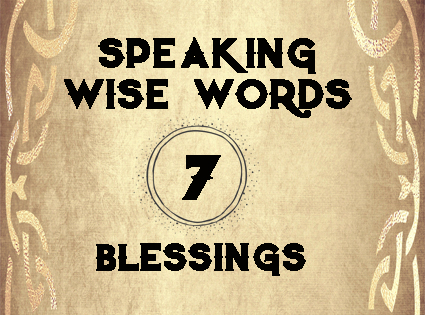 Speaking Wise Words: 7 Blessings
The words we speak in the flesh are filled with discontent, hate, jealousy, fear and despair. The words we speak in the spirit are filled with love, joy, hope, encouragement and truth. Jesus died to forgive us of all our sins. When we speak words in our flesh, Jesus' blood instantly erases them. When we speak words in the spirit, they will fill space and time. Because these wise words are rooted in the Vine of Christ, they will surround us in heaven for eternity. For this reason, we want to replace flesh-spoken words with spirit-spoken words because only they are eternal.
"I am the true vine, and my Father is the gardener. He cuts off every branch in me that bears no fruit, while every branch that does bear fruit he prunes so that it will be even more fruitful" (John 15.1-2 NIV). 
Speaking negative words in the flesh is a very difficult habit to overcome. However, there is a solution: Love. When we filter our attention on others through love instead of judgment, we will speak wise words. We are social creatures and we like to contemplate the world and the people in it. The desire to embrace others with our thoughts can be extremely beneficial when submitted to the leadership and guidance of the Holy Spirit. Instead of using our words to destroy, we can use our wise words to build ourselves and others up.
"Therefore encourage one another and build each other up, just as in fact you are doing" (1 Thessalonians 5.11 NIV).
The Blessings of Speaking Wise Words
When we have the urge to speak in our flesh, our hearts and minds are telling us there is new information to analyze and assimilate into our understanding. In a brief moment, we have a choice of two paths—blessings or curses. We can show mercy and offer a blessings to others or we can show judgment and offer a curse. The choice is all ours. We can speak eternal words of the spirit or empty words of the flesh.
The Bible has a lot to say about our words. When we fully understand the power of the tongue, we would be very careful about what we think and say. The tongue is literally a weapon that can be used for good or evil. There is no in between. When we speak words in the flesh, our tongue is used for evil. When we speak words in the spirit, our tongue is used for good. Once we learn to wield this weapon for good, we can reap the benefits.
7 Blessings When We Speak Wise Words
Not only can we bless others with our words, we can bless ourselves. The Bible gives us 7 promises that are unleashed as we replace flesh-spoken words with spirit-spoken words. When we choose to bless others, we literally bless ourselves. When we choose to curse others, we in turn curse ourselves. We can transform our desire talk into a force for good by speaking life. As we get better at replacing negative words with wise words, our life will experience massive positive results.
"Today I have given you the choice between life and death, between blessings and curses…" (Deuteronomy 30.19 NLT).

Blessing 1: We will enjoy life more.
We don't realize it, but when we speak negative words about others, we too become covered with negativity. However, if we learn to transform our words of judgment to words of mercy, our days will become good and joyful. We will not be bogged down by the words of destruction we have spoken aloud.
"If you want joy in your life and have happy days, keep your tongue from saying bad things and your lips from talking bad about others" (1 Peter 3.10 NLV).
Blessing 2: We will always have an answer.
We may not know everything, but God certainly does. When He can trusts us with our words, He will open up His wisdom and release it on our lives. The void left behind after we stop criticizing will be replaced by God's righteous words of wisdom.
"Let your conversation be gracious and attractive so that you will have the right response for everyone" (Colossians 4.6 NLT).
*Read the rest of this article by purchasing my award-winning book, Reframing: 40 Days to Reframe & Refresh Your Life, on Amazon.