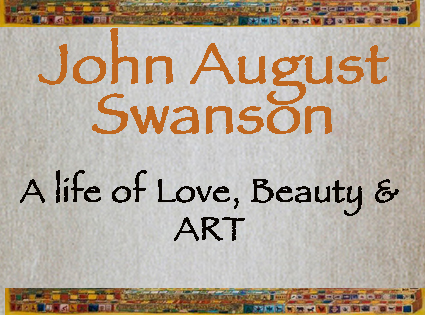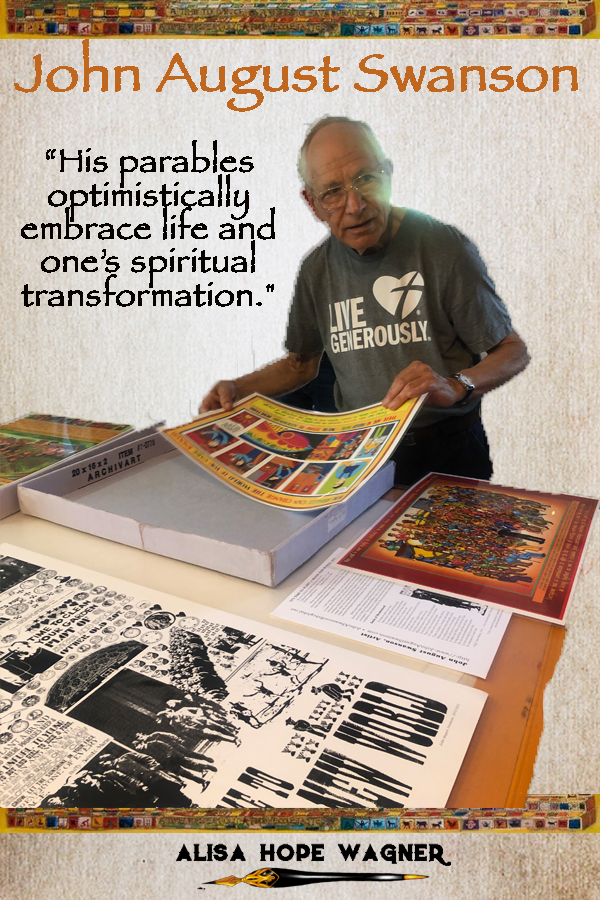 I bought my first John August Swanson serigraph in 2004. I was studying one of my favorite books in the Bible, Ruth, and discovered a book that showcased his work, The Story of Ruth: Twelve Moments in Every Woman's Life.
During our family's vacation to California this July, we were honored to drive to John's studio and home in Los Angeles and spend the afternoon with him. His 50 years of creating art blanketed the walls of his home with color, inspiration and beauty. As he led my family through each room, stories unfolded from every piece of art. No matter where John's eyes landed, he could speak from a wealth of wisdom, experience and love about his journey as an artist and activist.
He pointed to one of his painting, "This was was chosen to be in the Vatican Museum's Collection of Modern Religious Art." And then he explained that he saw a procession in Arizona that inspired him to create, "The Procession."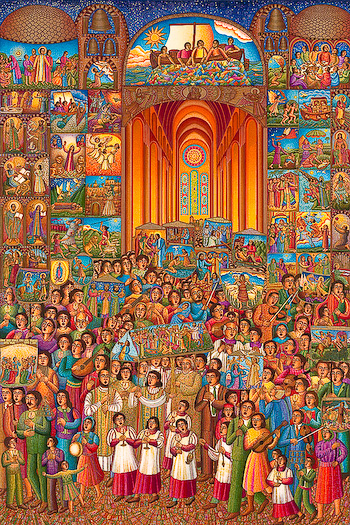 "Wow," I exclaimed. It didn't change my love of his art, but it did give me a profounder understanding of how far-reaching his work has become.
I then explained to John that all three of my kids have a painting in our home that parallels their name. My first born, Isaac Jeremiah, has the 1976 Artist Proof of Abraham and Isaac (no longer available). My second born son, Levi Daniel, has Daniel. And my daughter, Karis Ruth, has the Story of Ruth.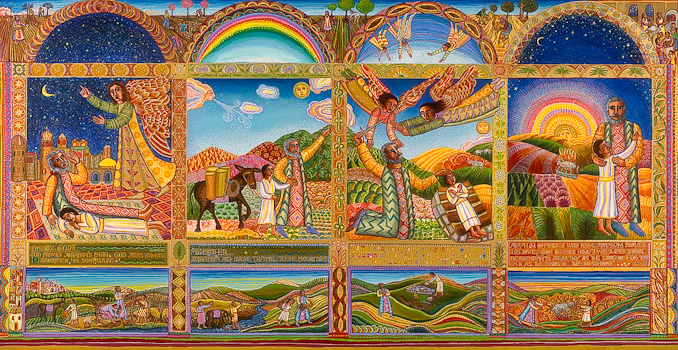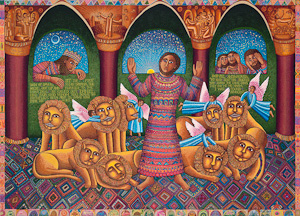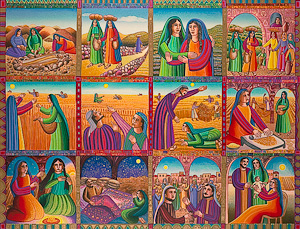 The Story of Ruth is also depicted in my debut novel, Eve of Awakening. I describe the piece of art on the office walls of Eve's Life Therapist as a vibrant contradiction to the blandness of her own existence, highlighting that hyper-productiveness has usurped my main character's joy of living. You can read more in my article, Four Prophecies in Eve of Awakening.
John August called the names of each of my kids and told them stories of their paintings and other interesting insights of his life's work. As a mother, I couldn't help but smile, knowing that my kids were gaining a lifetime of wisdom, artistry and passion. He also blessed each of them as we gave our goodbyes, which filled my heart with gratitude.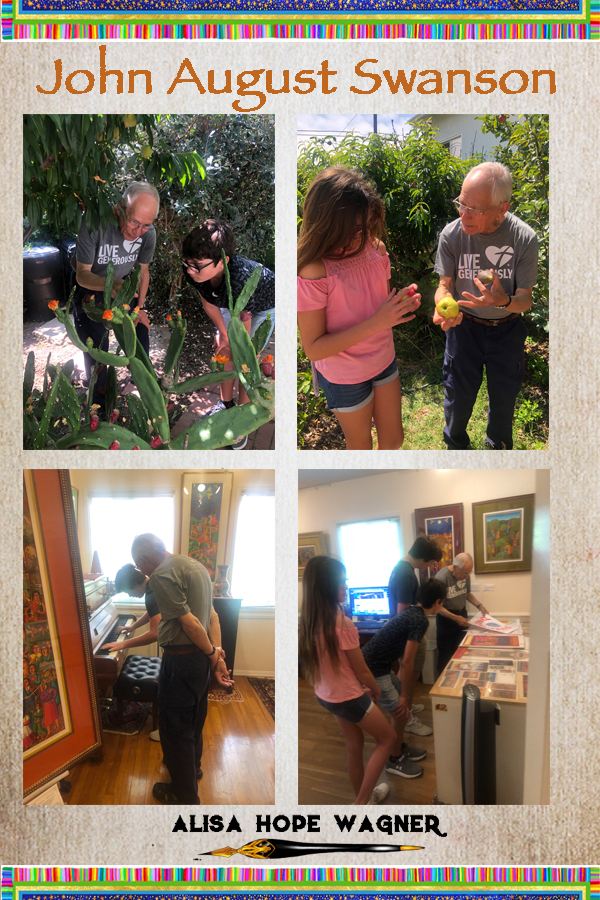 We own 9 of his works, and I adore them all. However, hearing the stories and inspiration that motivated the creation of each painting gave me more depth of feeling and beauty for them. For example, in my room, my husband and I have Psalm 85.
"Justice and Peace shall kiss, Truth shall spring out of the earth. Kindness and Truth shall meet, Justice shall look down from the heavens."
John said that this was the last painting that his mother saw before she passed away. She loves trees, so she was a source of inspiration for creating it. His mother is from Mexico and his father is Swedish, so John has a unique understanding of life and art, which I love.
"John Swanson's narratives are direct and easily understood. He addresses himself to human values, cultural roots, and the quest for self-discovery through visual images. These include: Bible stories and social celebrations, such as attending circuses, concerts, and operas. His parables optimistically embrace life and one's spiritual transformation."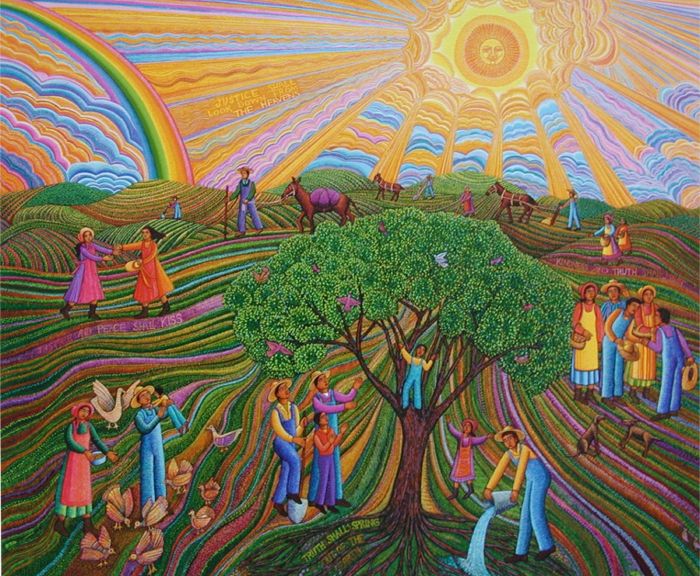 John then showed us to his backyard where the fruit trees he had planted years ago were producing fruit. Never had I tasted a nectarine, apple and plum that tasted so sweet. The fruit from the trees embody the vibrancy of John's art — colorful, pleasurable and full of life and goodness.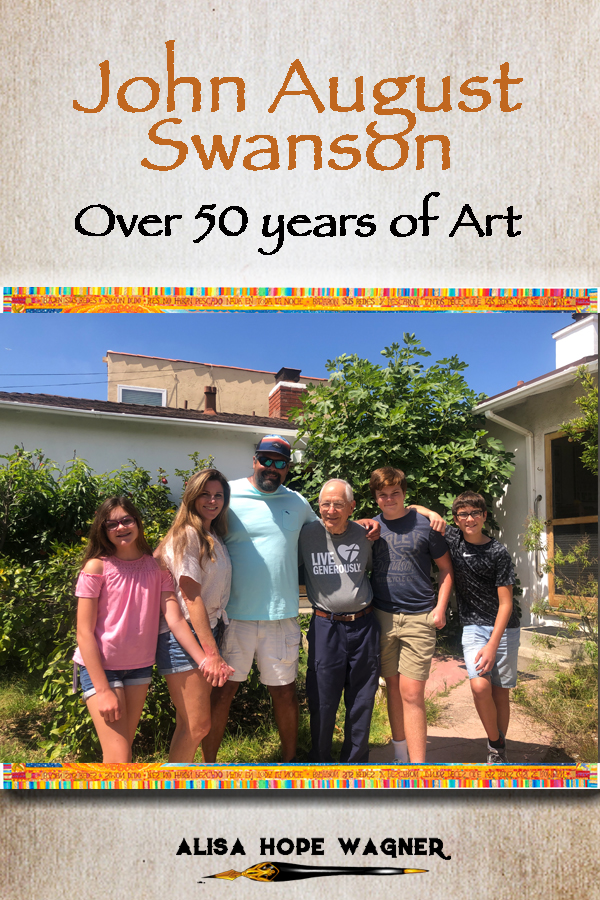 Finally, John brought us into his outside studio and allowed each of us to choose one of his posters as a gift. He also gave us a few of his human-rights posters that he signed. John's passion for life and art translate beyond his work and into the community, providing both awareness and change.
I am in awe and so thankful that God provided this special time for my family and me. To actually meet and talk with the artist of the collection that my kids have grown up seeing on the walls of their home is priceless. Before we left, we all held hands with John, and my husband prayed that God would continue to bless and prosper his work. Thank you, John August Swanson, for having such a father spirit and taking us in to your home and heart.
You have lived your life acknowledging the love of Jesus, and I know He will continue shining light on you and your art.
"Whoever acknowledges me before others, I will also acknowledge before my Father in heaven" (Matthew 10.32 NIV).