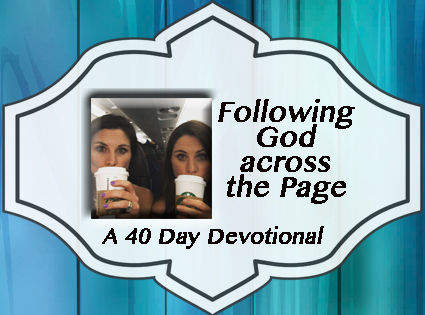 Following God across the Page Book Trailer
Following God across the Page a Kindle Ebook Promotion
Starting today, I'm doing a free ebook promotion for the third book in my Following God Series, Following God across the Page! Why? Because I know these easy-to-read devotional books will encourage your faith and inspire you to follow God into every situations–even the scary ones! I've added interactive links to the ebooks, so you can actually get an inside look into the heart of each story.
Following God across the Page: A Twin Reality TV Devotional
Years after a near fatal car accident, Christina's nose begins to twist. Her twin sister, Alisa, wants to do something to help her, especially since her twin is going through a devastating divorce. But she's just a writer. What can a writer do to change circumstances? Everything! Alisa hears of a reality TV show that helps people like her twin. So she writes a short history worth $10,000 –the cost of plastic surgery with the best surgeon in the world!
Watch as Alisa and Christina Follow God across the Page and land on the premier of Botched. See how God performs all His promises to the twins in out-of-the-ordinary ways!
"For all of God's promises have been fulfilled in Christ with a resounding "Yes!" And through Christ, our "Amen" (which means "Yes") ascends to God for his glory" (2 Corinthians 1.20 NLT). 

Other Books in the Following God Series
You can purchase the rest of the Following God Series at Amazon, including Following God into the Cage and Following God onto the Stage.