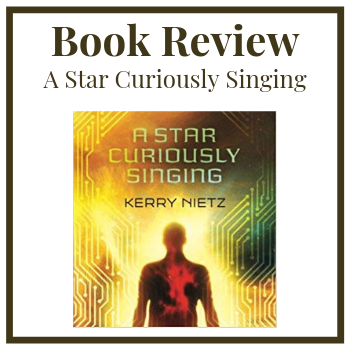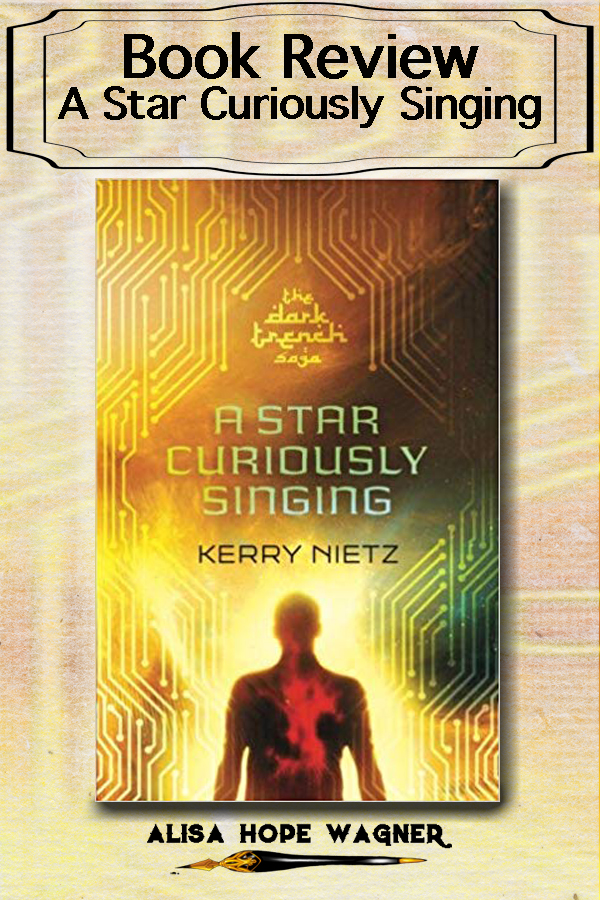 A Star Curiously Singing by Kerry Nietz
Kerry Nietz's book, A Star Curiously Singing, is foreshadowing of a world with a never-ending stream of information, a world that has become our reality today. The next generation of "implants"  is our children, and I can't help but wonder if hope can be found down the rabbit hole of technology.
A Star Curiously Singing, the first book in the DarkTrench Saga, is written in the first person from the point of view of Sandfly (Sand), the main character. One of my favorite aspects of the book is Sandfly's narrative voice. You can sense his intelligence and intensity, but he tapers it with nonchalant and humorous undertones. The beauty of the narrative voice is that the new world order tries to subdue and control it, but not even mind-control can keep virtue contained.
The novel is speculative fiction, leaning towards dystopian and cyberpunk. I'm am not a tech girl, so the new words and their meaning took me a couple of chapters to assimilate. Once I got the feel of the technological and social construct, though, my reading quickened with anticipation. The story unfolded like a movie (it would make an AWESOME movie) because the world building was meticulous.
The story built into a climatic dead-end (so I thought), and I believed there was no way Kerry Nietz could find an adequate ending to the unmovable mountain he formed in the middle of his story. All seemed hopeless, and at best, I thought Sandfly could try to hide or escape, but both options seemed painfully underwhelming. But hope was found in the middle of outer space, and I was completely astounded and ecstatic by the supernatural twist of events!
I am reminded that no matter the oppression and the darkness around us, and no matter how far we go down the technological rabbit hole, there is always a "Star Curiously Singing." Hope can be found anywhere.
Here are a few of Quotes from Kerry Nietz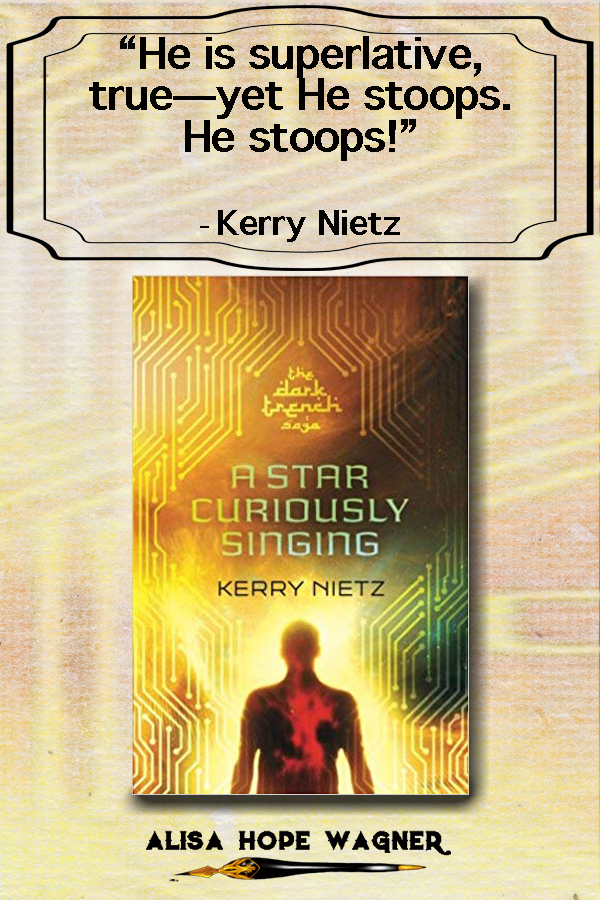 "GrimJack shakes his head. 'Careful, Sand. Keep walking that wall and they'll take your soul.'"
"It is like the old days, I tell myself. Like an expectant lover watching a mate arrive by ferry. Slow and steady—except this time it doesn't go horizontal, it goes vertical. Up, up, shifting with the winds, but still going up. All the way to black, where only blue hangs below."
"I stop. As plugged in as I am, there's little I can do for the living."
"Information circles our heads like a vulture, waiting to invade our dreams at any time."
"I dislike having eyes on anything I write by hand. It is a form of violation."
"I listen attentively. Human conversation is slow, but an interesting topic helps."
"I would like to do that, but not if it means I'd later be taking a walk in space, sans suit."
"But somehow, inexplicably, those who claimed to fear government were the ones who increased the power of it."
"I can almost hear the sound in my head, even now. A chorus with every voice part engaged. A roaring symphony. The essence of every melody ever sung."
"He is superlative, true—yet He stoops. He stoops!"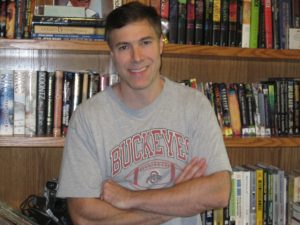 About Kerry Nietz
Kerry Nietz is an award-winning science fiction author. He has over a half dozen speculative novels in print, along with a novella, a couple short stories, and a non-fiction book, FoxTales.
Kerry's novel A Star Curiously Singing won the Readers Favorite Gold Medal Award for Christian Science Fiction and is notable for its dystopian, cyberpunk vibe in a world under sharia law. It has over a hundred 5-star reviews on Amazon and is often mentioned on "Best of" lists.
Among his writings, Kerry's most talked about is the genre-bending Amish Vampires in Space. AViS was mentioned on the Tonight Show and in the Washington Post, Library Journal, and Publishers Weekly. Newsweek called it "a welcome departure from the typical Amish fare."
Kerry is a refugee of the software industry. He spent more than a decade of his life flipping bits, first as one of the principal developers of the database product FoxPro for the now mythical Fox Software, and then as one of Bill Gates's minions at Microsoft. He is a husband, a father, a technophile and a movie buff.
Find Kerry Nietz at Kerry Nietz, Facebook, Twitter, Amazon, and Goodreads.
Be sure to read more of my book reviews from some amazing Christian writers. If you an aspiring Christian writer, be sure to also take a peek at 5 Differences Between Writing Fiction and Non-Fiction.