Replace Lies with Truth
Knowing God's Word, the Bible,  has never been more important than now. Fear is rampant today, and the enemy feasts on fear. It feels like lies, accusations and discord are everywhere, and God's people are suffering.
However, we can fight back the way Jesus fought back when He went through spiritual warfare in the desert–with God's Word (Matthew 4). When we are spiritually attacked, we can't simply pluck out the lies. We must also submit them to Christ. When we give lies, worries and anxieties to Christ, He transforms our fear into truth.
"We can demolish every deceptive fantasy that opposes God and break through every arrogant attitude that is raised up in defiance of the true knowledge of God. We capture, like prisoners of war, every thought and insist that it bow in obedience to the Anointed One" (2 Corinthians 10.5 TPT).
First, we identify the lie.
A lie is anything that doesn't line up with God's goodness for you. A lie has the odor of condemnation, judgment, fear, guilt, anxiety, hopelessness and more. However, the truth is that God has good plans for you (Jeremiah 29.11). He made you into a masterpiece (Ephesians 2.10). He can redeem any situation (Romans 8.28).
Second, we replace the lie with God's truth.
Truth is all of God's promises found in the Bible that are ours through Jesus Christ (2 Corinthians 1.20). Both the Old Testament and New Testament point to our Ulitmate Truth, which is Jesus, God's Son. Through Jesus, there are no hopeless endings (1 Timothy 1.1-2 NLT). He has taken all of our brokenness, so we could be whole and healed in mind, body, soul and spirit (Isaiah 53.4-5 NLT).
Third, we can stay on the offensive by consuming God's Word.
As we read, meditate and memorize God's Truth, we fill our mind with the wonderful things of God (Psalm 40.8). The more our mind is filled with God's truth of love, goodness, favor and grace, the less the enemy can sneak in lies. All lies come from the devil (John 8.44). Satan seeks our destruction, but Jesus has already granted us His abundant, blessed life (John 10.10). Lies can't take root if there is no room, and when we flood our minds with Christian resources (the Bible, sermons, Christian music, podcasts and books), fear will be dispersed.
Bible Verses of Truth
The following are eleven verses that I have clung to during difficult times. It is interesting how these verses move from our minds into our hearts during a struggle. Don't forget: On the other side of our struggle is our triumph (2 Corinthians 2.14). The pains we co-labor with Christ will always give birth to more strength, joy, freedom and peace.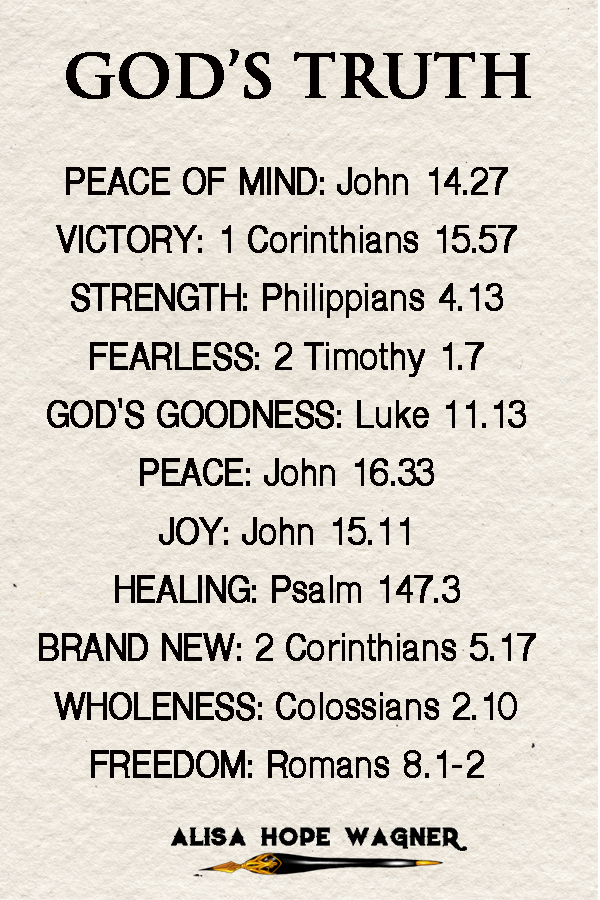 PEACE OF MIND: "I am leaving you with a gift—peace of mind and heart. And the peace I give is a gift the world cannot give. So don't be troubled or afraid" (John 14.27 NLT).
VICTORY: "He gives us victory over sin and death through our Lord Jesus Christ" (1 Corinthians 15.57 NLT).
STRENGTH: "For I can do everything through Christ, who gives me strength" (Philippians 4.13 NLT).
FEARLESS: "For God has not given us a spirit of fear and timidity, but of power, love, and self-discipline" (2 Timothy 1.7 NLT).
GOD'S GOODNESS: "If imperfect parents know how to lovingly take care of their children and give them what they need, how much more will the perfect heavenly Father give the Holy Spirit's fullness when his children ask him" (Luke 11.13 TPT). 
PEACE: "I have told you all this so that you may have peace in me. Here on earth you will have many trials and sorrows. But take heart, because I have overcome the world" (John 16.33 NLT). 
JOY: "I have told you these things so that you will be filled with my joy. Yes, your joy will overflow!" (John 15.11 NLT).
HEALING: "He heals the brokenhearted and bandages their wounds" (Psalm 147.3 NLT). 
BRAND NEW: "This means that anyone who belongs to Christ has become a new person. The old life is gone; a new life has begun!" (2 Corinthians 5.17 NLT).
WHOLENESS: "And our own completeness is now found in him. We are completely filled with God as Christ's fullness overflows within us. He is the Head of every kingdom and authority in the universe!" (Colossians 2.10 TPT).
FREEDOM: "So now there is no condemnation for those who belong to Christ Jesus. And because you belong to him, the power of the life-giving Spirit has freed you from the power of sin that leads to death" (Romans 8.1-2 NLT).