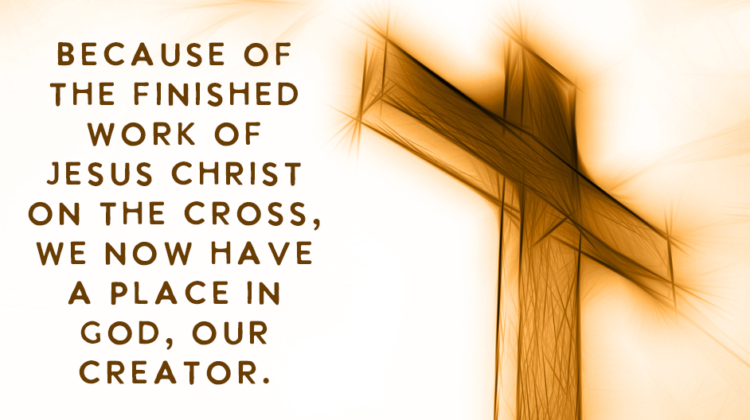 "But [we are different, because] our citizenship is in heaven. And from there we eagerly await [the coming of] the Savior, the Lord Jesus Christ" (Philippians 3.20 AMP).
Because of the Finished Work of Jesus Christ on the Cross, we now have a Place in God, our Creator. This space we occupy in God's presence entails ten supernatural realities: Position, Purpose, Promise, Power, Protection, Prosperity, Peace, Perfection, Provision and Prize  — all attributes of our Heavenly Father's goodness.
The Bible says that if we have accepted Jesus as our Lord and Savior, we are reconciled (restored to friendly relations) back to God (Romans 5:10-11). This restoration is a gift that we can never earn. God so loves us that He initiated the Gift of Salvation through Jesus while we were yet undeserving (Romans 5.8). All we have to do is see our need for this gift and accept it by confessing and believing. Simple.
"That if you confess with your mouth the Lord Jesus and believe in your heart that God has raised Him from the dead, you will be saved" (Romans 10.9 NKJV).
Once we accept the Gift of Salvation, we now have a Place in God, and again this space includes Position, Purpose, Promise, Power, Protection, Prosperity, Peace, Perfection, Provision and Prize.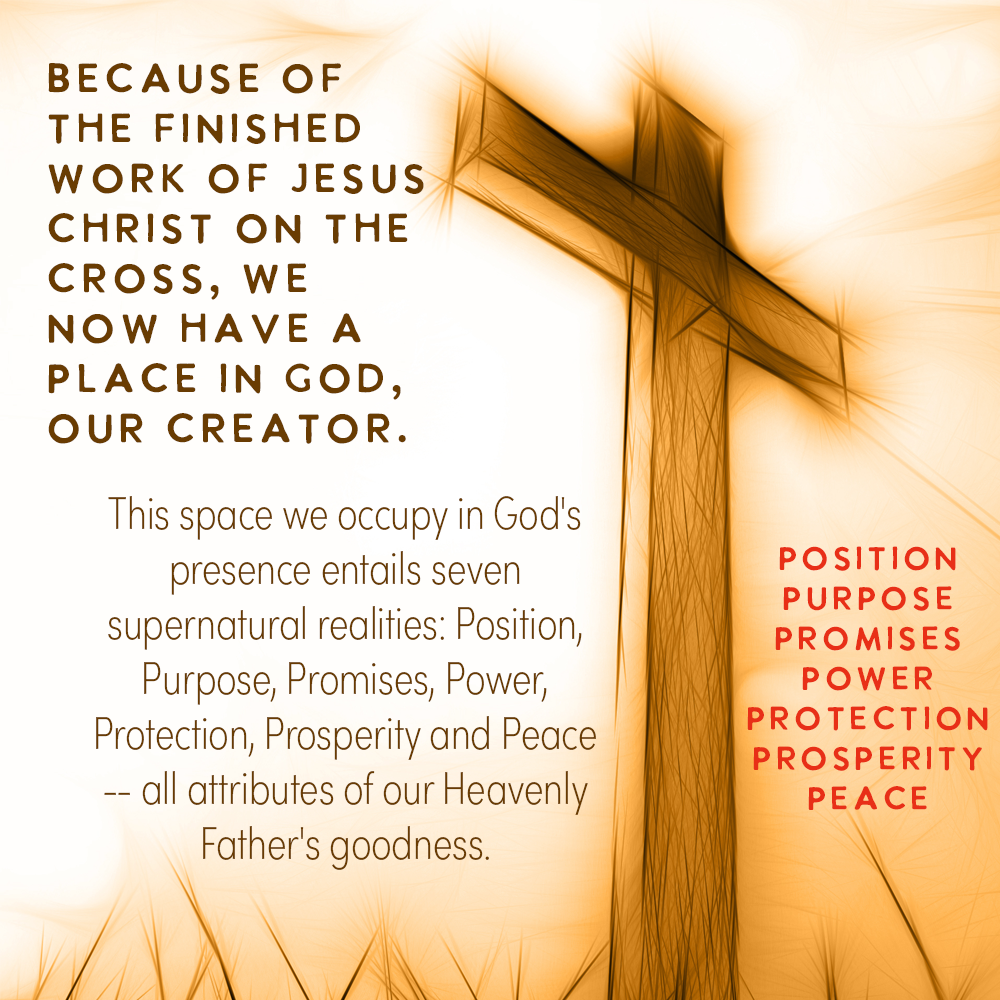 Gift of Salvation
If you would like the Gift of Salvation and find your true identity in Christ and find your Place in God, all you have to do is pray the simple prayer below and believe in your heart that Jesus died to be your Lord and Savior.
"Jesus, I believe You died to reconcile me back to my Creator God. Thank You for paying the debt of my sin with Your Precious Blood. I ask You to come into my heart and life and save me from darkness, sin and shame. I declare that I am a new person in Christ, and I can now have a growing relationship with my Heavenly Father. Now I ask that God's Spirit, the Holy Spirit, pour over me with a mighty flood of His Presence, so I can be Placed directly in the will, favor and blessings of God. I ask this in Jesus' name, amen."
Position
We have been raised up to new life with Christ and now we are hidden in Him. That means our life without Christ is gone, and we have a new life that has crossed over from death to life and will not be condemned (John 5.24).
Once we realize that our Position has changed through Christ on earth as it is in heaven, we will begin to believe, think and act differently. There is no greater name on earth than the Name of Jesus (Philippians 2.9), and we are now found inside and covered by the mighty Person of this Name, Jesus!
"Since you have been raised to new life with Christ, set your sights on the realities of heaven, where Christ sits in the place of honor at God's right hand…For you died to this life, and your real life is hidden with Christ in God" (Colossians 3:1 & 3 NLT). 
God's Children
Not only has our new Position placed us in Christ, but we are also now positioned as Children of God instead of His enemy (Colossians 1.21). As His Children, God wants us to have His best blessings possible (Matthew 7.11). He is not far from us. He is near to us and eager to have a deepening relationship with us. No longer are we outsiders. We are now positioned in God's family.
"But to all who believed him and accepted him, he gave the right to become children of God" (John 1.12 NLT).
The new position as God's Children also entails more awe-inspiring aspects that, when we fully understand and embrace them, will transform our minds, hearts and lives. As God's children, we are Chosen, Royalty, a Priesthood, Holy — and we Belong. We do not have to live in darkness any longer because God has positioned us in His wonderful light!
"But you are not like that, for you are a chosen people. You are royal priests, a holy nation, God's very own possession. As a result, you can show others the goodness of God, for he called you out of the darkness into his wonderful light" (1 Peter 2.9 NLT).
How can we possibly live in defeat from a Position of such noble heritage? The glorious realities of our change in Position are limitless, but the following are just a few more positional qualities we gain in Christ.
Positional Qualities Gained in Christ
Victorious: 1 Corinthians 15:57 (NLT)
"But thank God! He gives us victory over sin and death through our Lord Jesus Christ."
Righteous: 2 Corinthians 5:21 (NKJV)
"For He made Him who knew no sin to be sin for us, that we might become the righteousness of God in Him."
The Head, not the Tail: Deuteronomy 28:13 (NLT)
"If you listen to these commands of the Lord your God that I am giving you today, and if you carefully obey them, the Lord will make you the head and not the tail, and you will always be on top and never at the bottom."
Beloved: Romans 1.7 (NKJV)
"To all who are in Rome, beloved of God, called to be saints: Grace to you and peace from God our Father and the Lord Jesus Christ."
Complete: Colossians 2.10 (NLT)
"So you also are complete through your union with Christ, who is the head over every ruler and authority."
Perfected: Hebrews 10.14 (NLT)
"For by that one offering he forever made perfect those who are being made holy."
Overcomer: Revelation 12:11 (NKJV)
"And they overcame him by the blood of the Lamb and by the word of their testimony, and they did not love their lives to the death."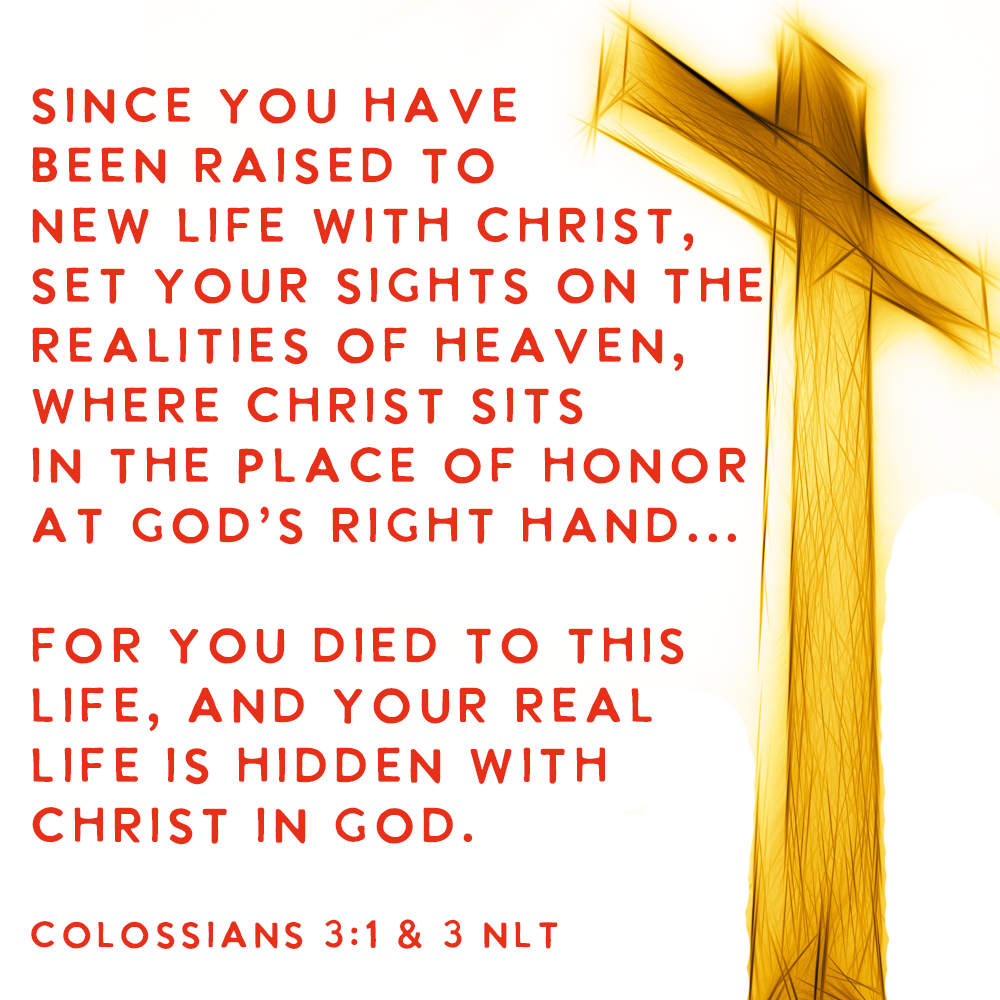 Therefore, in Christ, we have been gifted a Position as Royal Children of God found as a Holy, Chosen, Victorious, Righteous, Beloved, Complete, Perfected Priesthood who Overcome all obstacles becoming the Head, not the Tail because we Belong to our Loving Father!
Once the truth of our Position finally sinks into our hearts and minds, we can live out our true identity in Christ.