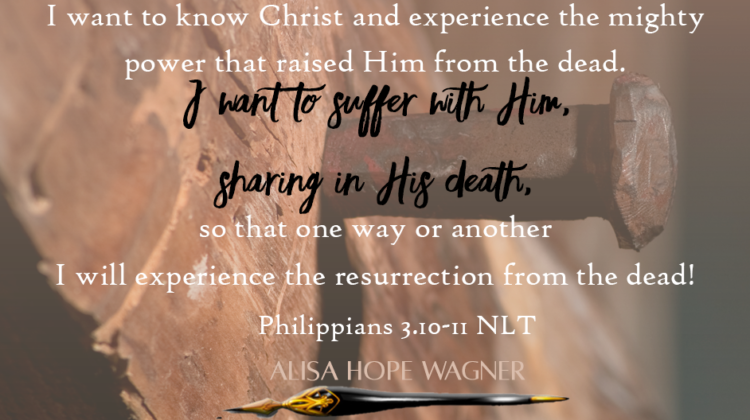 "I want to know Christ and experience the mighty power that raised him from the dead. I want to suffer with him, sharing in his death, so that one way or another I will experience the resurrection from the dead!" (Philippians 3.10-11 NLT).
God's ways are definitely not our ways (Isaiah 55.8-9). One would think to gain Power, we would have to fight for it. Read more. Meditate more. Study more. Work more. Though there is nothing wrong with these activities, they won't give us God's Power.
God does things differently.
We gain His Power by dying to self (our desires, our control, our ways) and submitting to God with complete abandonment like little children (Matthew 18:2-4). Once we get out of the way, God can pour His Power over us–the same Power that can raise people from the dead both physically and spiritually. And the same Power that can raise our God-given Promises from the dead.
We have guaranteed Promises from God extended to us by His grace and claimed by us with faith. However, these Promises are only attainable through God's Power working in our lives. God gives us a beautiful truth that when we stop focusing on our inabilities and begin focusing on His strength, His Power will flow mightily through us. Gaining Power is not about what we can offer; it's about what we are willing to receive by faith.
"But he said to me, 'My grace is sufficient for you, for my power is made perfect in weakness.' Therefore I will boast all the more gladly of my weaknesses, so that the power of Christ may rest upon me.For the sake of Christ, then, I am content with weaknesses, insults, hardships, persecutions, and calamities. For when I am weak, then I am strong" (2 Corinthians 12.9-10 ESV).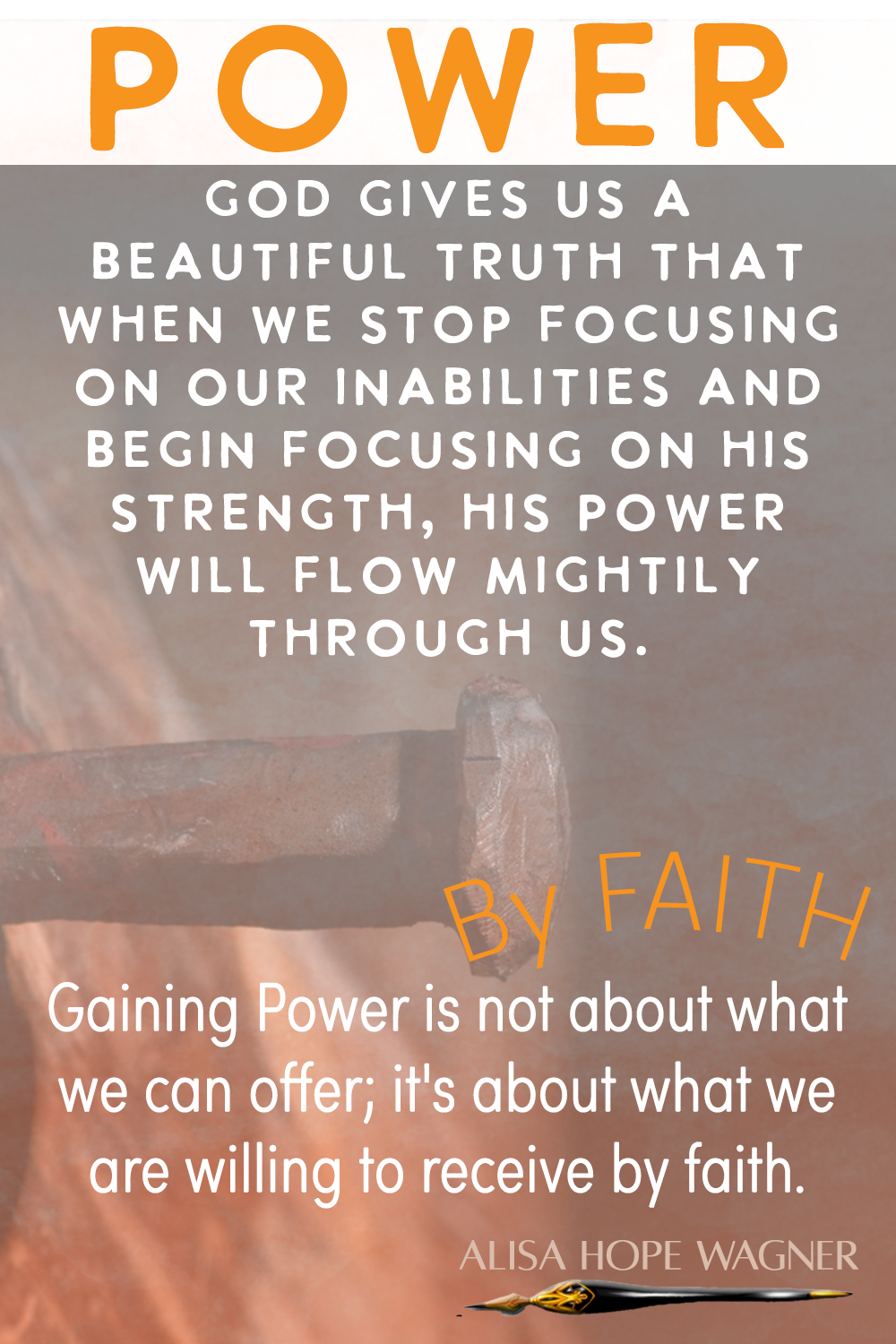 How wonderful to know that it is our weakness that sparks His Power in us! Yes, we can work in our personal strengths, but those won't necessarily spur God's Power. God gets all glory by moving in areas where we struggle because the workings of His Power are attributed to Him alone, not us. When we take steps of faith in our weakness, despite the unknowns and our insecurities, God steps up and moves His mighty arm on our behalf.
The world needs to see Christians walk with Power, not fear, anxiety, worry, insecurity, lack, discouragement, defeat, etc. We have the King of Kings on our side, wanting to wield His Power through us. That is what the world needs to see. A Power that can't come from a man or woman. A Power that can only come from a supernatural Source. This Power is ours for the taking. We simply need to tap into it. How do we gain this Power? It comes through salvation via the Cross of Christ.
"For the word of the cross is folly to those who are perishing, but to us who are being saved it is the power of God" (1 Corinthians 1.18 ESV).
Jesus died, taking our sins with Him, and He rose three days later leaving our sins in the tomb. We are free from the trap of sin that tries to steal the Power we have in Jesus. Once our minds and hearts fully believe the truth of what Jesus' Finished Work accomplished for us, we can start walking in the Power we receive when the Holy Spirit — God's Spirit– unleashed onto the world on Penocast. This Power came suddenly. The disciples couldn't earn it. This Power was a free gift given to us because Jesus swapped our sins for His righteousness and now the Holy Spirit can dwell within us along with His Power.  However, we must believe this Power is ours by faith (1 Corinthians 2.5). 
"But you will receive power when the Holy Spirit comes on you; and you will be my witnesses in Jerusalem, and in all Judea and Samaria, and to the ends of the earth" (Acts 1.8).
It is time we ask the Holy Spirit for His Power to manifest in and around us. We have the Kingdom of God within us (Luke 17.20-21). And this Kingdom is best expressed with God's Power flowing in our lives. Words are not enough. Knowledge is not enough. With the Power of God on our side, all things are possible and we can overcome every obstacle, difficulty, heartache and enemy (Matthew 12.9). Once we free ourselves with the Power of God, we can help free others.
"For the kingdom of God is not a matter of talk but of power" (1 Corinthians 4.20).
God wants us to have His Power. He sent His Son to the Cross not only to save us but to also give us His Power on earth to do mighty works according to His Kingdom plan. We have the Power of God at our fingertips, so we should be the most confident, bold and daring people on earth.
We can walk boldly by faith, trusting that God's Power will make a way where there is no way, will accomplish all God's Promises for us and will break through the enemy's line in order to gain more territory for the Kingdom of God.
"I also pray that you will understand the incredible greatness of God's power for us who believe him. This is the same mighty power that raised Christ from the dead and seated him in the place of honor at God's right hand in the heavenly realms" (Ephesians 1:19-20 NLT).