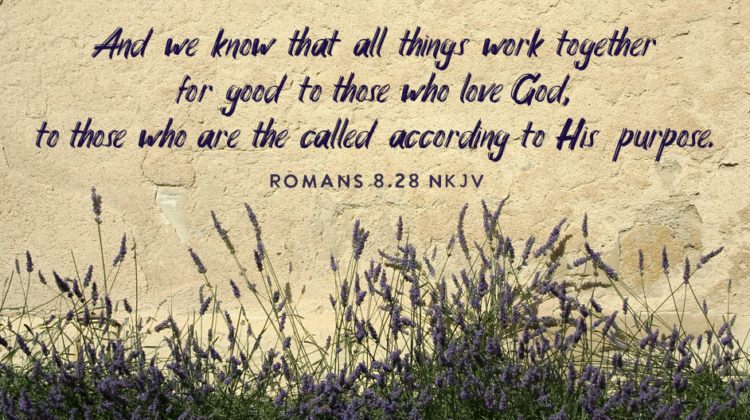 "And we know that all things work together for good to those who love God, to those who are the called according to His purpose" (Romans 8.28 NKJV).
Now that we understand our Position in God, we can examine our Purpose in God. To have a Purpose on earth is vital to our daily living. The Bible says that if we don't have a vision for our lives, we (our destinies) will perish. We have to know that our lives have meaning and that we fulfill a valuable service on earth. The work we do must earn us more than a paycheck. It must fulfill our very real and strong desire to feel valuable, needed and prosperous. God is a creative God, and He has a creative Purpose for each of His children.
"Where there is no vision, the people perish: but he that keepeth the law, happy is he" (Proverbs 29.18 KJV).
We have been created to do the will of God which will produce good works in our lives that line up with His Greater Kingdom Plan. Our Purpose is what keeps us walking by faith and trusting and relying on God in everything we do. Many times, God calls us to stretch our comfort zones and do things that scare us or seem impossible, and the reason we overcome our fears and make a leap of faith is that our Purpose draws us to continue despite feeling inadequate or not knowing the outcome.
"For we are His workmanship, created in Christ Jesus for good works, which God prepared beforehand that we should walk in them" (Ephesians 2.10 NKJV). 
When we get to Heaven we will be judged not by our sins because they have been cleansed by the Blood of Jesus. However, we will be judged based on what we did with the gifts and talents God wove into our nature in order to accomplish the Purpose He has for us. This Purpose will always serve the needs of others and quench our thirst for a life of meaning. When we obey in work according to God's will for us, we will one day hear Jesus say, "Well done!"
"The master said, 'Well done, my good and faithful servant. You have been faithful in handling this small amount, so now I will give you many more responsibilities. Let's celebrate together!'" (Matthew 25.23 NLT).
Our Purpose also brings us closer to God's best design for our lives. In order to achieve the great things God has planned for us, we must make a habit of learning, growing, stretching and relying on Him. Without a Purpose, there would be no reason to press forward and develop as individuals in the image of Christ. Christ completed the ultimate Purpose of reconciling the world back to God through His Finished Work on the Cross. Now it is our turn to pick up our own Cross–our personal Purpose–and follow the leading of the Holy Spirit (Matthew 16:24).
"So all of us who have had that veil removed can see and reflect the glory of the Lord. And the Lord—who is the Spirit—makes us more and more like him as we are changed into his glorious image" (2 Corinthians 3.18 NLT).
If God didn't have a Purpose for our lives on earth, He would simply take us straight to Heaven after we receive salvation through Jesus Christ. However, God does not take us up right away because He has a Purpose for our lives on earth that will bless His Children and be an integral part of His Kingdom Plan. Once we know our Position in God through Christ, we can ask God what Purpose He has for us, so we can align ourselves with God's Kingdom Purpose.
"Declaring the end and the result from the beginning, And from ancient times the things which have not [yet] been done, Saying, 'My purpose will be established, and I will do all that pleases Me and fulfills My purpose'" (Isaiah 46.10 AMP)
Below is a prayer we can say in order to ask God to reveal our Purpose, so we can begin living a life overflowing with meaning, value and blessing.
"Dear Heavenly Father, now that I know my Position as a Child of God, I desire to know why I am here on this earth, in this body, during this time and with the talents and gifts I've been born with and want to cultivate. God, reveal your great Purpose for my life to me. I want my steps each day to be directed by a greater vision than I could have ever imagined. Open my eyes to all of your plans, so I can wake up each day knowing I have worth, value and meaning. I know have a Purpose that will shine before others, and I can't wait to walk in my Purpose filled with great deeds that will glorify You. I pray this in Jesus' Name, amen."
"In the same way, let your light shine before others, that they may see your good deeds and glorify your Father in heaven" (Matthew 5.16 NIV).