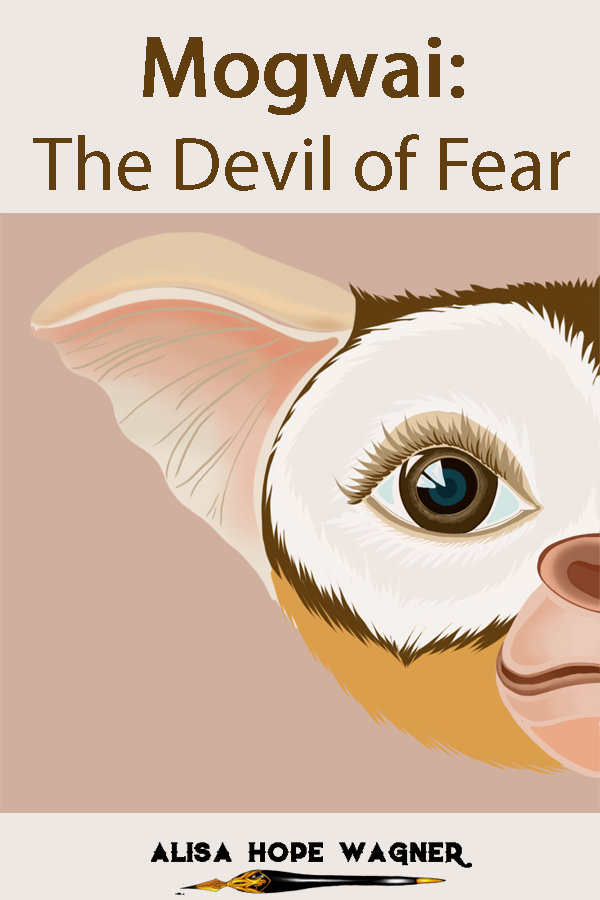 "The Lord is my light and my salvation—whom shall I fear? The Lord is the stronghold of my life—of whom shall I be afraid?" (Psalm 27.1 NIV). 
I had a dream about the movie, Gremlins, the other night. I wasn't thinking about this movie, and I remember being confounded by the images even as I dreamed them. However, the dream was very specific, like I was watching a different aspect of the movie that applied to something greater.
I saw this seemingly friendly Mogwai (which means devil in Cantonese). And although it appeared cute, I wondered why keeping it as a pet would be beneficial in any way. In my dream, I listed out the three things that caused trouble to this little devil: sunlight, water and food (after midnight)–three basic and prevalent necessities of life.
Harboring this animal would eventually lead to one of two things: 1) being stuck constantly monitoring it or 2) if not monitored, having to deal with the devastating repercussions of it. Either way, owning this pet was not beneficial in the least. In fact, it was detrimental!
Within this cute, "helpless" Mogwai, resided an endless stream of little devils that cause chaos, destruction and even death. Why would anyone harbor such a thing?!
When I asked God what this dream meant, He told me that the Mogwai is the Spirit of Fear. Fear seems harmless and even comfortable at first. Don't we have every right to fear? Isn't our fear rooted in some form of circumstantial truth? However, the real truth is that fear will cause one of two things.
1) We will be stuck harboring fear and completely miss out on God's best and our destiny.
2) The Spirit of Fear will unleash an endless supply of other little, destructive devils — suspicion, doubt, insecurity, discontent, anxiety, worry, bitterness — that will keep us so distracted that we will again miss out on God's best and our destiny.
Either way, we will be missing out.
Fear leads to the mother-load of demonic chaos in our lives. It is the gateway of the enemy to destroy our relationships, our destinies and our lives. How do I know this? Because I have been harboring fear for a while now. Fear is usually triggered by some tiny aspect of truth, but when that fear is not submitted to God right away, the devil spawns nasty, demonic gremlins into our minds, hearts and lives.
I have been struggling with things I've never struggled with, like suspicion and anxiety. I kept asking God why are these things wreaking havoc in my mind. He gave me the answer in a dream about little devils, the gremlins. I have allowed fear a place in my heart, and it has spawned destructive thoughts that I've never dealt with before. Thankfully, though, it has also exposed the little devils (like doubt and insecurity) that I have grown accustomed to.
They have ALL been keeping me stuck and missing out on the best life God has for me and it is time to clean house!
It is said that "Do not Fear" or variants of this phrase can be found 365 times in the Bible–one for every day of the year. The cute Mogwai of fear will constantly try to make its way into our minds because it spews all hell's cohorts to cause chaos. The devil wants nothing more to make us miserably stuck. But we can't let fear stop us any longer!
God commands us to not fear, and He can not command something that is impossible (Isaiah 41.10). If we are struggling to not fear, then God will conquer fear on our behalf. We only must have faith in His love for us.
So my petition to all of us is not to let the seemingly innocent, cute Mogwai into our minds and lives! It is not innocent and sweet. In fact, it is the embodiment of all demonic activity that Satan wants to birth into our lives. When the Spirit of Fear starts to creep in, we must instantly give it to God in Jesus' name. Jesus has already achieved victory over that demonic monster through the Cross. We don't have to indulge in fear any longer!
"There is no fear in love. But perfect love drives out fear, because fear has to do with punishment. The one who fears is not made perfect in love" (1 John 4.18 NIV).
If you want help combatting the Spirit of Fear, purchase my one-year devotional, Slay the Day: Your Daily Dose of Victory. It covers every book in the Bible with short, powerful words of truth that will become your offensive sword against the gremlins of your mind.