Here are 7 Practices to Make God Real in our Home
I have a family of six — me, my husband, our three kids and God. My husband and I are very intentional about making God a real, tangible member of our family. We don't simply just talk about God, we demonstrate Him in relevant ways, so our kids can truly know Him and learn to do life with Him. Our two sons and daughter will learn about having a relationship with God by first watching their parents. We make Him real in our home.
How can we allow God to be a relevant part of our Family?
First, we talk about our experiences to make God real in our home
We describe what God is teaching us in the Bible. We share how God showed us something through nature. My husband and I are constantly sharing real ways God is speaking to us. We chat to each other in front of our kids, and we include them in our conversations.
They triumphed over him by the blood of the Lamb and by the word of their testimony…" (Revelation 12.11 NIV). 
Second, we pray aloud to make God real in our home
At first praying in front of my children felt uncomfortable. But I knew if they didn't learn it from me, who then would they learn from? So I began praying out loud when they were very young. I prayed for the people in the ambulance. I prayed for the tragedies on the news. I prayed for family and friends who were struggling. And I pray for them about every pain, worry, struggle and heartache they have. Plus, my husband and I pray for them at bedtime every night.
Rejoice always, pray continually, give thanks in all circumstances; for this is God's will for you in Christ Jesus" (1 Thessalonians 5.16-18 NIV). 
Third, we read the Bible every morning to make God real in our home
We either read from the Bible or grab a devotional and read it while the kids eat breakfast. Right now we are reading my one-year devotional, Slay the Day, and the kids are hearing truth spoken over them. They hear God's Words, and that makes Him more real.
Keep this Book of the Law always on your lips; meditate on it day and night, so that you may be careful to do everything written in it. Then you will be prosperous and successful" (Joshua 1.8 NIV).
Fourth, we confess our wrongs and apologize to make God real in our home
There is no such thing as a perfect parent. The best we can be is flawed but perfected in grace. God can change a heart, but the heart must be willing. We demonstrate humility to our kids, so they can see God tangibly working in us.
Therefore confess your sins to each other and pray for each other so that you may be healed. The prayer of a righteous person is powerful and effective" (James 5.16 NIV).
Fifth, we explain the Trinity to make God real in our home
The Trinity of God can be confusing, but I explain to my kids this simple analogy. I tell them that their father is 1) a dad  2) a husband 3) a doctor. He is the same person, but he relates to others in different ways, depending on what he's doing. So the same goes with God. He is real and interacts with us in distinct ways.
May the grace of the Lord Jesus Christ, and the love of God, and the fellowship of the Holy Spirit be with you all" (2 Corinthians 13.14 NIV).
Sixth, we tell our kids to ask God to make Him real in our home
Sometimes, my husband and I don't have the answers. When our kids struggle, we pray with them. However, we always suggest that they pray to God for themselves. Listening to God is difficult at first, but like any relationship, intimacy takes effort and time. He will become more real in their lives as they learn to pray one-on-one with Him.
Call to me and I will answer you and tell you great and unsearchable things you do not know" (Jeremiah 33.3 NIV).
Seventh, we surround our kids with Christian influences to make God real in our home
My husband and I attend church weekly. This ensures that our kids are influenced by other Christians. We want our kids to be involved in another ministry outside of the home. Church allows them to experience a tangible God from other perspectives.
And let us not neglect our meeting together, as some people do, but encourage one another, especially now that the day of his return is drawing near" (Hebrews 10.25 NLT).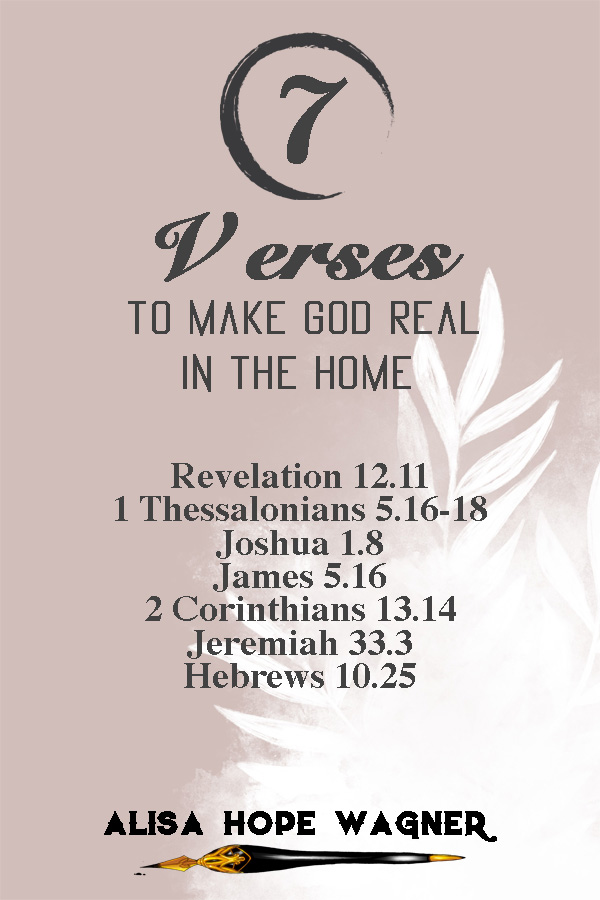 These seven practices make room for God in our Home.
Making God real transforms us from a family of 5 to a family of 6 with God in the center. God becomes tangible because we invite Him to join us everyday. We teach our kids to rely on God when they are young, so God can be a real part of their lives as adults.
"Train up a child in the way he should go: and when he is old, he will not depart from it" (Proverbs 22.6 KJV).
To read more about Alisa's process of our she brought Jesus into her heart, life and home, read her meditation books, the Vessels Series: Imperfect Vessels, Broken Alabaster Jars, Gathering Empty Pitchers.