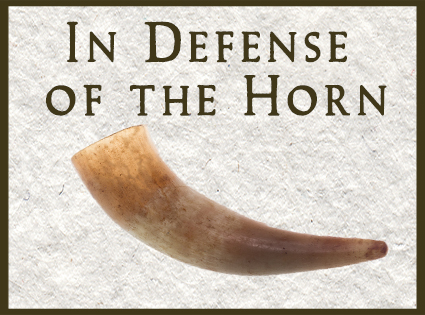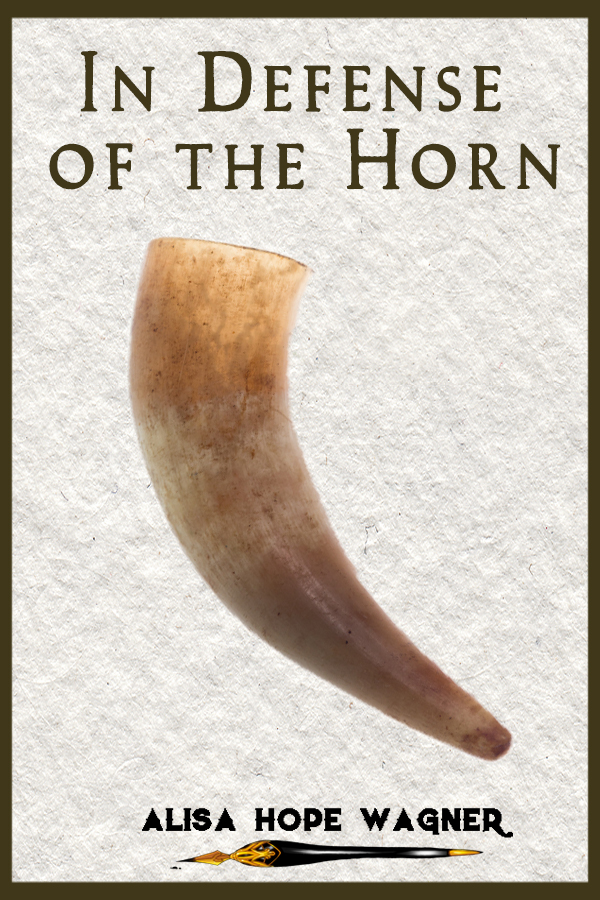 *Video at the end of post.
The "Horn" symbolizes strength in the Bible–specifically God's Strength on earth. However, counterfeits of the horn are also used for the enemy's fake authority that he gets only when WE give it to him. In this article, I will explain why the horn is so important and how to distinguish between God's true horn of strength and the false horns of the enemy.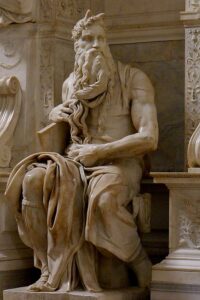 Michaelangelo sculpted an image of Moses with horns on his head. His reasoning comes from St. Jerome's translation of the Bible into the Latin Vulgate. Some scholars say that St. Jerome made a translation error; however, other scholars insist that St. Jerome chose his words wisely and that Ancient Jewish history fully believed that Moses had sprouted horns while talking with God on Mount Sinai and copying the 10 Commandments.
"And when Moses came down from the Mount Sinai, he held two tables of the testimony, and he knew not that his face was horned from the conversation of the Lord. And Aaron and the children of Israel seeing his face of Moses horned, were afraid to come near" (Exodus 34.29-30, D-R).
This word "horned" comes from the root "qaran" in the Brown-Driver-Briggs Hebrew Lexicon has three definitions: 1) Horn of a Ram  2) Symbol of Strength  3) Horn like projections of an altar. Many believe that these "horns" that Moses received from talking with God were "horns of light" that represented the two tablets that he held. This is the reason that Bibles today translate Moses' horns into light:
"And it came to pass, when Moses came down from mount Sinai with the two tables of testimony in Moses' hand, when he came down from the mount, that Moses wist not that the skin of his face shone while he talked with him. And when Aaron and all the children of Israel saw Moses, behold, the skin of his face shone; and they were afraid to come nigh him" (Exodus 34.29-30 KJV). 
Qaran in the KJV translates Strong's H7160 into shine and has horns.
(Qal) to send out rays

(Hiphil) to display or grow horns, be horned
To keep the "shine" meaning of the word, "qaran" and do away with the "horn" symbol is to do a massive disservice to Scripture and to our lives. Yes, we want to "shine" the glory of the Lord. However, we also absolutely need the "horns" of God's strength. We need both the light and the strength of God, so we must take back the "horns" from the enemy by examining the power this word has for us.
Horn of God's Strength and the Glory of His Light are available to us, and we need them both to have victory. Out of the root word "qaran" comes the word "qeren," which has the same implications.
horn
horn

of strength (fig)

flask (container for oil)

horn (as musical instrument)

horn (of horn-like projections on the altar)

of rays of light

hill
This word is found many times in the Bible and is a display of God's strength in people's lives.
Hannah claimed the horn of God when she finally gave birth to a son, Samuel, and dedicated him to the Lord: "And Hannah prayed and said: 'My heart rejoices in the

Lord; 

My horn is exalted in the

Lord

. I smile at my enemies. Because I rejoice in Your salvation. David was anointed with oil from a horn'" (1 Samuel 2.1 NKJV).
And in Hannah's jubilation, she actually prophesied about the coming Christ, who be the literal symbol of God's Strength in our physical world: "The adversaries of the

Lord

shall be broken in pieces; 

From heaven He will thunder against them. 

The

Lord

will judge the ends of the earth. 'He will give strength to His king, And exalt the horn of His anointed'" (1 Samuel 2.10 NKJV).
Samuel anointed King David with oil from a horn: "Then Samuel took the horn of oil and anointed him in the midst of his brothers; and the Spirit of the

Lord

came upon David from that day forward. So Samuel arose and went to Ramah" (1 Samuel 16.13 NKJV).
King Solomon was anointed with the oil from horn as another horn was blown: "Then Zadok the priest took a horn of oil from the tabernacle and anointed Solomon. And they blew the horn, and all the people said, 'Long live King Solomon!'" (1 King 1.39 NKJV).
According to Psalm 75.10: There are wicked horns and righteous horns: "All the horns of the wicked I will also cut off, But the horns of the righteous shall be exalted."
So which horn are we raising up? Because if we are not raising up God's horn, we are giving the enemy authority to raise up his counterfeit.
King David knew all too well about which horn he wanted in his life. After hiding in caves from an enemy intent on killing him, he realized the only true horn of strength was from God.
"For You are the glory of their strength, And in Your favor our horn is exalted" (Psalm 89.17 NKJV). 
"But My faithfulness and My mercy shall be with him, And in My name his horn shall be exalted" (Psalm 89.24 NKJV).
What we see from King David's words is that his very strength was reliant on God's strength. This means that when we rely on God, He gives us His strength. When we don't rely on God, we give that strength to the enemy. How do we make sure to hold onto God's strength? The Old Testament prophesies the Horn of David, which is Jesus Christ, God in the Flesh, come to bring God's salvation and strength to the World. Jesus is our Horn of Strength today.
"There I will make the horn of David grow; I will prepare a lamp for My Anointed" (Psalm 132.17 NKJV). 
And in Revelation 5:6, we see the Slain Lamb, Jesus Christ, who died for the sins of the world to give us God's Salvation and Strenght. The Lamb has 7 horns because 7 is the number of Sabbath, and Jesus is Lord over Sabbath.
"And I looked, and behold, in the midst of the throne and of the four living creatures, and in the midst of the elders, stood a Lamb as though it had been slain, having seven horns and seven eyes, which are the seven Spirits of God sent out into all the earth" (NKJV).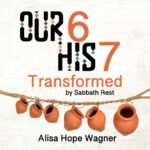 For more information about the Jesus' 7 and Sabbath Rest, read or listen to my book, Our 6 His 7: Transformed by Sabbath Rest.
Seven is the number of completion, and Jesus is the complete strength of God in the flesh given to us by His grace. By faith we grab hold of this Horn of Strength, so the enemy can not have authority in our lives anymore.
We must take up our horn today and take back the authority Jesus died on the cross to give us. The horn of Christ is our strength!
"Blessed is the Lord God of Israel, For He has visited and redeemed His people, And has raised up a horn of salvation for us
In the house of His servant David" (Luke 1.68-69 NKJV). 
Because of salvation on the cross, we have been reconciled back to God and His Horn of Strength is now over us. When we received the gift of salvation, we have the Horn of Christ in our lives and the power, authority and victory of God is ours! We must embrace this Horn or else the enemy will try to replace it with his false horn of destruction.
He has a counterfeit of light:  "And no wonder! For Satan himself transforms himself into an angel of light" (2 Corinthians 11.14 NKJV).
And he has a counterfeit horn: "And another sign appeared in heaven: behold, a great, fiery red dragon having seven heads and ten horns, and seven diadems on his heads" (Revelation 12.3 NKJV).
For certain, he has power with his light to fool and power with these horns to destroy, but the Lamb of God's Light and Horn have the ultimate victory. We can fight every battle the enemy wages against us, knowing that we have the tools to overcome and win.
"For the weapons of our warfare are not carnal but mighty in God for pulling down strongholds, casting down arguments and every high thing that exalts itself against the knowledge of God, bringing every thought into captivity to the obedience of Christ" (2 Corinthians 10.4-5 NKJV).
Anything that tries to "exalt itself against the knowledge of God" must be put under the authority of Christ. Satan only has the authority that we give him, but if God is our true Light and Horn, there is no room for him to take up space.
In my Christian Fantasy Fiction book, the Violet Moon Series, I take the elements of faith and write them into a new world. I believe many of our young people take for granted the story of the Cross and Salvation through Christ because they grew up hearing it. So I shed new light on the principles of faith without compromising the truth: We have a Savior, God in the Flesh, who entered our world and reconciled us back to our Creator.
In my book, the River-dwellers have horns, which symbolizes God's strength over their lives. The Sand-shapers, however, extract their horns, which symbolizes that they have removed God and His strength.
Let us never remove the Horn of God, Jesus Christ, from our lives, churches, communities, countries and world. Because when we do, we give the counterfeit, Satan, the authority to wield his horn of destruction.
If you would like to start my award-winning series, you can read or listen to it. Buy on Amazon: F'lorna of Rodesh and Chieftain's Daughter.