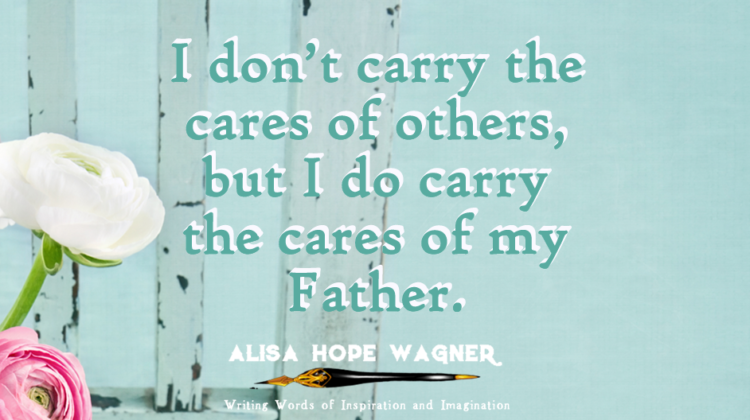 I joined a team to run the Beach to Bay, a six-person marathon run in Corpus Christi, Texas.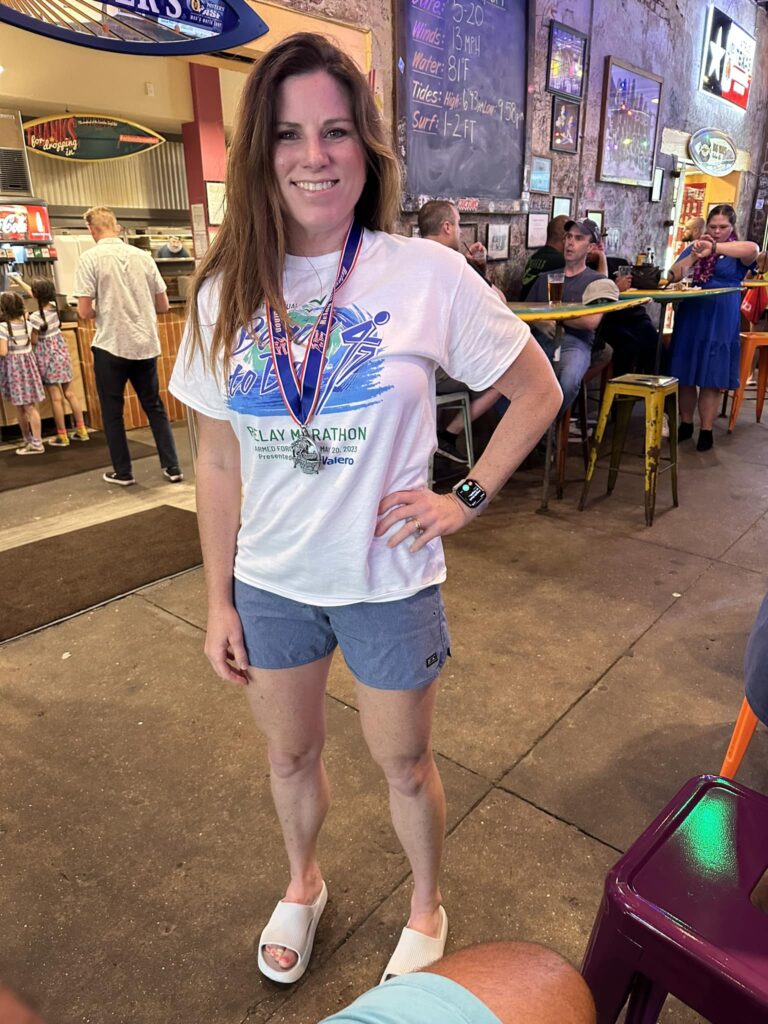 Each person ran a distance of 3 miles to 5 miles. There were six legs of the run, and I was the first leg, which was on the beach–thus the name "Beach to Bay." There were 8,000 runners this year. I've run the first leg already three times, so it was fairly uneventful for me to get there by the 7 am start time. However, I didn't know that they changed the location of the starting point.
My husband took me on the golf cart because we can cross the main road with it. We just can't drive down the main road. When we got to the beach where the starting point normally was, no one was there. We had less than 30 minutes to figure out where the heck the starting point was. I downloaded a map (which was an old one), and we kept driving to different locations on the beach. Finally, we realized that the starting point was across Packery Channel Bridge, and my husband could not drive our golf cart on the road.
We had two choices: Either we drive all the way back home on the golf cart and get his truck and try to make our way through the dense traffic or I run to the starting point, which I had no idea where it was located. It was now 7 am and the race had begun. I had six other women counting on me. I decided to leave the golf and run. I ran across fields of sand dunes and made my way to the bridge. Then I ran down the bridge and followed walkers heading toward the beach.
These walkers were part of the second leg of the race because the first leg went down the beach and turned back to the starting point to hand off the baton. When I finally got to the starting point, I had run over two miles, running 8.5-minute miles. Now I was twenty minutes late and my team was dead last of over 8,000 people. I sprinted past the starting point which had already been labeled "Leg 2." There was no one around me. I didn't know if I was even part of the race now. However, the number I pinned on my shirt had the scanner.
If I didn't make it in time, my team would not be admitted to the race.
I sprinted through the thick sand, not allowing my time to go over 9-minute miles. I had five miles to run, and I had already run two miles to get there. I passed the first water stand, and they were closing down. I was desperate. I needed to make the turn back to the starting point where the scanner was going to scan my number. I started seeing the professional runners whiz past me on the other side of the beach headed back to the starting point to pass off their batons to leg two. Then I started seeing more people on the other side running back to the starting point. I felt like I was going to disappoint my entire team.
Then, I turned the corner where the scanner was located. Yay! My team number was scanned, and the man seemed surprised to see me. I started the trek back to the starting point and began passing walkers. Then, I started sprinting past walker-runners. I would target a person or group and aim toward passing them. The last mile was so difficult. The rain started falling and all I could hear were my gasps for air. I passed more and more people. Finally, I could see my friend waiting for me at leg 2. I was almost there! I past the baton to her and walked the beach, trying to catch my breath. I had just finished a 7-min mile run — running 8.5-minute miles on the road and 9-minute miles on the sand. But adding my 20-minute delay, I ran a 13-minute five-mile leg, which is pretty average for my age group.
Finally, I jogged two miles back to where my husband was waiting with the truck. I was exhausted after a 9-mile run, but I was so relieved. I hadn't let my team down.
Our team finished 45 out of 102 groups in the 18+ women's group, which is not bad since we were all in our forties and fifties! I asked God why did He allow that to happen? Why did He allow me to get lost and be 20 minutes late for the race? He gave me some great insight. Sometimes we get lost and confused. Sometimes in our walk of faith, we unknowingly get off the trail. The sprint back into His will may be strenuous, but it won't last forever. I made it back, and no one was let down.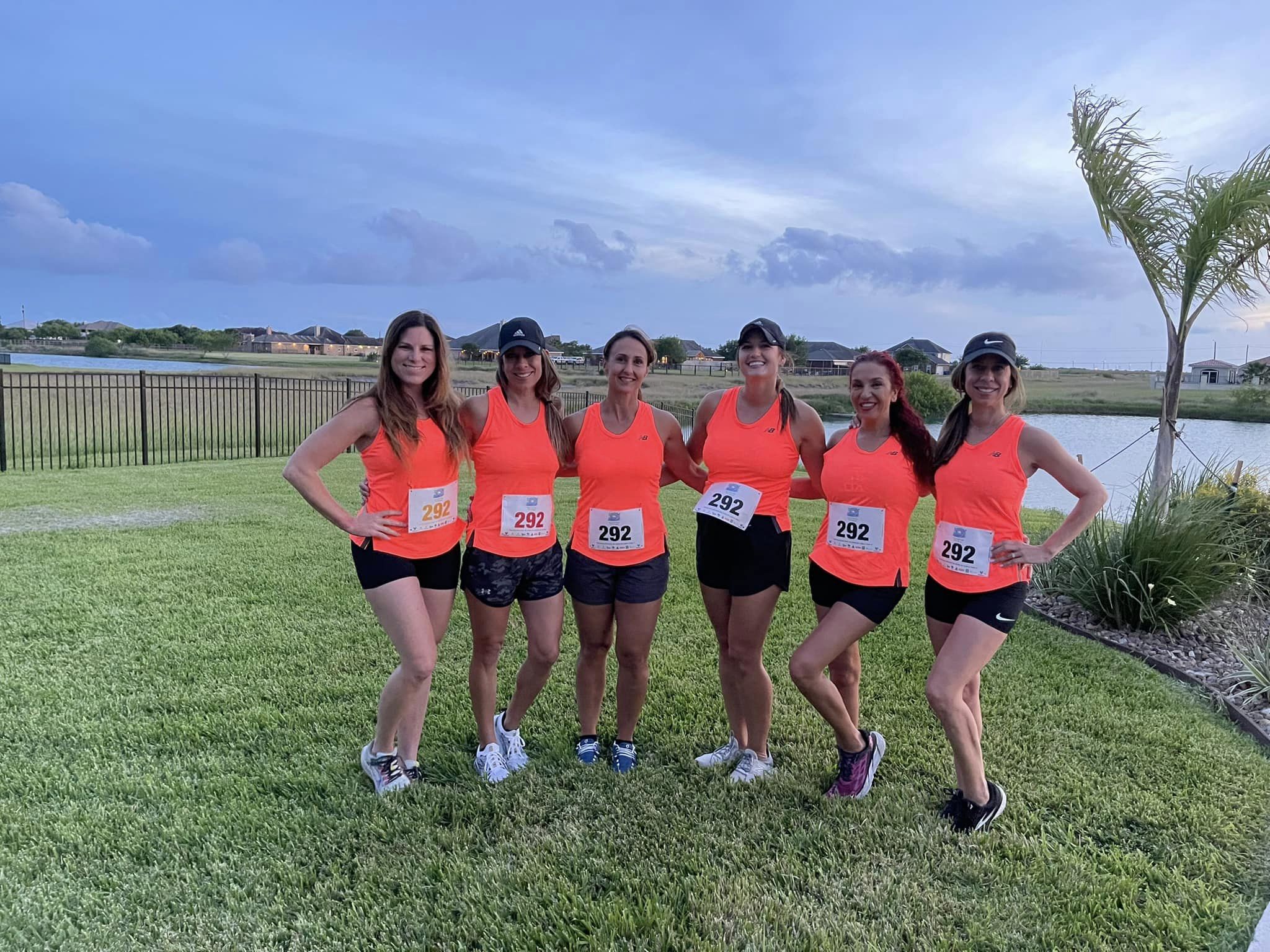 I don't carry the cares of others, but I do carry the cares of my Father. He loves me and knows what I can accomplish. Even though I was the fastest runner on my team, I wound up being the average. But average was fine for me because my team, the Children of God, was able to finish their own race. Sometimes, we think that our actions don't affect others but many times they do. Our words, our actions and our conduct affect those around us. We are not perfect, but God lovingly gives us a chance to run our hearts to the limits to make up for where we got lost. Praise God for His grace and second chances!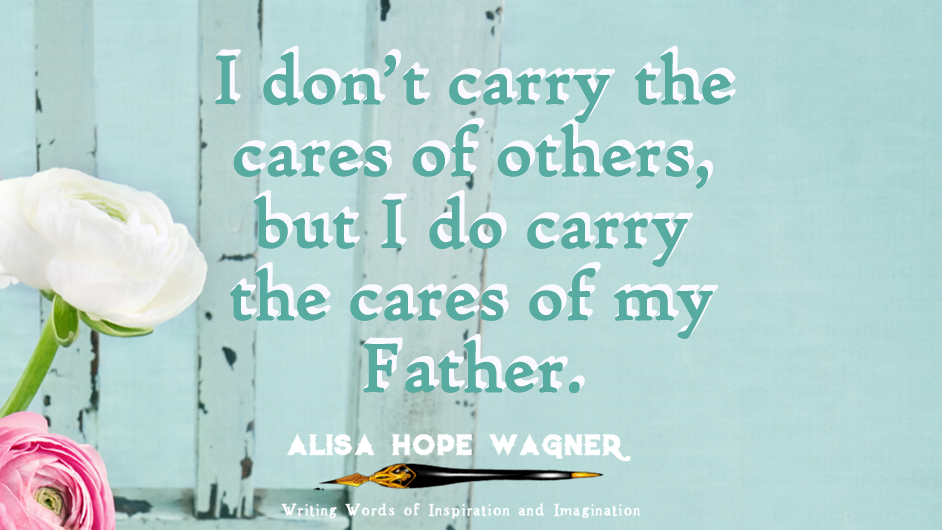 Dear friend, if you have gotten off trail, do not fret.
Take this time to run your heart out and catch up. God is with you. He is cheering you on. It may not feel good, but the strenuous effort won't last long. You will make it, and you will be stronger (and sore for many days) because of it. See it as a challenge to become the best version of yourself. It is in you, I promise. You just have to jump out of the golf cart and start running by faith.