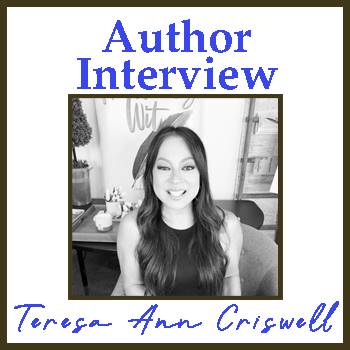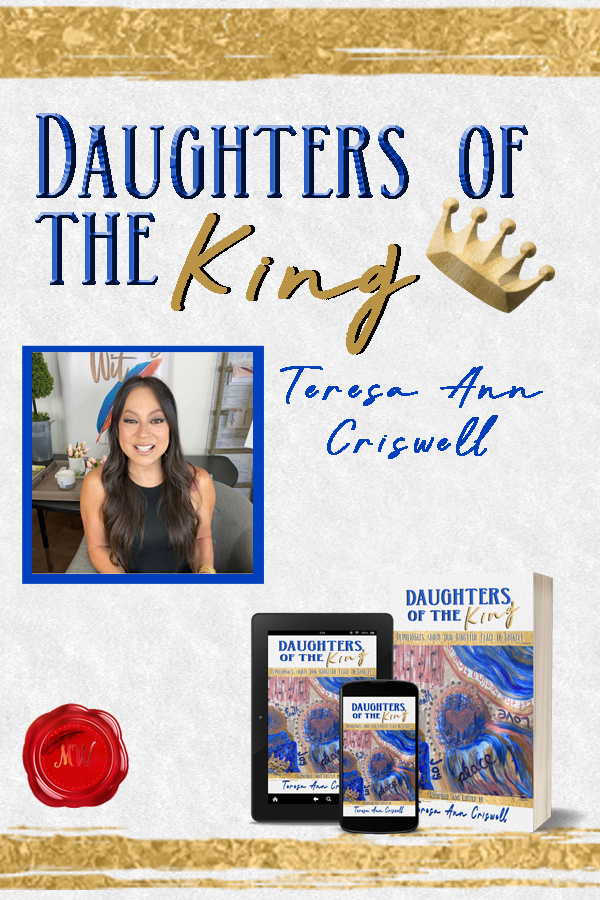 We at enLIVEn Devotionals have published our 7th anthology, entitled, Daughters of the King: Revealing God's Royalty in the Midst of Peasantry! The mastermind behind the amazing book by the inspiration of the Holy Spirit is Teresa Ann Criswell! She is the newest editor of the enLIVEn Devotionals Team.  Proceeds of this encouraging reminder of who you are in Christ go to support the fight against human trafficking via Reflection Ministries of Texas.

1. The title of the anthology is Daughters of the King. What does that title mean to you and your ministry?
There is a story behind every story. Often times – struggles, difficulties, pressures of life, unseen sorrows that are coupled with victories, redemption, transformation of the heart are part of them. 𝘿𝙖𝙪𝙜𝙝𝙩𝙚𝙧𝙨 𝙤𝙛 𝙩𝙝𝙚 𝙆𝙞𝙣𝙜 first began, as a couple from the church I gathered with were persistent about me starting a small group at the church. When I asked the Lord if I should, and if I was supposed to, then what I should name it. That was when I saw the following words, 𝘿𝙖𝙪𝙜𝙝𝙩𝙚𝙧𝙨 𝙤𝙛 𝙩𝙝𝙚 𝙆𝙞𝙣𝙜. I got so excited and then prayed, "Lord, I want a tagline like "Nike." Then soon after that prayer, I saw these words, 𝙍𝙚𝙫𝙚𝙖𝙡𝙞𝙣𝙜 𝙂𝙤𝙙'𝙨 𝙍𝙤𝙮𝙖𝙡𝙩𝙮 𝙞𝙣 𝙩𝙝𝙚 𝙈𝙞𝙙𝙨𝙩 𝙤𝙛 𝙋𝙚𝙖𝙨𝙖𝙣𝙩𝙧𝙮. I loved it and thought it was so "cute." Not knowing the revelations that would unfold of God's goodness in the midst of trouble and heartache.
So, our first gathering was in September of 2011. Four ladies arrived. One of them being Katherine Haynes, who is one of the contributing writers of this book. It was so awesome as Terry Pruett trained us as facilitators of every small group of how to ask questions and to make sure NOT to "rescue" people when there was silence amongst the group. Fast forward, that evening my icebreaker question was, "What does it mean to be a daughter of the King?" Of course, the answers were good, but as Terry taught, he would encourage us to say, "That's good, but let's go deeper…" The answers to that question were, "To be a daughter of the King is to be God's child" and answers as such. As I said, "Let's go deeper…" There was about two minutes of silence that seemed much longer. That was the moment the Holy Spirit used the silence to do His great work. In those moments, divine quietness was divinely interrupted with an answer that enlarged my awe of God forever. Katherine answered something like these words, "𝙄 𝙣𝙤𝙬 𝙠𝙣𝙤𝙬 𝙩𝙝𝙖𝙩 𝙄 𝙠𝙣𝙚𝙬 𝙄 𝙬𝙖𝙨 𝙖 𝙙𝙖𝙪𝙜𝙝𝙩𝙚𝙧 𝙤𝙛 𝙩𝙝𝙚 𝙆𝙞𝙣𝙜, 𝙩𝙝𝙚 𝙢𝙤𝙢𝙚𝙣𝙩 𝙢𝙮 𝙨𝙤𝙣 𝙘𝙤𝙢𝙢𝙞𝙩𝙩𝙚𝙙 𝙨𝙪𝙞𝙘𝙞𝙙𝙚. 𝙏𝙝𝙞𝙨 𝙥𝙚𝙖𝙘𝙚 𝙡𝙞𝙠𝙚 𝙖 𝙬𝙖𝙩𝙚𝙧𝙛𝙖𝙡𝙡 𝙤𝙫𝙚𝙧𝙬𝙝𝙚𝙡𝙢𝙚𝙙 𝙢𝙚. 𝙀𝙫𝙚𝙣 𝙩𝙝𝙤𝙪𝙜𝙝 𝙄 𝙙𝙤𝙣'𝙩 𝙧𝙚𝙢𝙚𝙢𝙗𝙚𝙧 𝙖 𝙡𝙤𝙩 𝙖𝙛𝙩𝙚𝙧 𝙩𝙝𝙖𝙩 𝙢𝙤𝙢𝙚𝙣𝙩, 𝙩𝙝𝙖𝙩 𝙞𝙨 𝙬𝙝𝙚𝙣 𝙄 𝙘𝙖𝙣 𝙡𝙤𝙤𝙠 𝙗𝙖𝙘𝙠 𝙖𝙣𝙙 𝙨𝙚𝙚 I was His daughter."
That was the moment when I realized the "tagline" to 𝘿𝙖𝙪𝙜𝙝𝙩𝙚𝙧𝙨 𝙤𝙛 𝙩𝙝𝙚 𝙆𝙞𝙣𝙜 was much more than a cutesy saying. It was TRUTH of who God is. It was the annihilating covering of light in the midst of tragic darkness. In the midst of life, at every turn, we can realize that God is in the midst.

2. The painting on the cover was created by you and several friends. How did that come about?
For years we gathered at least once a month. Then the last year and a half I was instructed by the Holy Spirit to not "Put the group down, but to give it back to Him." So I did. That's when this past June, I was instructed to restart, Daughters of the King. In that instruction, I knew by the Spirit it was going to be different than before and I needed to yield to the Holy Spirit like never before. That was when I was led to ask the Daughters of the King Facebook Group page this question, "When you think of the presence of God, what color do you see?" In the comments, a few ladies answered and that same day I was nudged with an invitation to go to Hobby Lobby and grab those colors as well as a 36″ x 36″ canvas. I still had no idea what we were going to do. The ladies gathered that evening and that's when more instruction came. I got so excited and said something like, "Ladies, we are going to paint together on this one canvas as worship. Even though we may not innately be artists – we have the greatest gift and that is the Holy Spirit." From there we began to worship God and we did so with the song by Kim Walker Smith's song, "Holy Spirit."
When we finished painting and the paint brushes were put down, a thought came, "This painting will be the cover of the book the Daughters of the King will write."

3. The proceeds of this book go to a ministry that helps women who have come out of the evils of human trafficking. Can you tell us about the ministry you chose and why?
Yes. The proceeds of this book are going to Reflection Ministries of Texas out of Midland, Texas. This ministry reveals God's love over the broken-hearted as based on Isaiah 61:1-3. God's Kingdom power is being practically walked out through Reflection Ministries by providing avenues of restoration beginning at the crisis entry level with aftercare programs covering up to four years. Also working closely with other front-line organizations and second stage homes to provide continued restorative programs to survivors of human trafficking. I am very grateful for Toni McKinely who is also part of this anthology as she recommended this beautiful ministry.
4. The devotionals are written by diverse women who all want to find their identity in Christ as a daughter of the King. How did you gather these anointed writers together in order to unite as one powerful voice? 
Many of these women were part of the church and life group I was part of for years. There were also a few who I met through social media that God highlighted to be a part of as well. When I asked, they joyfully and prayerfully said, "Yes!"
5. You are now one of the co-editors of enLIVEn Devotionals, a writing ministry that supports mission work around the world. What excites you most about this new possibility to write and change lives for Christ?
I love how this is evidence of God's glory to glory adventure. He has invited me to do this with Him and He has utilized you, Alisa, mightily through this incredible process. I believe what excites me the most is following Him and witnessing all He has planned from long ago. I even get to witness Him through my life in this and that is beyond the ability to comprehend with such joy.

6. Your daughter, Tristin, may be the youngest writer in this anthology. Is this her first publication? Where else can we find what she's up to?
I love that Tristin is a part of this. This is her first publication and I love that you recognized Tristin being the youngest writer in this anthology. Tristin's life verse is from 1 Timothy 4:12, "Don't let anyone think less of you because you are young. Be an example to all believers in what you say, in the way you live, in your love, your faith, and your purity." 
Tristin is healing physically as God's wisdom and understanding increases in her life. After the car wreck from last year, she is doing awesome things. Tristin has social media via Instagram @Tristin.Criswell and you can see her funny and encouraging posts, especially on her stories. Tristin (a.k.a. Paris Keelea) has also appeared on one of our other contributing writer's podcasts, She Walks In Truth. She appeared on the show a couple years ago, but it's so encouraging and a now word for every season: Tristin's Episode. 

7. Is there anything else you would like to share?
I love this podcast episode with Carrie Robaina, who again is a contributing writer to this book, 
Daughters of the King
 anthology. It's an episode she just did with me last week, so it's the most recent and explains the whole process of this book: Click
Here.
More videos revealing the heart of Daughters of the King.
Trissy's progress after accident:
How Tristin is doing now:
Teresa Ann Criswell is first a daughter of God who loves her family and enjoys writing. She's been writing since 2003 and desires to write the praises of God and all that He has done. She is also the author of several books; her most recent books are:  Heavenly Wit: Seeing Mission Fields in the Midst of Battlefields and 5-Minute Devotions for Mom. Teresa has been a contributing writer to several anthologies with Enliven Devotionals. She also has a YouTube Channel, Let's Talk with Teresa Ann, as well as a podcast, which she co-hosts with her daughter, Tristin, titled, OH…Teresa and Tristin.
Teresa resides with her family in Austin, Texas.