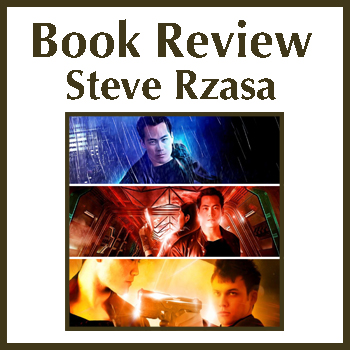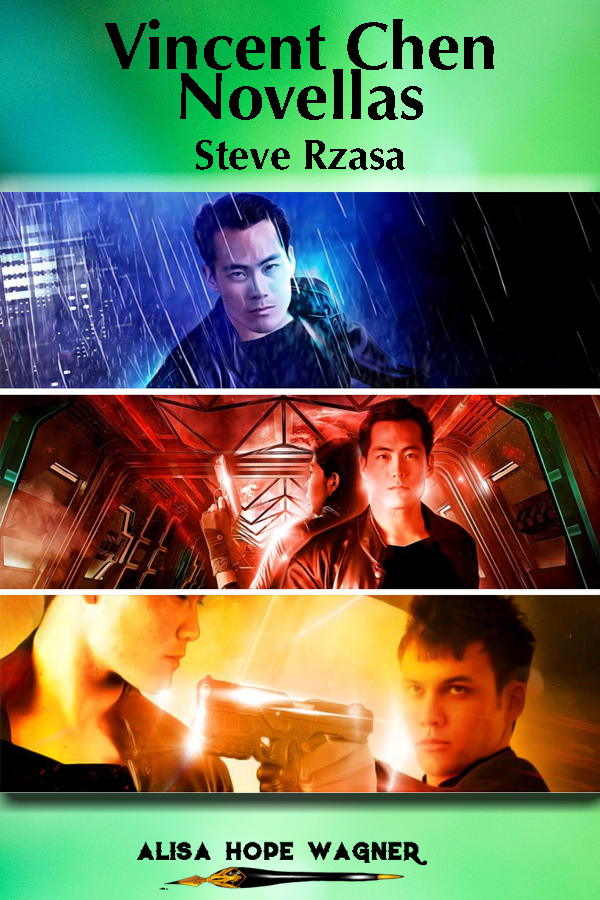 Steve Rzasa's Vincent Chen Novella Series
Steve Rzasa has written a masterfully penned futuristic, action saga with a lot of soul. Starship Captain Vincent Chen is alone with his crew of bots and he wants to keep it that way–though the empty chair at his two-person dinette mocks him often.
Vincent is a communications guys, keeping the light-year separated planets loosely connected by streams of interstellar correspondence. But Vincent is too smart for his own good, and he uncovers an enterprise of exploitation of the very people he could never forgive.
I enjoyed the novella format of Rzasa's four book series. Each book reads quickly with a constant pull to continue to the next chapter. Vincent's character is analytical yet approachable, which allows the reader to experience the tech mind without getting lost. He has amiable qualities that outweigh his flaws, but his self-awareness goes a long way to allowing a deepening character arc.
Rsaza has just informed me that he has completed the fourth and final book of the Vincent Chen Novellas, so readers can start reading the first three books now, knowing that the finale will be out soon.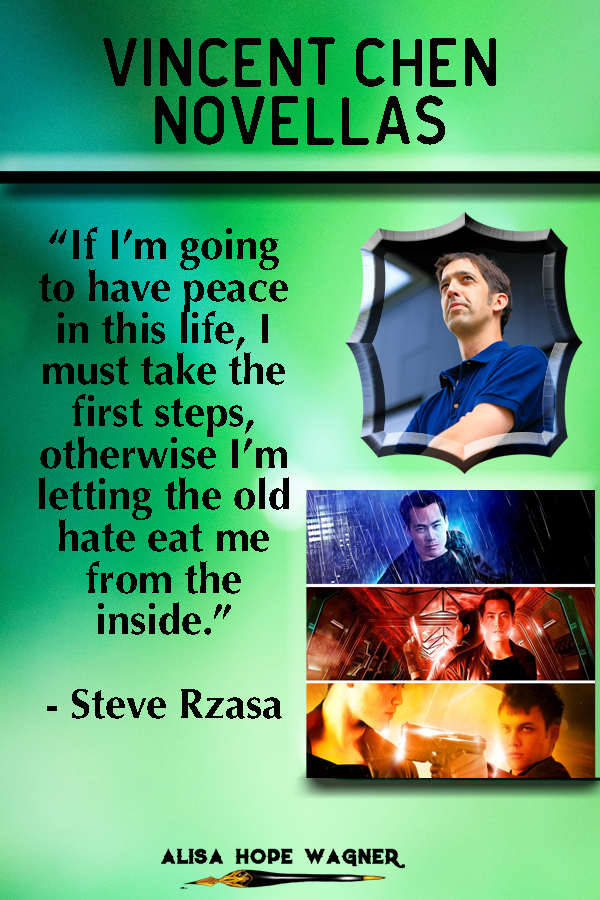 Interview with Steve Rzasa
1. Your protagonist, Vincent Chen, is of Asian descent and you were able to intermix some of his heritage into the story. What intrigues you most about his character and what research did you do to make his character so authentic?
I had come up with the character when I needed someone for a Christmas story called Send and Receive that I did a few years back. I picked his heritage because Tiaozhan, which is one of the powerful Realm of Five leading planets in my Face of the Deep story universe, was settled primarily by people of Chinese heritage and I had never delved into that world before. I mostly did research online and by reading news from China to get a feel, however cursory, for facets of their culture.
2. One of the major themes in your story is loving your enemies based on Luke 6.35. What personal examples and/or historical events did you draw from to create the emotional war within Vincent Chen?
I was influenced greatly by Timothy Garton Ash's memoir The File. https://www.amazon.com/File-Personal-Timothy-Garton-Ash/dp/0679777857  It deals with the Stasi, the secret police of East Germany during the Cold War. After the collapse of communist governments and the reunification of Germany, the government disbanded the Stasi and opened their secret files to the public. The Stasi's main way of controlling the public was to  encourage informants, so much so that at the height of their strength hundreds of thousands of people could have been considered "unofficial informants" – that is, often anonymous callers who reveals secrets of their neighbors' lives. http://www.spiegel.de/international/germany/east-german-domestic-surveillance-went-far-beyond-the-stasi-a-1042883.html  The repression was everywhere, but after reunification, people like Ash were given access to surveillance files kept on them. I couldn't fathom facing people who had treated me with suspicion who were now integrated into so-called "normal life."
3. Vincent Chen has a lot of strengths—he's intelligent, hyper analytical and courageous. But he has several weaknesses— he's impulsive, fears relationships and struggles with childhood wounds. Did you outline is strengths and weakness? If so, what is your process? Or do you allow his character to develop as the story unfolded?
I had those strength and weaknesses in my head, and held them there as the story progressed. I was nice to have several key aspects pinned down, at least mentally, so I knew how he'd react in a given situation. His actions do change, however, as the story unfolds, and then in later books, some of those aspects of his personality change as he deals with various situations. Some of his strengths improve, and some of his weaknesses he discards. Since all four of the Vicent Chen novellas take place over a span of about five months, I didn't want the changes to be too severe, but drastic enough so people see how the outcomes create new challenges for him.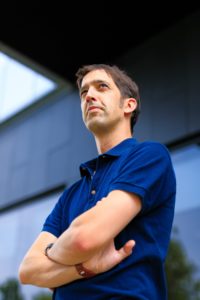 Steve Rzasa is the author of several novels of science-fiction, steampunk, and fantasy—with a bunch more in progress. He was first published in 2009 by Marcher Lord Press (now Enclave Publishing). His third novel, Broken Sight, received the 2012 Award for Speculative Fiction from the American Christian Fiction Writers, and his debut novel, The Word Reclaimed, was nominated for the same. The Word Endangered was recently nominated for the Realm Award presented by Realm Makers.
Steve grew up in Atco, New Jersey, and started writing stories in grade school. He received his bachelor's degree in journalism from Boston University, and worked for eight years at newspapers in Maine and Wyoming. He's been a librarian since 2008, most recently earning his Library Support Staff Certification from the American Library Association in 2014—one of only 135 graduates nationwide and a handful in Wyoming.
He is the technical services librarian in Buffalo, Wyoming, where he lives with his wife and two boys. Steve's a fan of all things science-fiction and superhero, and is also a student of history. You can find Steve at his website, Twitter, Facebook, Goodreads and Amazon page.
Here's the back cover teaser for Mixed Messages, the fourth and final Vincent Chen novella, coming this summer (TBD):
Everything on the line…

Vincent Chen is loyal to a fault. That's why the Intelligence Service of the Realm has tasked him with finding a lost operative—Izzara Neoh, the woman who broke his heart. He stopped her from stealing secrets from the Realm of Five, but ISR had different plans for their wayward spy.

Vincent's not the only one searching for her. An old adversary is one step ahead, determined to claim the same storied treasure from a legendary starship the spies are tracking.

It could be filled with unfathomable riches.

It could terrible dangers.

And when all else fails, it will cost Vincent everything he thought was valuable to stand against unyielding greed.