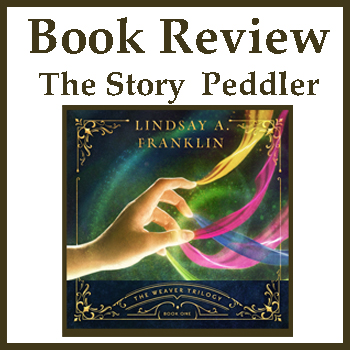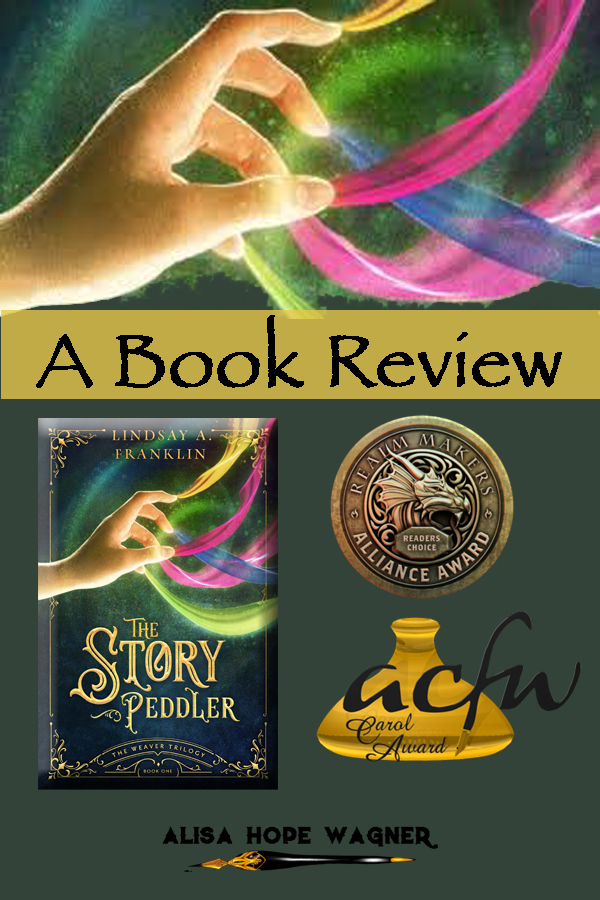 Lindsay A. Franklin's debut novel, The Story Peddler, is the dream of all new writers — imaginative, advocated, award-winning and well-received–all due to the fact that it is both written and edited with excellence and courage. Lindsay has "woven" together a gutsy gem of a story, which sets the stage for her complete fantasy work, The Weaver Trilogy.
I've only heard legend of books that use multiple points of view (POV) and actually get away with it. It shook me a little when The Story Peddler catapulted me from first person POV to third, but I quickly fell in love with the switch as it ingeniously enhanced the story.
The reader must experience Tanwen, the main character, from the inside out because she is just that intriguing and entertaining–rooting the story in both spirit and wit. However, the story needs the voice of others to maintain an energetic, satiated plot. The combined POVs are a perfect example of "You have to know the rules to break them."
Each POV in The Story Peddler is creatively labeled at the start of every chapter (bravo!), and I can only assume that the second book, The Story Raider, will introduce a few more voices as the story unwinds into a beautiful masterpiece onto the palm of your hand and into the depths of your heart.
Lindsay has her work cut out for her to continue mesmerizing the readers with delightful and innovative characters and themes, but the plot and conflict are ripe for Tanwen's beautiful character arc into a woman strong and courageous enough to "pull apart" an evil regime "at the seams."
Here are a few of my favorite themes that I found and savored from the story.
We were Created to Create: Genesis 1.27
Truth Will Set You Free: John 8.32
There is but One True God: Isaiah 45.5
God Hears Our Prayers: 1 John 5.15
The Greatest Love of a Friend: John 15.13
The Story Peddler is up for the 2019 Realm Maker's Award in Young Adult and the Alliance Award (winners announced in July). It is also a Carol Award Finalist (winners announced in September) for Speculative Fiction and Debut Novel.
Descriptive writing example from First Person POV:
"Gardens spilled flowers all around the outside of the huge structure. Courtyards with benches, pathways overhung by trees–more beautiful than any gardens I could have imagined. People zipped in and out, and everyone looked to be on important business."  – Tanwen, The Story Peddler
Descriptive writing example from Third Person POV:
"Braith steeled herself and entered the room. The king stood behind his huge desk, fingers drumming the polished writing surface. He stared at the floor and mumbled to himself. He had not changed from his dressing robe." – Braith, The Story Peddler
Connect with Lindsay A. Franklin her her website, Facebook, Twitter, Instagram, Pinterest, Goodreads and Amazon Page.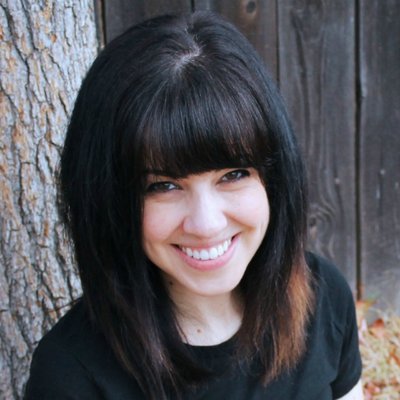 Lindsay A. Franklin would wear pajama pants all the time if it were socially acceptable. Lindsay lives in her native San Diego with her scruffy-looking nerf-herder husband, their three geeklings, three demanding thunder pillows (a.k.a. cats), and a stuffed wombat with his own Instagram following. You can find Lindsay on social media, too, if Wombatman hasn't hijacked all her accounts