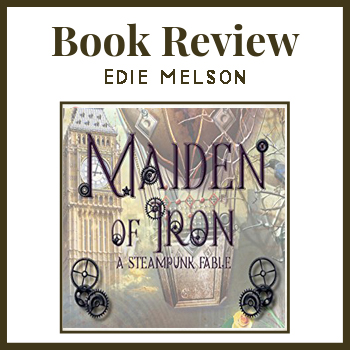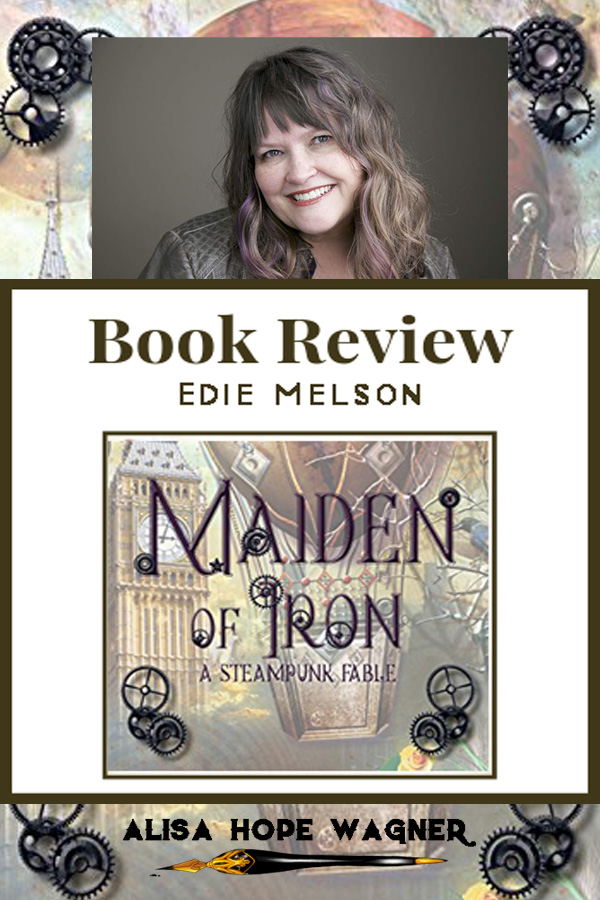 Maiden of Iron is a mashup novel where the story of Robin Hood collides with steampunk and a dash of sci-fi! This was my first book to read in the Steampunk genre, and I was swept away in a colorful retelling of the Robin Hood and Maid Marian saga! Edie Melson created an imaginative world of Steampunk with details that created a movie-like image in the mind.
I became so enthralled in the story while riding my stationary bike one afternoon that I wound up working out way longer than anticipated! What a great way to exercise!
I loved the unique spin on such a classic tale, and Steampunk genre definitely ignited my imagination! The romance mixed with suspense kept each page turning as the story unfolded into a climatic ending. If you want to take a break from reality and dive into a little Steampunk Fable, this book is for you!
Edie Melson writes nonfiction as well, and you can find all of her books on her Amazon Page. She also encourages other writers in their craft, so check out her award winning site, The Write Conversation. 
Edie was so gracious to also let me do a little interview with her!
I studied costume design in college and have always been fascinated with the victorian time. I'm also a HUGE science fiction and fantasy reader. When I discovered Steampunk it was the perfect mix of everything I love. 

"
I have 23 publishing professionals who also write for this site. We strive to be a place writers can go to stay up to date on trends within the publishing industry, including social media and marketing. We're also a place that has a foundational selection of posts that deal with all aspects of the craft of writing. We publish 365 days a year and have a powerful search engine on the site so writers can find what they're looking for. We also have a strong community of readers who support one another.  "
Conferences are popular because of the opportunity to pitch projects and meet editors and agents. But I think the biggest value is the ability to learn from those who are in the industry and network with other writers. Beyond that, just like any other industry, publishing has its own culture. It's very hard for someone new to writing to pick that up without attending events with other professionals.  "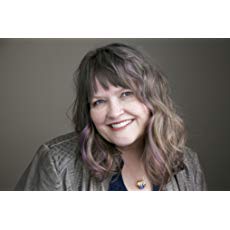 Find your voice, live your story…is the foundation of Edie Melson's message, no matter if she's writing for fiction readers, parents, military families, fiction readers or writers. As an author, blogger, and speaker she's encouraged and challenged audiences across the country and around the world. Her numerous books reflect her passion to help others develop the strength of their God-given gifts and apply them to their lives.
She's a leading professional within the publishing industry and travels to numerous conferences as a popular keynote, writing instructor and mentor. Her blog for writers, The Write Conversation, reaches thousands each month and has been named a Writer's Digest Top 101 Websites for Writers in 2017. She's a member of the Advanced Writers and Speakers Association, the Social Media Director for Southern Writers Magazine, as well as a regular columnist for Guideposts.org, Todd Starnes.com, Just18Summers.com and PuttingOnTheNew.com.
She married the love of her life 35+ years ago and together they've raised three sons. Besides writing, Edie can often be found hiking in the out-of-doors with her camera slung across her back and her husband at her side.
You can Edie Melson at her website, Facebook, Twitter, Goodreads and the Blue Ridge Mountain Christian Writers Conference.