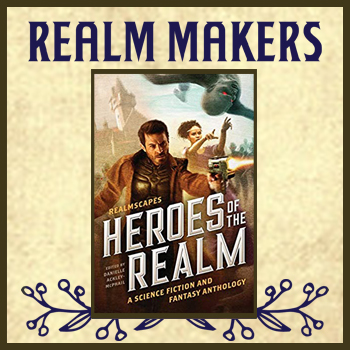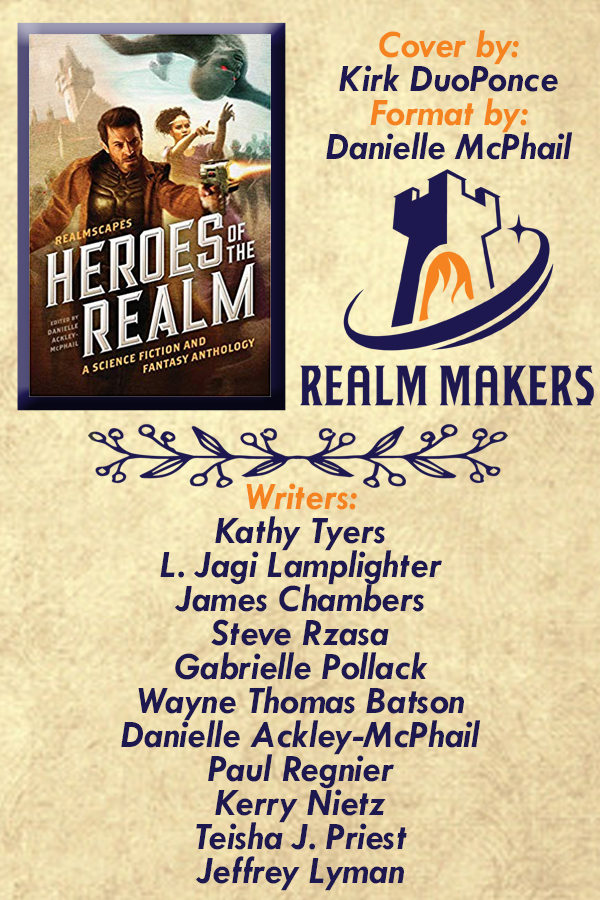 I am so honored to be one of the "Heroic Backers" of Realmscapes Heroes of the Realm: A Science Fiction and Fantasy Anthology! This anthology was produced by Realm Makers and paid by the "Realmie" community!
The contributors of this anthology are some of the crème de la crème of speculative fiction Christian writers today, including Kathy Tyers, L. Jagi Lamplighter, James Chambers, Steve Rzasa, Gabrielle Pollack, Wayne Thomas Batson, Danielle Ackley-McPhail, Paul Regnier, Kerry Nietz, Teisha J. Priest and Jeffrey Lyman.  
From spaceships to sea ships, supernatural powers to natural heroism and historical accounts to futuristic events — this book has it all! Readers will get a little history lesson from Medieval times to the Age of Enlightenment, along with modern tales and futuristic adventures. There are so many settings, time periods, characters and themes to absorb and explore, and you'll dive into each story like a person being time-warped into different bodies and experiences.
What I love most about this anthology is that you get an assortment of writing styles. Writers narrate in first person and third person, from a child's point of view to an adult's. And heroes come in all shapes and sizes — villains too — ready to woo you into their anxieties, hopes, predicaments and triumphs!
Some plots feel like a tense walk through a dark forest, while other plots throw you into the ruckus of the action. Although each short story stands alone as a masterfully written piece of work, together they offer a much bigger collaborative prize — like a gift-wrapped basket filled with hand-chosen artisan, one-of-a-kind gems.
And did I mention that my name is in the book? Yep, Alisa Wagner happens to be a "fun, curmudgeonly mentor-type" in Steve Rzasa's short, "The Garrison Holds," which was my cool prize for offering a little monetary support (which I would have done anyway) to the anthology.
So if you are ready for a whirlwind, adventurous read, purchase Heroes of the Realm from Amazon, which has been aptly dedicated to all the heroes in the world serving their communities!
P.S. The AMAZING cover was created by Kirk DuoPonce and the EXCELLENT interior formatting and editing by Danielle McPhail.