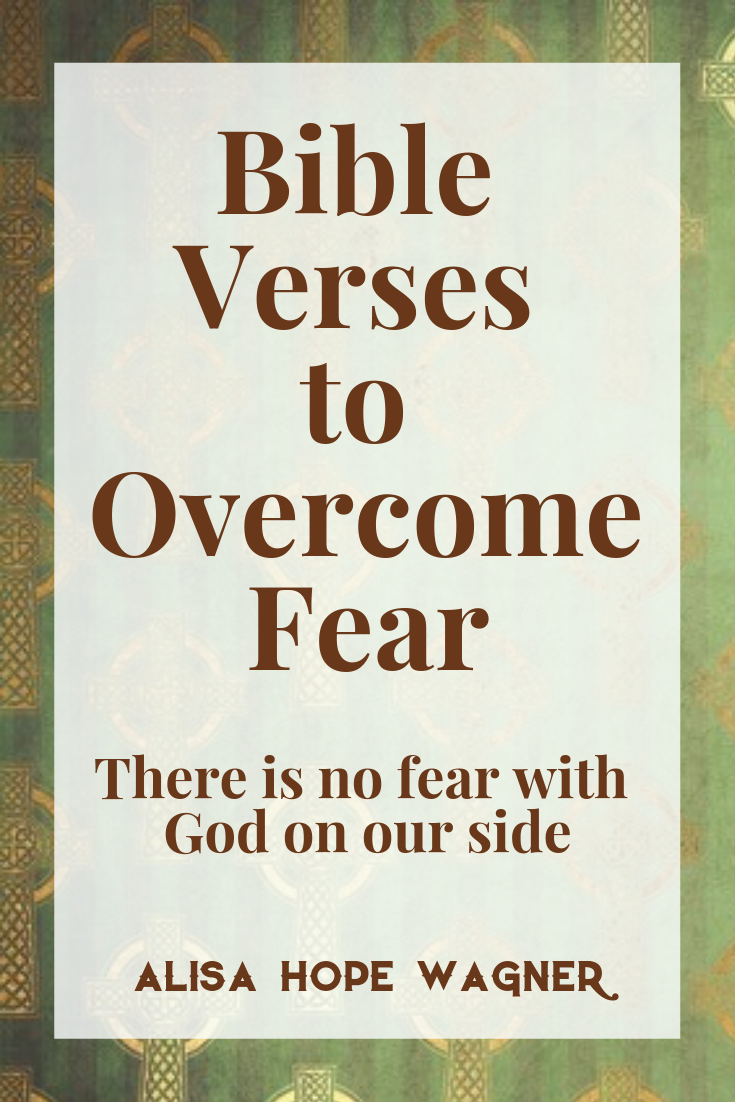 7 Bible Verses to Overcome Fear
 "I prayed to the Lord, and he answered me. He freed me from all my fears" (Psalm 34.4 NLT).
How Fear Gets Started
My middle child, who was 11 years old at the time, began to have a serious fear of choking. The fear was irrational and probably stemmed from me. I have enlarged tonsils, which caused me to have frequent sore throats when I was young and difficulty swallowing. I still sometimes choke as an adult if I don't chew my food thoroughly. I'm used to it now, so I tend not to notice. I assume my son saw a few of my choking fits and fear lodged itself deep within him.
My son's fear moved beyond a simple explanation, however, and into a spiritual battle. The enemy took that fear and ran with it. Just like a lion, the enemy looks to attack the weak, isolated and the young. My son is young, and the enemy does not play fair. He used that fear to oppress and torment my son every single day and night for weeks.
"Stay alert! Watch out for your great enemy, the devil. He prowls around like a roaring lion, looking for someone to devour" (1 Peter 5.8 NLT).
How Fear Becomes a Battle
My son's fear of choking became so consuming that he wouldn't eat and he began to lose weight. He was tormented by the fear and cried out to me several times. I would pray over him, but it wasn't working. Finally, we were in the car one day, and he broke down again. I had experienced a similar battle with fear when I was his age, and I knew if I didn't uproot it now, it would stay tucked inside of him like shrapnel.
Finally, I had it! I knew right then and there, this fear wasn't caused by stress or a need for attention or a projection of worry. This fear was an attack of the enemy, and this mom was ready to fight! Although I am not strong enough, I know the One Who is. He is the Creator of the heavens and earth, and all earth including fear bows to Him.
"Everything on earth will worship you; they will sing your praises, shouting your name in glorious songs" (Psalm 66.4 NLT).
How Fear Gets Demolished
I know that the name of Jesus is powerful. I know that the enemy must flee from His name. I know that there is power in the Blood of Jesus. And I know that FEAR BOWS TO THE CROSS!
I stepped into the supernatural realm, and I stood in God's throne room with my son at my side. I waged war against an enemy who wants nothing more than to torment my kid with fear! I told that enemy he had no authority here. I looked toward heaven and proclaimed that my son is co-heirs with Christ. He is God's beloved son. He walks in God's authority. And I banned the Devil from messing with my son!
And it worked. That night I told my son that he might have residual feelings, like waking up from a nightmare, but the root fear had been banished. After that, my son began to eat more, and now six months later, my son has not mentioned anything about choking. What the enemy meant for evil, God turned to good. Now my son knows that he has the victory in Christ! He is stronger because he knows how to overcome fear!
"You intended to harm me, but God intended it all for good. He brought me to this position so I could save the lives of many people" (Genesis 50.20 NLT).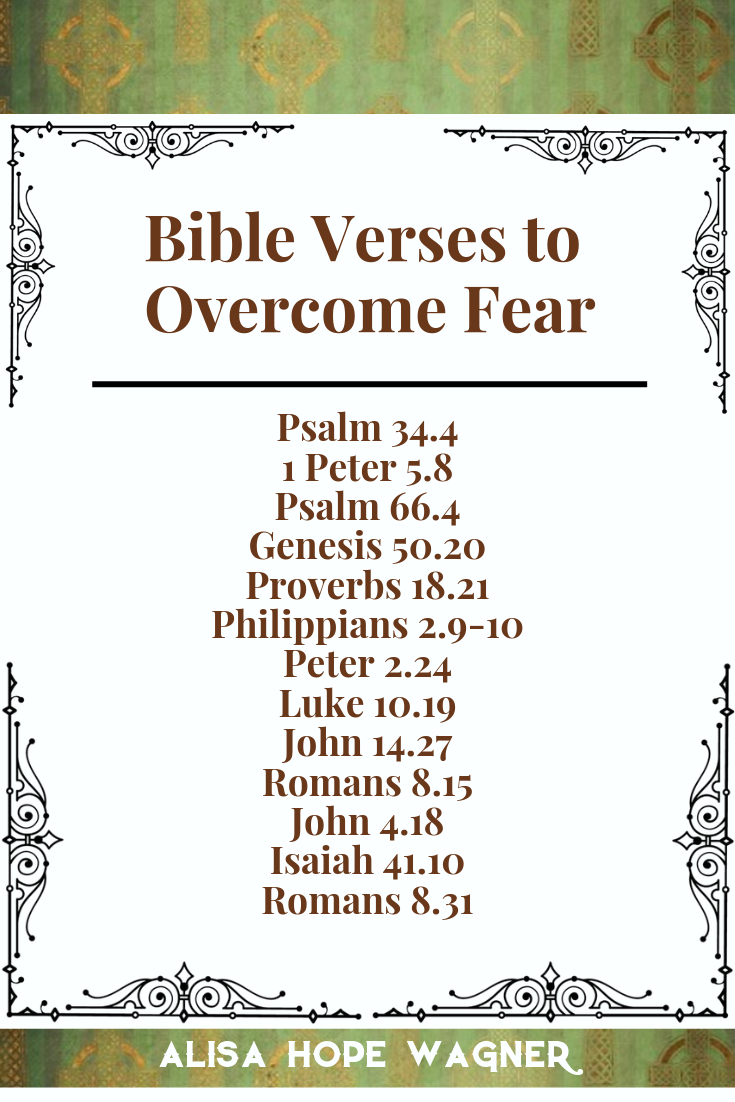 There is No Fear in Words of Life
"Death and life are in the power of the tongue, And those who love it and indulge it will eat its fruit and bear the consequences of their words" (Proverbs 18.21 AMP).
I realize now that my kids are always watching and listening to me. I need to be really careful about what I say in front of them. I don't want to say negative words of fear. Instead, I want to say overcoming words of faith! This doesn't mean that I'm untouched by the fact that we live in a fallen world. It does mean, however, that I am tapped into the limitless power of God through Jesus Christ! Whenever I feel the weight of fear on my own shoulders, I must automatically transform them into words of life.
There is No Fear in Jesus' Name
"Therefore, God elevated him to the place of highest honor and gave him the name above all other names, that at the name of Jesus every knee should bow, in heaven and on earth and under the earth" (Philippians 2.9-10 NLT).
Every knee bows to the name of Jesus. That name has so much power that it can vanquish all the enemies around us, including fear. I always tell my kids one thing: The name of Jesus is the most powerful thing in the universe! But they must not simply say the name, Jesus. They must be full of the belief that the name of Jesus is mighty. I demonstrate using the name of Jesus in my life. When I know that the enemy is trying to make my life difficult, I speak in the name of Jesus to overcome the devil's tactics!
There is No Fear in the Cross
"He himself bore our sins in his body on the tree, that we might die to sin and live to righteousness. By his wounds you have been healed" (1 Peter 2.24 ESV).
The Cross is everything! The Cross is the key that unlocks power, life, joy, peace, healing and eternity. The Blood that dripped from the Cross caused a mighty outbreak of grace, mercy, and love to spread across space and time. We are healed of torment and oppression caused by fear. When we fully understand the resurrection power that occurred on the Cross, fear becomes so small, like a fly buzzing around our heads. All we need is to swat fear away!
There is no Fear in God's Authority
"I have given you authority to trample on snakes and scorpions and to overcome all the power of the enemy; nothing will harm you" (Luke 10.19 NIV).
We have all authority through Jesus Christ. We have authority over our circumstances. We have authority over our enemy. And, yes, we have authority over our fears. Through Jesus Christ, we have the authority to trample of snakes and scorpions. These are symbols of demonic attacks that the enemy pushes our way. We can open our own eyes to our authority in Christ, so we can then pass that authority onto our kids.
There is No Fear in Peace
"I am leaving you with a gift—peace of mind and heart. And the peace I give is a gift the world cannot give. So don't be troubled or afraid" (John 14.27 NLT).
Before Jesus left earth to go to the right hand of His Father, He left us His peace. This peace is like the eye of a hurricane. Regardless of the storm raging around us, we can have peace knowing that the Prince of Peace is living in our hearts. We simply need to be aware of that supernatural peace and walk in it. Fear has no room in a heart that is ruled by the Prince of Peace (Isaiah 9.6).
There is No Fear in the Father's House
"So you have not received a spirit that makes you fearful slaves. Instead, you received God's Spirit when he adopted you as his own children. Now we call him, "Abba, Father" (Romans 8.15 NLT).  
Through Jesus Christ, we are now called God's Children. Since God is our Father, and He is perfect, we have nothing to fear. As long as we stay tucked into His will, all the demonic forces can't torment or oppress us anymore. We simply need to imagine ourselves in the loving hands of God because fear can't reside there.
There is No Fear in Love
"There is no fear in love. But perfect love drives out fear because fear has to do with punishment. The one who fears is not made perfect in love" (1 John 4.18 NIV).
Once we and our kids understand how fully and completely we are loved by God, we won't need to fear anymore. Valuable things are held onto protectively and tenderly. They are not handled with carelessness. God loves us, and we are precious in His sight. He is tender and loving, and we don't have to fear. God is strong in us. He will fight the battle for us!
There is no Fear with God on our Side
Fear not, for I am with you; be not dismayed, for I am your God; I will strengthen you, I will help you, I will uphold you with my righteous right hand" (Isaiah 41.10 ESV).
God is always with us. We don't have to be afraid of anything. When we are weak, He is strong. God's righteous hand holds us up at all times. When we have fear, we must know that God is bigger and stronger than our fear. Our proper understanding of how great and mighty God is will enable us to overcome all of our fears. Fears fade quickly under the awesome presence of our God. If God is for us, who can be against us (Romans 8.31)!
Do you need victory every day? Read Alisa's one-year devotional, Slay the Day, which goes through every book in the Bible.

Be sure to also read: