Author Interview of Alisa Hope Wagner

Author on Fire Q&A
My Writing Obstacles
My journey to become published was filled with closed doors and it took seven years from writing my first book to seeing it published.
My Writing Motivation
The main thing is being obedient to God and feeling like I have a purpose, have meaning or have a ministry.
The Most Important Thing I Learned About Writing
I've learned that you really have to be eternally minded. I don't want to write anything that will not affect this life and eternity. Otherwise, I feel like I'm wasting my time.
What I Want to be Remember for as an Author
I want to be remembered for having the Holy Spirit in all my books. That's the biggest compliment I can receive. I want to write something beyond myself.
My Passion For Writing
My passion is to communicate what the Lord is teaching me. He's teaching me many different things. I'll see beauty in a story, in bodybuilding, in the Bible. He's communicating with me in so many ways. I have to write them all down.
My Most Difficult Writing Challenge
Just getting started. I'll look at Facebook and at some other things. I have to get into the mindset.
The Best Advice on Writing I Ever Received
To write without editing your book, which I have not mastered because I'm editing all the time.
My Best Advice for Struggling Writers
I can tell people what God has done in my life, but I believe He has a different path for each writer – a different purpose and design. Listen to Him and what He wants you to do next.
What Writing Success Means to Me
You can't go by numbers. I want God to be pleased with what I am doing. Some day I would like to be a success, but I have to be content with the process that God has me in now. How much I have changed and grown and how much God has done through me means I have been successful and obedient.
My Favorite Book on Writing
The Author That Inspires Me
You can find John at his Blog, Twitter, Podcast and Amazon Author Page.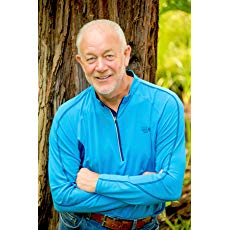 John Vonhof loves to serve others. He's also a freelance writer and author, podcast host, cyclist and lover of Jesus. He has authored several books, The Pastoral Search Journey and Fixing Your Feet. Because of his skill at patching athlete's feet at endurance events, he has washed and worked on thousands of feet—and loves serving in this unique way. John also serves and speaks at writers' conferences. John is a featured writer in EnLIVEn Devotional's book, Get to the Margins, with proceeds going to Africa Missions.