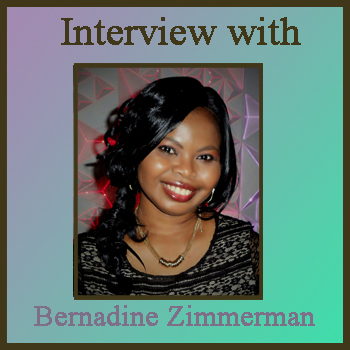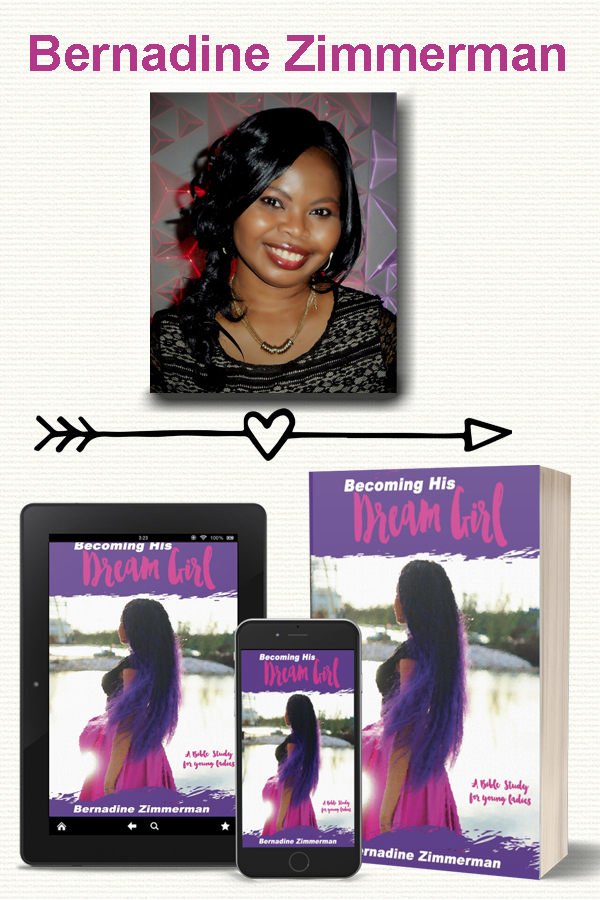 Let me introduce you to my friend and writer, Bernadine Zimmerman. She has a passion to encourage and mentor young ladies in their relationship with God and to help them discover who they are in Christ. Bernadine is originally from the beautiful island of Grand Bahamas. She moved to the huge state of Texas after marrying her husband, Mark. She is a teacher by profession and a quietly opinionated bookworm. Bernadine loves family, friends, coffee, laughter, Jesus, and red lipstick, just not necessarily in that order.  She is passionate in her desire to reach young ladies through her writing and seeks to encourage them to always trust God with their hearts and lives.
Interview
1) You wrote a Bible study for young ladies, entitled Becoming His Dream Girl. What started you on the path of mentoring that age group? How will this book encourage young women? 
I've always been surrounded by a strong, positive female presence in my life. Being the youngest in my family, I looked up to my older siblings, especially my sisters, and I wanted to be a "big sister" to someone else like they were to me.  So, after college, I started informally mentoring a few young ladies in my church and community. I find teenagers to be a fascinating group. They challenge you to grow in your thinking and walk with God. It is my hope that Bible study, Becoming His Dream Girl, will inspire young ladies to develop a close and personal relationship with God and become the person He has predestined them to be.
2) Writing your book has been a long journey. What are some ways that God provided and/or different things you have learned along the way? 
Writing this book took forever! However, the main thing I've learned is that if you feel the message you have is worth sharing, you have to persist. Also, having encouragement along the way is priceless. When I was thinking about abandoning the project, God sent help in the form of two blogging friends one who helped me to stay focused and on a writing schedule and one who helped me to totally redesign my book,  edit, publish and promote it. While the process of writing itself may be a lonely journey, the support of family and friends makes it possible.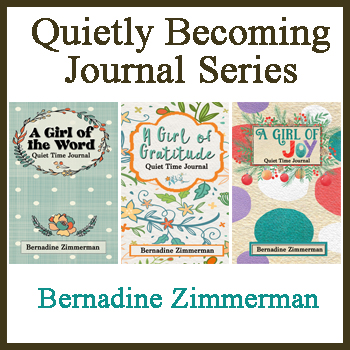 3) You also write the Quietly Becoming Journal Series. Describe this series and explain your hopes for it. 
The Quietly Becoming Journal Series is a series of guided journals each on a different topic. It is my desire that through these journals young ladies will develop a habit of spending quiet time with God and grow in areas of their lives where they may be experiencing weakness.
4) You've written three journals so far. Do you have a favorite? 
Each journal is my favorite when I'm working on it. A Girl of Joy, the latest journal series, is my current favorite since it's the last one I did. During these months with the emotional ups and downs of COVID-19, it is difficult to be joyful at times. I worked through A Girl of Joy in July and it served as a daily reminder for me to choose joy every day. Writing those things, big and small, that bring you joy gives you a new perspective during challenging and uncertain times.
5) You made a huge life change by moving to America. How has God grown your faith through that process? What have you learned during the transition?  
Leaving everything that was familiar was scary but exciting at the same time since I was getting married to the love of my life. I'm glad that I followed my heart because it has been a big adventure and a growing experience. Through this transition, I've learned to trust God even more. He has opened doors for me in unique ways that have grown my faith and helped me to remember that He is always near.
6) Finally, what would you tell a group of young ladies right now who are desiring to live for God? What are a few key thoughts you would want to leave with them? 
Dear young ladies, I am so proud of you! I promise you will never regret giving your hearts and lives to God! Sometimes life is difficult, and the future scary but when you put your trust in God you don't have to experience life alone. Spend time getting to know Him and trust Him with your hopes, your dreams, and your decisions.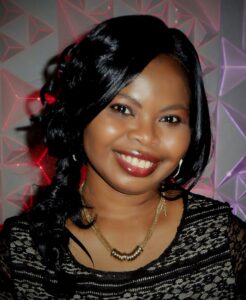 You can reach Bernadine through her blog, quietlybecoming.com. Subscribe to the mailing list, so you'll know when she starts updating the blog.
Bernadine is also a contributing writer for the enLIVEn Devotional Series, including Granola Bar Devotionals: Spiritual Snacks on the Go and Get to the Margins: A Devotional Anthology of Writers on the Edge.