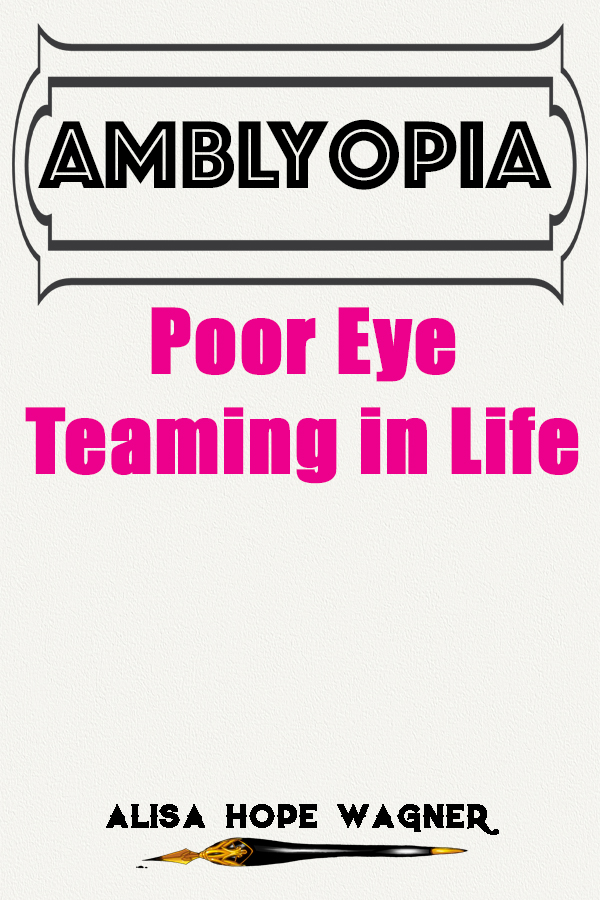 I was diagnosed with amblyopia when I was in elementary. Amblyopia or sometimes referred to as "lazy eye" means that my right and left eye don't work well together. The vision in my left eye has become lazy and relies on my right eye to do all the seeing, becoming the main eye that sends signals to my brain of the images around me.
I was in the fifth grade when the doctors suggested I wear a patch on my good eye for a while, forcing my left eye to take up the slack. I promptly said, "No." There was no way I was going to school with a patch over my eye! Who wants to be a pirate –arrrgh!
When I turned 40, I started having major eye strain and headaches. I finally got laser eye surgery, but the headaches continued. The doctor said that everything looked good. My vision was corrected. But what he didn't know was that the eye strain was caused by my right eye doing everything. As a writer, I look at the computer all day, and my right eye was getting worn out.
I went to renew my driver's license last week, and I had to do the dreaded eye exam. I usually pass the exam because my right eye would do all the seeing for me. However, they have changed the test to where each eye is forced to see it's own row of numbers.
When my left eye tried to discern the numbers, my brain only saw what appeared to be confetti all over the screen. I had to try 4 times for my left eye to finally wake up and discern what it was seeing. It could see the numbers just fine. The problem was that it had grown so accustomed to the right eye sending all the data to my brain that it took a while for it to comprehend what it was seeing and then send those signals.
I researched amblyopia and discovered that it was never too late to correct the problem. The brain is a highly malleable organ and it can learn and develop if we train it. I needed to retrain my left eye, so it could work in tandem with my right eye. The only way for my left eye to learn was for my right (stronger) eye to back off. I had to finally succumb to wearing an eye patch.
As I write, I have my right, dominant eye covered. My left eye is looking at my screen right now discerning the letters that I am writing and sending those signals to my brain. It feels like I'm riding a bike with a flat tire, but I keep going because I know that the tire will get stronger and stronger.
It's only been about a week and I've already experienced such a difference. When I first covered my right eye, I would walk around the house and my left eye would literally not move around to comprehend what I was seeing. I had to willingly move my eye, and each glance left to right and up to down felt labored. Then I had to actually ask myself what I was seeing since my left eye was not accustomed to discerning. It had been so lazy all my life!
The coolest thing, though, is that when I take off the patch, my vision appears so sharp and dynamic. It's hard to explain, but everything around me is more 3D. Because my left and right eye are starting to work together, the reality around me has become its best image. Although my left eye will probably never become the dominant one, it is, at least, now teaming with my stronger right eye to help my vision see more clearly.
This experience has led me to ask God if there are any weaknesses in my life that have become lazy. God can work in my weaknesses as long as I'm willing to step out on faith and obey. But if I use my weaknesses as an excuse not to obey, I am not showing faith. In fact, I'm running from the power that God wants to give me in my weakness.
For example, Moses didn't want to speak to Pharoah because he wasn't eloquent. He almost missed his grand calling because he wasn't willing to work in his weakness.
"Then Moses said to the Lord, 'O my Lord, I am not eloquent, neither before nor since You have spoken to Your servant; but I am slow of speech and ]slow of tongue'" (Exodus 4.10 NKJV).
Moses didn't realize that once he stepped out in faith in his weakness that God's power would rest so dramatically on him. We can only imagine how circumstances today and in history would be different if Moses would have disobeyed God's command and remained complacent or "lazy" in his weakness.
"And Moses was learned in all the wisdom of the Egyptians, and was mighty in words and deeds" (Acts 7.22 NKJV). 
I've realized that if we only work in our strengths, we lose the fuller perspective that God wants us to experience–one that requires relying on Him. Moreover, if we continually avoid our weaknesses and only work in our strengths, we may burn out. Working in our strengths is not always easy. In fact, the things we are good at can become burdensome at times. And if we find that we are running on fumes, maybe God is telling us something. Maybe He's saying to put a "patch" over our strengths for a time, so His power can rest on our weakness.
"But he said to me, 'My grace is sufficient for you, for my power is made perfect in weakness.' Therefore I will boast all the more gladly about my weaknesses, so that Christ's power may rest on me" (2 Corinthians 12.9 NIV).
*Some of our weaknesses may include prayer, Bible reading and spending time with God. I have written a valuable tool that will guide you in all three areas. Give God 50 Days of your weakness and watch how He will rest powerfully on you! You can purchase my book, Why Jesus: A 50 Day Holy Spirit Experience on Amazon along with my other fiction and nonfiction books.