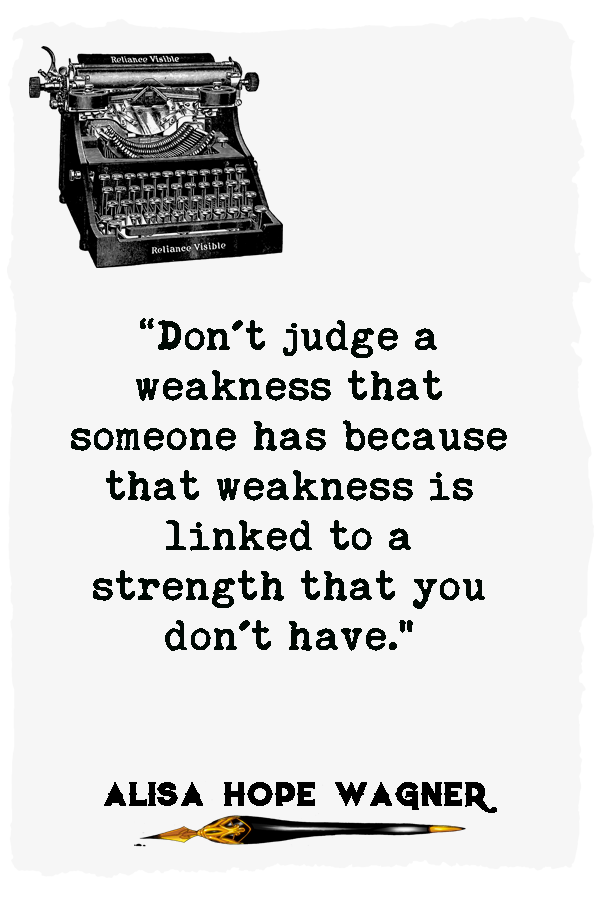 Don't judge a weakness that someone has," I always tell my kids. "Because that weakness is linked to a strength that you don't have."
I am a writer, which means I am an introvert, I overthink and I struggle with negative thoughts. I know not all writers are introverts, especially now that a million books were self-published in 2017. Over 80% percent of people say they want to write a book and with the advent of on-demand publishing, anyone can. *I'm an indie writer, and I definitely believe it's an awesome way to publish.
Yet, not everyone has the design, calling and passion to create stories and relay information without thought to fame, money and recognition. A true writer MUST write. It is not a stream of income. It is not a hobby. It is not a check on a bucket-list. It is an integral part of who he/she is, and to avoid it would be a travesty leading to a slow death of heart and soul.
For me, the need to write became like a fire in my chest (Jeremiah 20.9), burning until finally at age 29 I wrote my first novel (Eve of Awakening). With every book completed, I had to create yet another one. Over 13 years and 20 books later, I still feel that burning, but it is spreading to editing, publishing and teaching.
"Publish his glorious deeds among the nations. Tell everyone about the amazing things he does" (Psalm 96.3 NLT). 
With this passion to write comes a bombardment of self-awareness, inwardness and rumination. Yes, these are strengths that help me to write fiction and non-fiction with emotion, appeal and tension. However, these strengths are linked to the deep-seated weaknesses of over-analyzing, negative self-talk, intense criticism and self-doubt.
In my early thirties, God gave me a Psalm of King David to help me with my struggle. I wrote it on my hand every day for a season.
...Your gentleness has made me great" (Psalm 18.35 NKJV).
I needed to learn gentleness, self-compassion and grace. I love the strengths found in my introvertedness. I love creating scenes and watching my characters come to life. I love sitting alone at the keyboard and considering life, faith and purpose and expressing how I feel. But I hate the sinister underbelly of those strengths that ooze out into my soul and try to stink up my life.
Satan knows my weaknesses. He looked me over, summed me up and beat me down. He knew exactly when and where to attack — every morning in my mind. Satan knows my weaknesses are linked to strengths that he hates, proclaiming the goodness of God and salvation through Christ. He seethes over it, so better attack me before my eyes open.
However, he didn't realize that the more he attacked, the more I fought back. My mornings and days became a warring ground of proving that I was a good writer, that I was worthy in Christ and that I had a purpose despite my imperfections.
But fighting can only last so long. Sooner or later our strength wanes, and we wonder why everything has to be so polarized.
I just finished writing the first draft of my Bible study, Why Jesus: a 50 Day Holy Spirit Experience, and I have been rescued. I needed a deeper sense of all that salvation entails: Jesus loves me, He died to take my place, He has given me His victory and He has taken the dark underbelly of all my weaknesses and now His power is made perfect in them.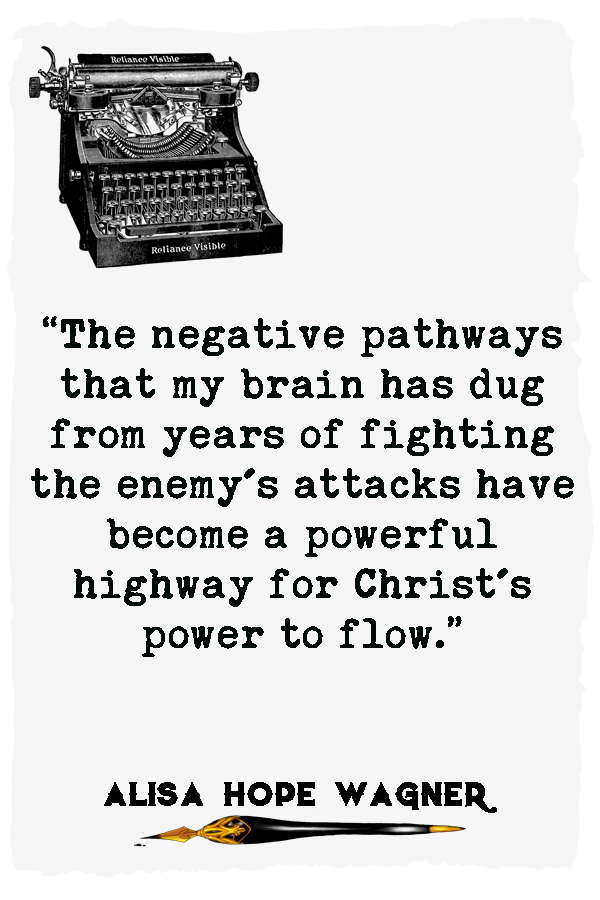 The negative pathways that my brain has dug from years of fighting the enemy's attacks have become a powerful highway for Christ's power to flow. In all those areas of struggle, Christ is standing tall, resolute and awe-inspiring. I'm reminded of a verse from Shakespeare's play, Julius Caesar.
Why, man, he doth bestride the narrow world
Like a Colossus, and we petty men
Walk under his huge legs and peep about
To find ourselves dishonorable graves."
Except in my version of this verse, Jesus is bestriding the pathways of my mind that Satan has forged. And the enemy of my soul peeps about Christ's huge legs, knowing that the victory has been won and he's the sore loser with the dishonorable grave.
So now I can boast about my weaknesses, knowing Christ is standing strong in them. And I can't help but laugh because what the enemy meant for my destruction has backfired in his face (Genesis 50.20). His attacks caused me to run to the throne of God and lean into the grace of Jesus.
"But he said to me, 'My grace is sufficient for you, for my power is made perfect in weakness.' Therefore I will boast all the more gladly about my weaknesses, so that Christ's power may rest on me" (2 Corinthians 12.9 NIV).
Check out Why Jesus: A 50 Day Holy Spirit Experience and precursor to this book Our 6 His 7: Transformed by Sabbath Rest