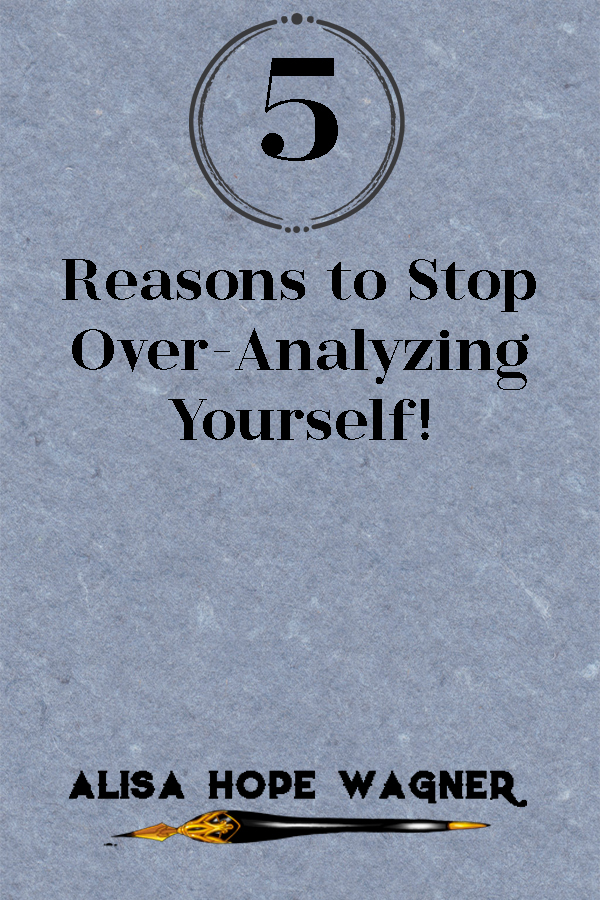 "Examine yourselves to see if your faith is genuine. Test yourselves. Surely you know that Jesus Christ is among you[a]; if not, you have failed the test of genuine faith" (2 Corinthians 13.5 NLT).
People Who Over-Analyze
There are some people who don't struggle with over-analyzing themselves. They make decisions and press forward without a moment's hesitation or doubt. Their focus is on the world outside of them and inward reflection is not something they spend time doing. The only time they do stop and consider their actions is when someone they value says something. This article is not for those people. This article is for those of us on the opposite side of the spectrum where self-analysis creates fear and doubt, crippling us from moving forward in our destiny.
Over-Analyzing Overdose
The Bible is very clear that we should examine our actions. It is healthy to take time throughout the day to examine our heart and intentions and see whether love is the springboard of everything we do. However, there a few of us who overdose on self-analysis to the point that we will ALWAYS fall short, we will NEVER be good enough and we CONTINUALLY make mistakes. Thus, the predicament of human nature!
When we find ourselves focusing more on our flaws than the forgiveness and grace of Jesus Christ, we have fallen into sin. The sin of over-analyzing is so prevalent because we have a mistaken belief that it is good. But it is not. In fact, over-analysis is a slow drip of poison coming from the lying syringe of Satan himself. Therefore, I want to expose that evil poison for what it is: Satan's attempt to make us so consumed by our imperfections and failings that we will never live out the best life that God has for us.
The problem is that many of us have created so many pathways in our mind that lead to over-analysis that we have difficulty creating pathways of grace, mercy and freedom. But let me help you as I helped myself! Here are my 5 Reasons found in God's Word to stop over-analyzing yourself!

Reason 1 to Over-analyzing: Jesus Love You
I know–sounds basic. But when you are completely surrounded by the love of God there is no room for anything else. Anytime you begin to fall into a deep pit of over-analyzing yourself, lean into God's presence and His Word. Let His light disperse the darkness.
"I have loved you even as the Father has loved me. Remain in my love" (John 15.9 NLT). 
Reason 2 to Over-analyzing: Jesus Forgives You
Forgiven means completely made right. Your past, present and future mistakes have all been covered by the blood of Jesus if you accept Him as your Lord and Savior. His mercies are continually washing over our lives (Lamentations 3.22-23). This truth should completely overshadow our mistakes. Jesus' blood is way more powerful than our regrets.
"Bear with each other and forgive one another if any of you has a grievance against someone. Forgive as the Lord forgave you" (Colossians 3.13 NIV).
Reason 3 to Over-analyzing: Jesus Redeems You
Jesus not only redeems our spirit, but He redeems our every second of every day! On Sabbath (the 7th Day of Creation) God rested knowing that Jesus' Finished Work on the Cross would redeem the entire earth back to God (Genesis 2.2-3). We can run our race to win (1 Corinthians 9.24), knowing that Jesus redeems and perfects all of our steps done in obedience to Him (Colossians 1.20). You don't have to be perfect–just believe that Jesus redeems everything!
"In him we have redemption through his blood, the forgiveness of sins, in accordance with the riches of God's grace" (Ephesians 1.7 NIV).
Reason 4 to Over-analyzing: Jesus Gives You His Perfection
We have been made right in God's eyes (Romans 5.1). Proof of that truth is the Indwelling of the Holy Spirit. God uses this life to work that supernatural perfection into our natural lives. We can't let our little slip-ups throw us off the course that God has laid out for us. If God sees you as perfected, you must walk confidently in that truth.  No more dwelling on mistakes that have already been forgiven!
"For by one sacrifice he has made perfect forever those who are being made holy" (Hebrews 10.14 NIV)
Reason 5 to Over-analyzing: Jesus Pleads for You
Pleading on our behalf shows that Jesus not only loves us, He is rooting for us! Jesus lived in this world and wore flesh just like we do. He understands our temptations and knows first-hand what we are going through (Hebrews 4.15) We don't have to over-analyze; rather, we can recognize where we went wrong and give the situation back to God's care. Plus, we can trust that Jesus is ALWAYS on our side, encouraging us, praying for us and cheering us on!
"Who then will condemn us? No one—for Christ Jesus died for us and was raised to life for us, and he is sitting in the place of honor at God's right hand, pleading for us" (Romans 8.34 NLT).
If you want to experience more of all that Jesus offers in your life, read my books, Our 6 His 7: Transformed by Sabbath Rest and Why Jesus: A 50 Day Holy Spirit Experience.