Creating Peace in the Home
"I love coming into your home! It's so peaceful."
I hear these words all the time. Family and friends know that I desire peace in my home, especially since the world can be hectic, chaotic and rushed. My home is a safe haven of sorts, a heaven on earth while we live here. Creating an atmosphere for Jesus to extend His peace takes strategy and imagination. I see every day, every moment, as a scene in a chapter of our lives. And any good writer knows that you can, with the words and actions you choose, create a scene to be powerful and purposeful. I simply create space for Jesus' peace to flood my home.
Peace has power and purpose. It frees us up to hear from God and receive and show love to Him. It allows the people within our homes to experience God's kindness and clarity. When we come into an atmosphere of peace, we can let go of the inner struggle, heartache and confusion we have been holding onto. When those negative emotions are released into an atmosphere of peace, they evaporate in the warmth of God's love and compassion for us. As people come into our homes, we can literally offer peace to their spirits. This offering is priceless.
"Peace I leave with you; my peace I give you. I do not give to you as the world gives. Do not let your hearts be troubled and do not be afraid" (John 14.27 NIV).
4 Natural Ways to Create Peace
Because humans are both spirit and flesh, there are natural and supernatural ways to promote peace in the home. The natural ways put our body at ease. The supernatural ways put our spirit at ease. Both are important, especially if we are offering peace to the young and hurting. Learning to have peace in the midst of the storm takes experience and maturity, so for now we will create a peace that is both tangible and experiential.
"And let the peace that comes from Christ rule in your hearts. For as members of one body you are called to live in peace. And always be thankful" (Colossians 3.15 NLT).
Natural Way 1: An Organized Home
I know this may sound simple and kind of old fashion, but the clutter of our home will negatively affect those within it. This doesn't mean that our home should be show-worthy at any moment, but picking up and putting things where they belong will promote peace. Everything has its place. Forming a habit of putting things back up will save time and energy. Teaching our kids to pick up after themselves shows good stewardship of what they've been blessed with. And when people come into our homes, they will feel like they've entered a place of stability and peacefulness.
"But be sure that everything is done properly and in order" (1 Corinthians 14.40 NLT).
Natural Way 2: A Nice Smelling Home
According to research, our sense of smell is closely linked to memories, and it is a highly emotional sense (ref). As we create peaceful scenes in our home, the smell of our home will enrich the moment, creating lasting memories in the minds and hearts of others. Using candles, wick-less candles (i.e. Scentsy), plug-ins, diffusers and sprays will create beautiful, emotionally rooted, moments of peace that will last a lifetime. We can even get creative, using certain scents for certain moments of time to really package the atmosphere with spiritual and temporal peace.
"I jumped up to open the door for my love, and my hands dripped with perfume. My fingers dripped with lovely myrrh as I pulled back the bolt" (Song of Solomon 5.5 NLT). 
Natural Way 3: A Sustenance Home
I know that a lot of people do not cook, but that shouldn't stop us from offering a beverage and/or snack to our guests. When I have people over, I do a hybrid of some home cooked items with some packaged items. The easiest offering is fruit with cheese and crackers. Super easy and people enjoy the variety. There once was a time when breaking bread together was the catalyst for friendships and special moments. Keeping food ready for visitors is a sure way to bless them. Thirst and hunger satisfied allows peace to come to the forefront.
"And the King will say, 'I tell you the truth, when you did it to one of the least of these my brothers and sisters, you were doing it to me!'" (Matthew 25.40 NLT).
Natural Way 4: A Musical Home
I have an Amazon Echo that I play Christian music on, but any form of producing music will do. According to research, music is a phenomenon that is deeply rooted into our minds. Calming and inspiring music can alleviate stress, anxiety and pain (ref). I will play worship music, soaking music and/or instrumental music depending on the mood I want to create. I try to keep music always filling the atmosphere of my home. Christian music that speaks words of biblical truth are awesome at filling my home with the aroma of God's goodness.
"And whenever the tormenting spirit from God troubled Saul, David would play the harp. Then Saul would feel better, and the tormenting spirit would go away" (1 Samuel 16.23 NLT).

4 Supernatural Ways to Create Peace
Producing supernatural peace is not difficult if we are equipped with all the promises of God found in the Bible. That is why reading our Bibles and studying resources about the Bible are so important. We can't know what we don't know. If we don't study God's Word and find and claim the power, authority and inheritance He gives us as His children, we won't be able to walk in the fullness of what God has for us. However, once we know that truth about all that God has given us, we can walk in not only peace, but all God's goodness.
"May you be filled with joy, always thanking the Father. He has enabled you to share in the inheritance that belongs to his people, who live in the light" (Colossians 1.11b-12 NLT). 
Supernatural Way 1: Inviting Holy Spirit
Through the Blood of Jesus Christ, we live in the New Testament time when the Holy Spirit can literally live within us and around us. On the 7th Day of Sabbath, Jesus spilled His Blood, reconciling all 6 Days back to God. But the Holy Spirit is not a bully. He will not bombard our life without an invitation. We must invite Him daily into our lives and homes, making Him Lord over all. As the Holy Spirit takes the prominent part of our day and homes, He will fill the atmosphere with His goodness, including His peace. When people visit our home, they will feel the presence of our Holy God because He has been invited.
"Then you will experience God's peace, which exceeds anything we can understand. His peace will guard your hearts and minds as you live in Christ Jesus" (Philippians 4.7 NLT). 
Supernatural Way 2: Praying for Insight
God knows us all intimately, and He has thoughts of goodness and love towards us. Although I just started practicing this, when someone comes into my home, I pray for insight. Are they having a bad day? Do they feel alone? Do they need some words of encouragement? How can I relay the Father's love to them? God wants to touch His people in real and tangible ways. People don't just want to hear the truth; they want to see truth demonstrated in our words, actions and lives. The insight God gives us might not seem profound, but letting someone know that they are known by God and He cares about the details of their lives can transform lives.
"I knew you before I formed you in your mother's womb. Before you were born I set you apart and appointed you as my prophet to the nations" (Jeremiah 1.5 NLT). 
Supernatural Way 3: Speaking Peace
Did you know that we have the power of God available within us that can declare peace over people? The Bible says that we have the power to offer God's peace to any home we enter. This power can start with our own home every day. Many Christians don't use the authority they have as Believers. We can literally be the mouthpiece of God's blessings to others. God is loving and kind, and He wants to demonstrate His love through His people. The fact that He would desire to use us in His Kingdom Agenda blows me away. We should never take our right as coheirs with Christ for granted (Romans 8.17). We can literally spill out the peace of God to anyone who crosses our paths.
"Whenever you enter someone's home, first say, 'May God's peace be on this house'" (Luke 10.5 NLT).
Supernatural Way 4: Showing Love
The Bible says that love is the highest commandment (Matthew 22.37-39 NLT). Loving God and loving others is the epitome of success. No matter what the world says, if we have shown love dipped in truth that can be expressed in both encouragement and correction, we have touched our highest calling. Love can be shown in little ways, like establishing a place of peace for people to rest. Everyday creates an opportunity to show love to others through an atmosphere of peace. We can fill our home with natural and supernatural peace, so we can be a blessing to the people God has entrusted to us.
"Three things will last forever—faith, hope, and love—and the greatest of these is love" (1 Corinthians 13.13 NLT).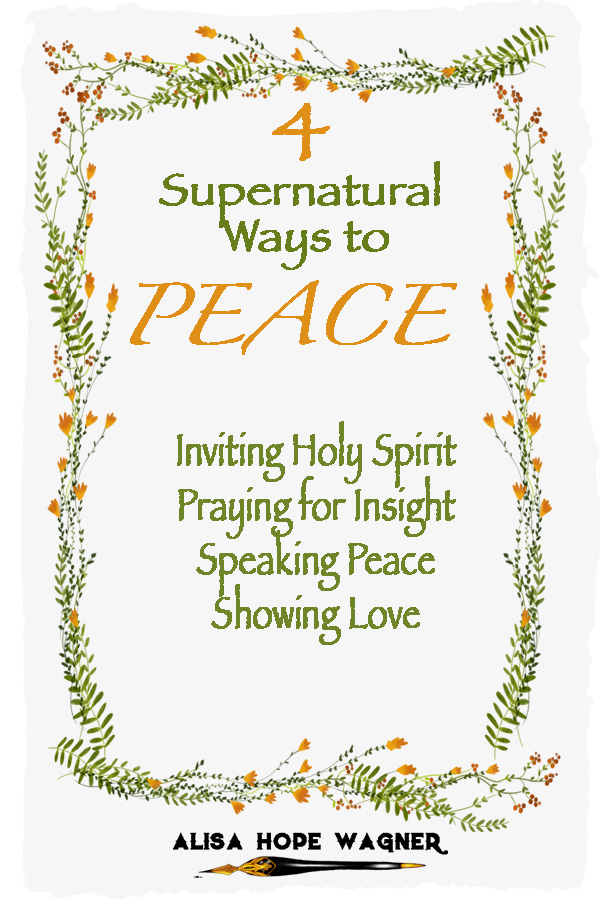 *If you would like to read more about the power and authority we have through Jesus, read my book, Our 6 His 7: Transformed by Sabbath Rest.