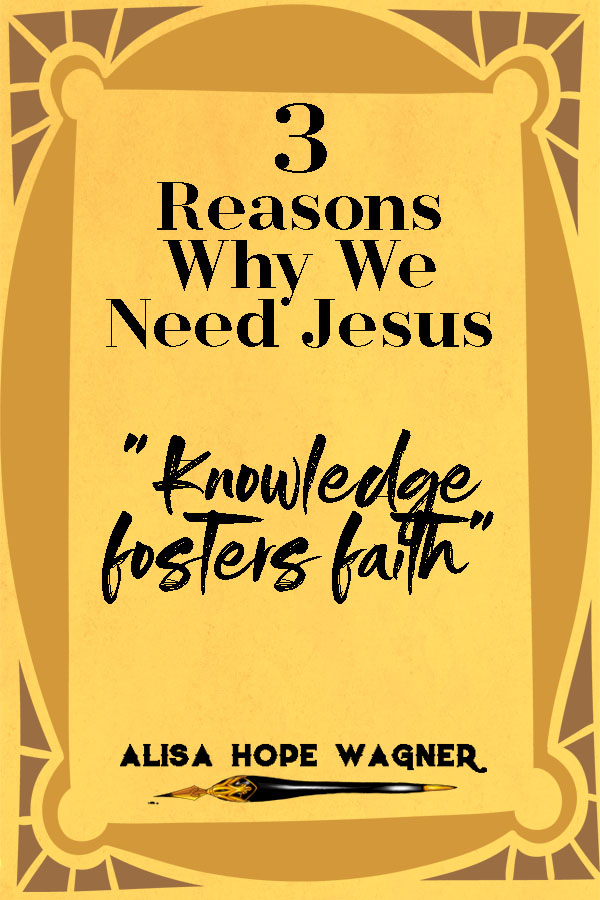 "Instead, you must worship Christ as Lord of your life. And if someone asks about your hope as a believer, always be ready to explain it" (1 Peter 3.15 NLT).
Why We Need Jesus
Knowledge fosters faith. The more we know about who Jesus is and His purposes on earth and in our lives, the fuller our faith will become. The fuller our faith becomes, the easier it becomes to walk in our destiny.
Jesus is the merging point of our natural and supernatural lives. He is the starting point of all things eternal in the presence of God. Hell is the absence of God. Heaven is the presence. We are separated from God because we can't be perfect and holy. We demanded the Commandments (Exodus 19.8), yet still we failed to be perfect. So God's justice and love collide in the sacrifice of Jesus on the Cross.
"This is real love—not that we loved God, but that he loved us and sent his Son as a sacrifice to take away our sins" (1 John 4.10 NLT).
We can be in God's presence even in our imperfect state because of the Finished Work of Jesus on the Cross. Jesus allowed Himself to be born into flesh to live a perfect human life and die for the sins of humanity. Jesus gives us His perfection and takes our sin (1 Peter 2.24), so we have been made right with God through Christ (Romans 5.1). Now we can be in the presence of God.
First, God gives us His presence in the form of the Holy Spirit while we are in this earth (Acts 2.38). Second, we enter into Heaven (the presence of God) once our bodies die (Romans 6.23). All sin has been placed on Jesus; therefore, all life is given through Him. He is the ONLY way to have eternal life with God (John 14.6). Human-centric, try-to-be-good-enough efforts will get us nowhere. The following are 3 reasons why you need Jesus.
"Salvation is found in no one else, for there is no other name under heaven given to mankind by which we must be saved" (Acts 4.12 NIV).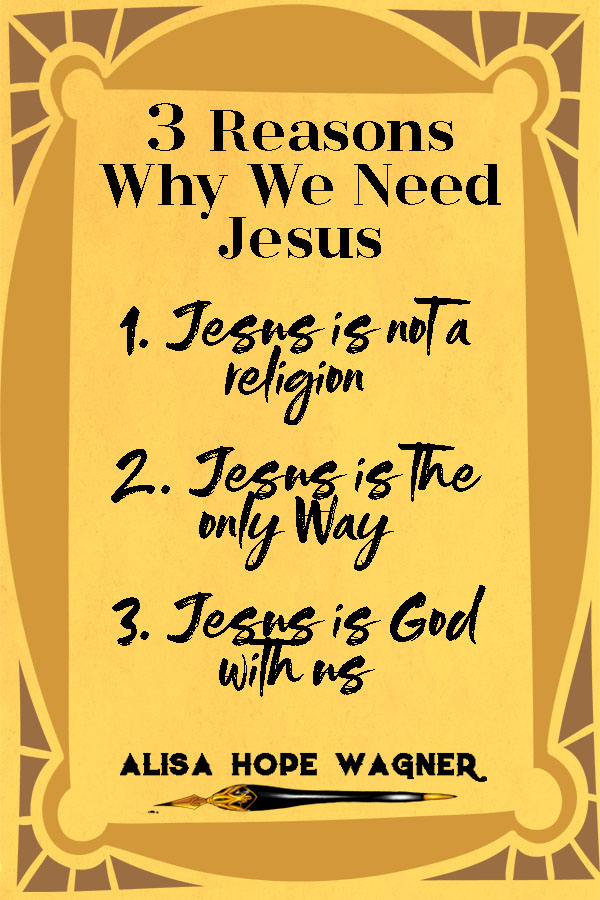 Reason 1 Why We Need Jesus: Jesus is not a Religion
Throughout time, people have tried to organize systems to gain God's love and entrance to His presence. First of all, God loves us unconditionally even when we were still sinners (Romans 5.8). He is the embodiment of love and extends love to us freely because we are His creation and made in His image (Genesis 1.27).
Second of all, we could never gain access to God in our own strength. We all fall short of God's holiness (Romans 3.23). Therefore, Christianity is not a religion; it is a faith. Jesus is the Person of God sent to the earth to save us and bring us back to God. All we have to do is believe and receive salvation by faith because of God's grace (Ephesians 2.8-9). This is the first reason why we need Jesus.
"If you openly declare that Jesus is Lord and believe in your heart that God raised him from the dead, you will be saved. For it is by believing in your heart that you are made right with God, and it is by openly declaring your faith that you are saved" (Romans 10.9-10 ESV). 
Reason 2 Why We Need Jesus: Jesus is the Only Way
If there were another way to achieve perfection and attain access to God's presence, Jesus would not have had to die (Matthew 26.39). Jesus allowed Himself to be forsaken by God, taking on the sins of the world thereby removing Himself from the very presence of a holy God. Jesus obeyed this path of separation, so we would never have to be forsaken or separated from God (Deuteronomy 31:6). Jesus cried out only one sentence while dying for us on the Cross: "My God, My God, why have You forsaken Me?" (Matthew 27.46 NKJV).
For the first time in His eternal existence, Jesus was separated from God. And, finally, we could be joined to Him even in our imperfect state. However, Jesus had the power to lay down His life, and He had the power to take it back up again. He carried our sin to death and resurrected Himself, leaving our sin behind. All of sin is dead in the tomb, and we can now have life in Christ with God because of Jesus' sacrifice (John 14.20). This is the second reason why we need Jesus. 
"No one takes it from Me, but I lay it down of Myself. I have power to lay it down, and I have power to take it again. This command I have received from My Father" (John 10.18 NKJV). 
Reason 3 Why We Need Jesus: Jesus is God with Us
Jesus is God in the flesh (1 Timothy 3.16). Many movies show the hero entering into the world of those whom he or she will save: Avatar, Superman, Dances with Wolves, Gorillas in the Mist, etc. The hero must enter the world and become like the ones needing help to save them. Jesus is Living Water rained down on the earth mixed with flesh and squeezed out on time and history in order to perfect and reconcile the world and its people back to God. Jesus' blood is literally God in the flesh — the life essence of our Creator — covering the earth to redeem it. Jesus had to become like us in order to save us.
After Jesus gave up His Spirit on the Cross, His side was pierced and both water and blood came out (John 19.34). Water represents the Spirit. Blood represents flesh. Jesus is God in the flesh, pouring out His blood to save the earth. Jesus is literally the Person of God who entered out earth, becoming like us in order to save us (Matthew 1.23). We can now have God's Spirit with us–no matter how we fall short–because of Jesus' sacrifice on the Cross. This is the third reason why we need Jesus.
"He put aside everything that belonged to Him and made Himself the same as a servant who is owned by someone. He became human by being born as a man. After He became a man, He gave up His important place and obeyed by dying on a cross" (Philippians 2.7-8 NLV). 
If you want to find out more about why we need Jesus, read Alisa Hope Wagner's book: Why Jesus: A 50 Day Holy Spirit Experience.