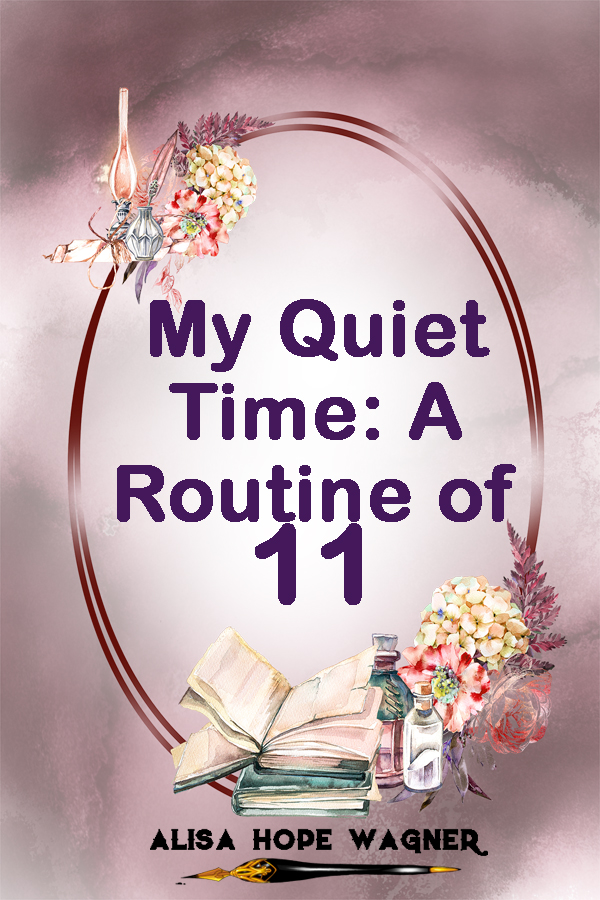 I have found that as I pray daily, I am more prepared when crisis hits. I also have greater sense of well-being after I've allowed God's goodness to pour over me. I don't have to wait until a problem occurs to enjoy time with God. My relationship with Him is deepened, and I'm filled with His goodness each new day as I rest in His presence. I have experienced times of deep discouragement, which opened me up to intense spiritual attack in my weakened state. If we don't seek God daily, the heavy cloak of discouragement, hopelessness and fear will cause us to be too weak to resist the enemy's schemes (James 4.7). It is so much better to turn to God during daily prayer and Bible reading, so we are prepared for every high and low of life. We can appreciate the good times more, and the bad times won't expose us to the enemy's lies when we have a habit to spending time with God.
Although I pray constantly during the day, I do have a special time with God that is more intentional. Here is what I do. You can use my time with the Lord as a blueprint to kickstart your prayer time. The more you learn in Christ, the more tools you will have in your prayer-time arsenal to live a victorious life.
1) Prayer Nook: I have a place in my master bedroom right under the windows that I use as my prayer nook. I used to use to pray in my closet, but I wanted a place where my kids could go when they weren't feeling well–physically and emotionally. I have a floor divider that separates my prayer nook from the rest of my bedroom. I have pillows, blankets, a candle, a speaker for "soaking" music, my Bible, a journal, anointing oils and Eucharist elements in that space. My hope is that the area becomes so saturated with God's presence that it permeates the rest of the house. I also want my anointing oils to become saturated, so I can anoint people, homes and other items that need a blessing (Mark 6.13 & 1 John 2.27). Plus, I try to do communion every day as I receive the bread of Christ (His provision) and the Blood of Christ (His forgiveness and cleansing) each day (1 Corinthians 11.26).
2) Release the Isaiah Spirits: Every promise in the Bible is ours, but we have to learn to identify and claim them. There are 7 spirits found in Isaiah 11.2 (NASB).  1)The Spirit of the LORD 2)The Spirit of wisdom 3)The Spirit of understanding 4)The Spirit of counsel 5)The Spirit of strength 6)The Spirit of knowledge 7)The Spirit of the fear of the LORD. I begin my time with the Lord releasing these spirits into my life. I want to make sure my time with the Lord is profoundly effective. I've spent years whining to God and being counterproductive during my prayer time. Now I'm very intentional to start my time on a more powerful, productive setting.
3) Loose the Fruits of the Spirit: Because I have God's Spirit in me, I have access to His amazing fruits every moment. I want to remind myself of these fruit and activate my faith to claim them. They are found in Galatians 5.22-23 (NLT). They include Love, Joy, Peace, Patience, Kindness, Goodness, Faithfulness, Gentleness and Self-Control. I want each one, but some days I'm in dire need of one specific one. For example, if I'm feeling discouraged, I may aggressively claim Joy. Or if I feel stressed out, I claim Peace. And if I feel like I've gotten too glutenous with food, entertainment, leisure, etc., I claim Self-Control. These fruit are mine by adoption into God's family through Jesus Christ, and I have every right to demand their presence and goodness in my life (John 1.12).
4) Put on the Armor: Next, I put on the Armor of God. This part of my prayer time is very important to me. I want my heart, mind and actions to be protected. I also want the ability to take ground that the enemy has sought to control. I know that my fight is not just against flesh and blood; it is supernatural, and I need to be prepared (Ephesians 6:12 NLT). First, I put on the Belt of Truth. I want every lie of the enemy evident and disposed of. I want to see myself according to my identity in Christ. Second, I put on the Breastplate of Righteousness. This armor protects my heart's feelings and emotions from the enemy's schemes. Third, my feet are protected with the Gospel Shoes of Peace. This means that wherever I go and whatever happens, I always have the Peace of Jesus Christ with me (John 14.27). I don't have to be frantic or dismayed. Fourth, I put on my Helmet of Salvation. My mind's thoughts and imaginings are protected from the enemy's lies because I renew my mind each day in Christ. I let go of things that happened in the past (which Jesus has already redeemed) and move forward with a clean slate. Fifth, I hold up my Shield of Faith. The fiery darts of the enemy don't make it to my body armor because I have faith that God will always turn everything to good (Romans 8.28). The arrows of accusation will transform into words of blessings! Finally, I wield my Sword of the Spirit, which is the Holy Spirit's presence in my life and God's Holy Word, the Bible. When I listen to God's Words via His Spirit and the Bible, I can take an offensive stance and take ground for God's Kingdom.
5) Pray the Priestly Prayer: Then, I pray the Priestly Prayer of Blessing over my family and me. I would suggest reading Warren Marcus's book, Priestly Prayer of Blessing. You will see my top-rated review on the book's Amazon page. Marcus explains that this prayer is a blessing that offers us a personal God Who wants His goodness to flow in our lives. Below is the prayer (Numbers 6.24-26) Amplified Translation:
The Lord bless you, and keep you [protect you, sustain you, and guard you];
The Lord make His face shine upon you [with favor],
And be gracious to you [surrounding you with lovingkindness];
The Lord lift up His countenance (face) upon you [with divine approval],
And give you peace [a tranquil heart and life].'
6) Tuck My Spirit: Finally, after I have declared all of the promises and saturated my mind, heart and atmosphere with God's presence, I tuck my body and soul into my spirit. Just like God, we are made up of three parts. God is God the Father (Creator), Jesus the Son (Savior) and Holy Spirit the Helper (Counselor). We too are made up of three parts: We are Soul, Body and, through Jesus Christ, we are also Spirit. Our spirits are dead and separated from God because of sin; but via Jesus' Sacrifice on the Cross, we have been given His righteousness in exchange for our sin and now our spirits comes alive and are united with God. It is our spirits that are sinless and resting in God's presence always. It is in the spirit where we have power, strength, comfort, peace, joy, love, etc. So I want to submit my body and my soul, which is made up of my mind (thoughts and imaginings), my heart (feelings and emotions) and my will (my determination, personality, choices, etc.), to my spirit. I want to be spirit driven, not flesh or soul driven. My body and soul are important, but they only function well when they are both submitted to my spirit. Once I've tucked my body and soul into my spirit, I now confess that my spirit is tucked into Christ (Philippians 3.9)and Christ is at the right hand side of God (Colossians 3.1). Therefore, all three parts of me (body, soul and spirit) are at the right hand side of God in the Courts of Heaven.
7) Declare My Innocence: Once I find myself in the courts of heaven in Christ, I now declare my innocence before all of heaven and earth. The enemy is always accusing us (Revelation 21.10). He wants to steal our destiny, kill our influence and destroy our lives (John 10.10). We must never side with the enemy's accusations towards us. Even in little things, we have to guard our hearts above all else (Proverbs 4.23). I use my words to declare my innocence and righteousness in Christ (Romans 3.22) and I rebuke every accusation, lie and disease of the enemy. I wield my shield of faith to block every fiery dart that the devil throws at me. I ask for the Living Water of God to flush my mind of any false imaginings or thoughts (John 7.38) and to wash away all negative emotions and feelings. I declare that the snakes of the enemy are transformed instantly into blessings through the resurrection power of Jesus Christ (Philippians 3.10-11). I stop all useless dialogue with the enemy. The devil wants to keep us so distracted defending ourselves that we stop walking in our destiny. Therefore, I say I am innocent through Christ and the case is closed forever!
8) Prayer, Petition and Thanksgiving: Now that I'm reminded of my innocence, I pray, petition and thank God (Philippians 4.6). I thank Him for every blessings I have in my life. I remind myself of all that God has done for me and declare that He is always working for my good (Jeremiah 29.11). God can resurrect every evil situation into a blessings (Isaiah 61.3). If I am facing something difficult, I profess my belief that God will transform it into something wonderful. After thanking and praising God, I give Him my prayer requests. I pray specific prayers for my family and friends. I don't whine about the problems; rather, I declare the solutions by faith.  I also pray back every promise that God has given me, believing that those promises are already accomplished in Jesus' name.
9) Bible Reading: Now I open my Bible and fill my mind, heart and life with the living presence of God's active Word (Hebrews 4.12). The Bible is my Sword, helping me to apply God's truths to my life. The truth of God sets me free from the deceit of the devil and this world, so I want know as much of this truth as possible (John 8.32). I read God's Word and allow the Holy Spirit to apply its truth to my life. No matter what, I know that reading God's Word is pouring His power, goodness and truth into my being, establishing my steps and preparing my way. I also read and/or listen to other anointed Christian resources. It never fails that God will send me a book, podcast or sermon that speaks to me exactly what I need. If you are looking for a daily devotional, my book, Slay the Day, has 365 short, powerful devotionals that will bless you!
10) Listen to the Holy Spirit: Finally, I listen for the Holy Spirit's words. Our Sword is both the written Word and the audible voice of God. God speaks to me daily through moments, through others and through my being still and listening. Many times, God will give me names of people or circumstances in our world to pray for. God will also tell me how He sees me by reminding me of His promises from the Bible. I am His precious daughter (2 Corinthians 6.18). I have an amazing destiny (Romans 8.28-29). I am so loved by God (John 3.16). I am royal priest (1 Peter 2.9). I sit in the Heavenly Father's presence and soak in all His beautiful words for me. Sometimes, He speaks a lot. Other times, He sits quietly with me. Either way, I communicate with God in voiceless words of power, love, grace, peace and victory.
11) Speak in Tongues: I also try to speak in tongues while I'm in my prayer time, especially when I'm at a loss for words. The Holy Spirit knows what I need or what to pray when I do not. It may feel weird at first praying in a language you do not know, but we must have faith that our voices are being used to utter the deep things of God.  "In the same way the Spirit [comes to us and] helps us in our weakness. We do not know what prayer to offer or how to offer it as we should, but the Spirit Himself [knows our need and at the right time] intercedes on our behalf with sighs and groanings too deep for words" (Romans 8.26 AMP).
Sometimes my prayer time lasts only 15 minutes. Other times, my prayer time lasts hours. Either way, I go through this devotional routine with God and it strengthens and empowers me to live victoriously every day. And when I get hit with something painful or difficult, I won't be wearing a heavy garment of discouragement because I will have allowed God to renew me each day. Having this time with God is like spending time with your best friend Who is able to supernaturally provide you with everything you need to live abundantly each day (John 10.9-10). If you want to live an abundant life that is filled with meaning and purpose, spend time with God every day. Your life with be transformed.