Numbers in the Bible are Important.
First, God is the Master Writer, and nothing in the Bible is meaningless. Every detail has value, including numbers. He wants to teach and guide us through all His creation. He will use the numbers we see in our everyday life to show us that He is with us. He has great plans for us, so we must stay attentive to His movements.
Triple Numbers in the Bible
Second, has God been showing you triple numbers? God has been showing me a lot of triple numbers lately. I see them on the clock when it is 2:22 pm. I see them on my timer when there is 5 minutes and 55 seconds left. And I see them in Scripture when I happened to turn to chapter 1 verse 11. When anything is repeated three times in the Bible, there is an absolution and emphasis on whatever is being repeated. For example, when the living creatures say, "Holy, Holy, Holy," in Revelation 4.8, they are emphasizing Jesus' absolute and complete holiness by saying it three times. Therefore, triple numbers have meaning.
Are You Seeing Triple Numbers?
Second, are you seeing triple numbers of 1, 2, 3, 4 and 5? Here are the verses that God has given me to help you understand their emphasis. Here is the meaning for each number: 1) Creator God 2) Witness 3) Trinity 4) the World 5) God's Grace
Our

Creator God

wants to bear…

…Witness

in you and your life…
…with the Fullness of His

Trinity…

…to the Peoples of the

World…

…so His glory by

Grace

Shines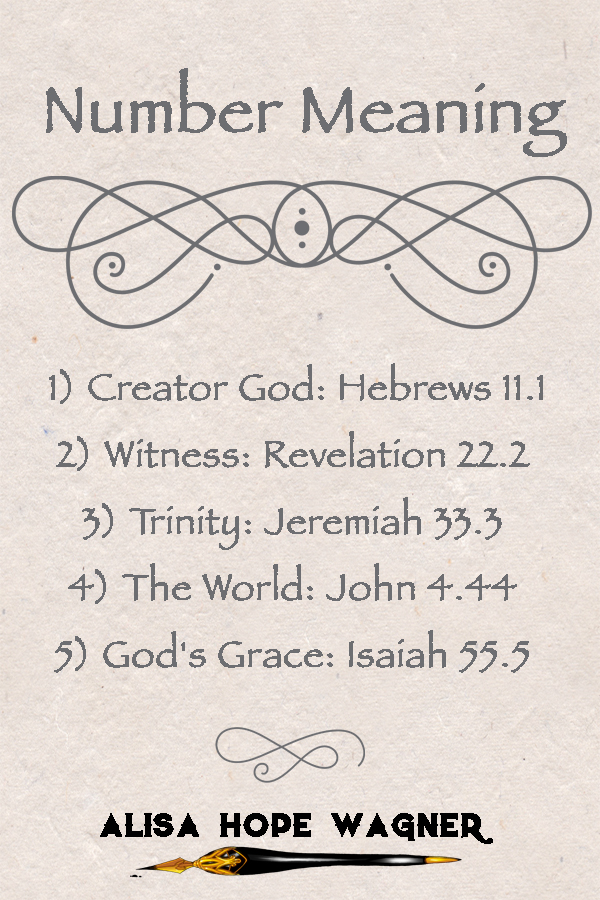 Bible Meaning for Triple 1: The Number of our
Creator God

and His Unity

1) Triple Number 1 Verse: "Now faith is confidence in what we hope for and assurance about what we do not see" (Hebrews 11.1 NIV). 111

In order to let go of old doors, we must believe that God has bigger and better ones opened and ready for us. He is a Creator! We can find unity with God–total peace and joy– as we follow Him on our path of purpose, but our faith must be activated! We must continue to have confidence in our belief despite the circumstances around us.
Bible Meaning for Triple 2: The Number for
Witness

or Testimony

The Triple Number 2 Verse: "It flowed down the center of the main street. On each side of the river grew a tree of life, bearing twelve crops of fruit, with a fresh crop each month. The leaves were used for medicine to heal the nations" (Revelation 22.2 NLT). 222


God wants to flow His Spirit (Living Water) like a river through your life. He wants you, your family and your work to bear all kinds of fruit that provide support, sustenance, resources and healing to others. He wants to bless you, so you can be a blessing! Trust that that ultimate fulfillment of your promises is more of Jesus in the world.
Bible Meaning for Triple 3: The Number for
Trinity

(Creator, Savior, Counselor)

The Triple Number 3 Verse: "Ask me and I will tell you remarkable secrets you do not know about things to come" (Jeremiah 33.3 NLT). 333

God created the Trinity, so He could relate to each of us in three unique and relevant ways. He wants to be our Father — God. He wants to be our Savior — Jesus. He wants to be our Counselor — Holy Spirit. Jesus died on the Cross, so we could have a relationship with Him. He is ready to reveal His plans and weave us into His Kingdom agenda!
Bible Meaning for Triple 4: The Number for the
World

(Four Corners of the Earth)

The Triple Number 4 Verse: "He himself had said that a prophet is not honored in his own hometown" (John 4.44 NLT). 444

What God is doing in your life is beyond what the people around you can comprehend. God's ways are not our ways, and He is doing something beyond our comprehension (Isaiah 55.8-9). We can't expect our friends and family to fully understand what He's doing in and through us. However, we can't allow their lack of understanding to detour us. We must trust that God is moving in our lives despite the unbelief of our community.
Bible Meaning for Triple 5: The Number for
Grace

to Accomplish His Kingdom Plan

The Triple Number 5 Verse: "You also will command nations you do not know, and peoples unknown to you will come running to obey, because I, the Lord your God, the Holy One of Israel, have made you glorious" (Isaiah 55.5 NLT). 555

God is raising you up as a portal of His glory. Remain completely reliant on Him. Don't go your own way. Stay in step with His move, and He will raise you up at the right time (1 Peter 5.6). He wants to give you authority in the land of His Promises by His awesome grace. Receive His favor today, so you can walk confidently in the plans He has established for your life.
Want to know the Bible Meaning of the Numbers 6 and 7?
Read Alisa's book about Biblical Numbers, Our 6 His 7: Transformed by Sabbath Rest.