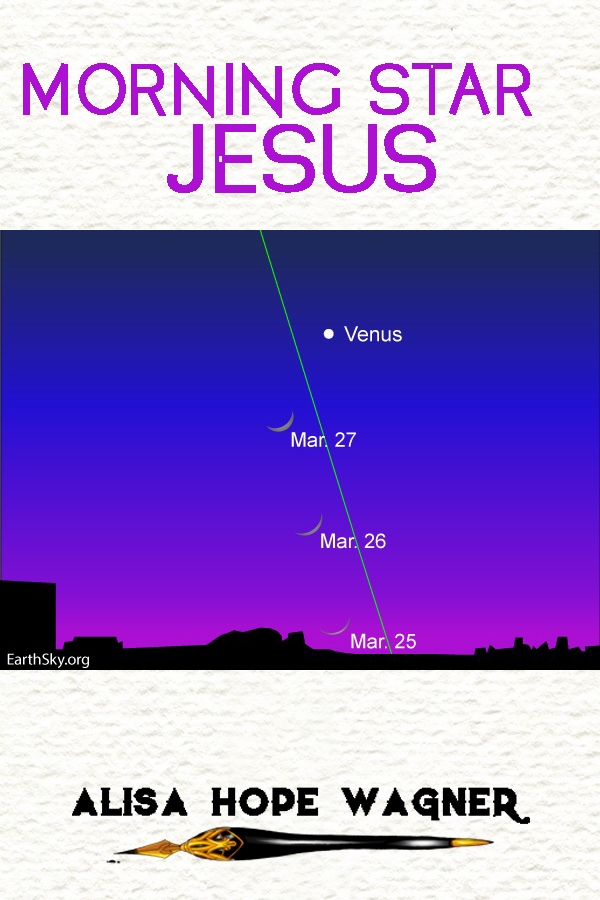 "I, Jesus, have sent my angel to give you this testimony for the churches. I am the Root and the Offspring of David, and the bright Morning Star." – Revelation 22.16 (NIV)
So I'm still asking God about all of this, but early this week, I pleaded with Him just to give me a sign that He is with us. I normally don't ask for signs because they tend to show a lack of faith, but I guess I felt I had a little weight to my argument because we are in a worldwide pandemic. I opened my Bible to the Gospel and read how the Magi were following the Star of Bethlehem to Jesus.
"A star?" I thought. "You're going to send us a star that you're with us?"
That evening I looked up into the sky and saw the brightest star that, to my recollection, I have ever seen. At first, I didn't think it was a star, but a satellite or something man-made. I asked my husband, and he indeed verified that it wasn't a star. It was the planet, Venus. Venus is the second brightest thing in the sky at night during this time next to the moon, and it is also called the "Morning Star," which is another name for Jesus.
The night I looked up was March 24th, which is the day Venus reached its greatest eastern elongation (the farthest from the sun). The star will become brighter each day until it reaches its brightest moment on April 27th. Then, it will slowly fade into summer when it is overshadowed by the sun.
Each evening now, I look in the sky for the Morning Star, and I'm reminded that Jesus is indeed with us. He has placed His sign in the sky for this time and I will live each day with faith of His presence. And on April 27th as I gaze at the star's brightest moment in 2020, I will rejoice that I lived by faith, not fear, for the Morning Star is shining upon us during this time.
As a gift to the world, I am offering a digital copy of my book, Why Jesus: A 50 Day Holy Spirit Experience, free at Amazon for the next 5 days!