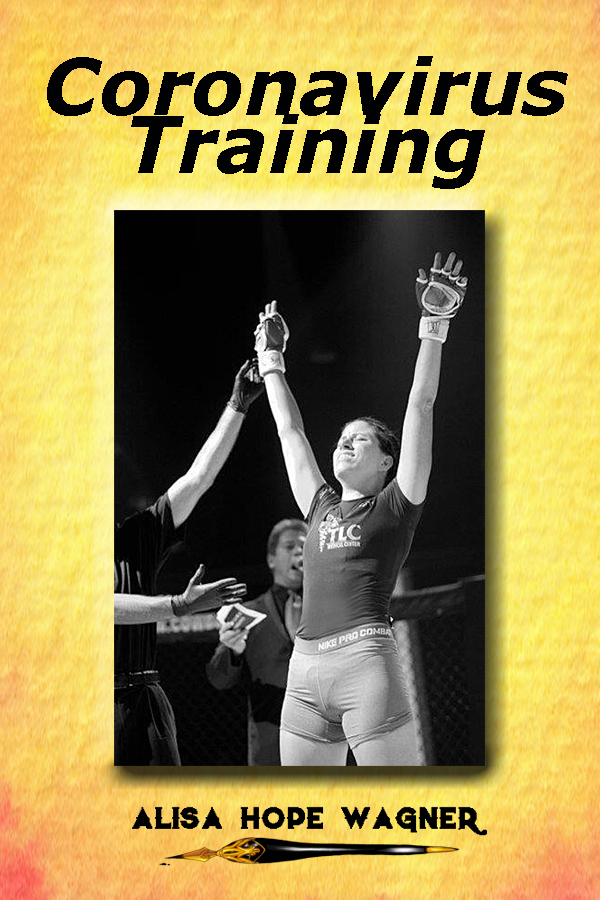 Most of you know that I fought in an MMA Cage Fight almost 10 years ago. But what many of you don't know is that I had never wanted or intended to be a fighter. I did it out of obedience to God. Let me explain.
Almost 10 years ago, I sat in church and our pastor introduced his producer friend. They were taking tryouts for a new reality show called CMT MADE. As I sat there at church, I felt the Holy Spirit say, "You are going to try out for that show." My first thought was, "No way! What would it look like for a doctor's wife standing in line to be in a reality tv show. I don't even watch reality tv!"
But the Holy Spirit wouldn't let up, so before church the next week, I told my husband to drop me off at the church. My plan was to run in there, do this ridiculous tryout and get back to the car where he was waiting with our three young kids.
I had just finished a 5 day fast, so I was really alert to God's voice but really hungry lol. When I left the interview, I felt so relieved. "There, God, I'm humbled myself and did what you asked." This particular reality tv show was about transforming people into something else. I had always wanted to do bodybuilding, so that is what I wrote down. A writer to a bodybuilder (which I eventually did and wrote a book about haha!)
I totally forgot about it all until I received a call almost 2 weeks later. They wanted a second interview. I went in with my family and my husband mentioned that I had done kickboxing in college. Suddenly, my bodybuilding literally switched to MMA fighting–something I never desired to do!
When I got home, I told God: "It kinds of feels like you tricked me."
He said, "I know, but just go with it."
I got a call a few more weeks later that I was on the show. WHAT??? Now I had to train to fight. This literally was one of the hardest things I have ever done. I would go to sleep at night with a heating pad on my neck and an ice pack on my chest. I wouldn't take Tylenol to sleep because I had to save it for training the next day. Plus, I wouldn't let my pain affect my role as a wife or mother, so I shielded much of my struggle from them–keeping a smile on my face. But at night, I cried out to God a lot. I had never been in a fight, so I was in a HUGE learning curve.
I got lots of slack from family and friends who feared for me. They asked why I would I train to be a fighter while my kids were so young. Didn't I know I could get hurt? I didn't know what to say. I was just being obedient to God. I was reading the Old Testament Prophets at the time, and God would have them to do the craziest things like walk around naked and bury their underwear. But saying, "God told me so," didn't amount to much.
So I trained, and I fought. And I won in a little over a minute with a TKO — Technical Knock Out. I was injured and more exhausted from my training than my actual fight. Literally, the training broke me, forced me to rely on God and created in me a strength of I CAN DO ALL THINGS THROUGH CHRIST WHO GIVES ME STRENGTH. The time of difficulty and struggle helped impurities in my life to sift to the surface, and I repented and handed them to God. I felt refined. I grew as a person. I learned I could pour my faith into new situations. And I learned to trust God's voice over fear. Also, I was able to share my journey in my book, Following God into the Cage, which has blessed many people.
My training was one of the most difficult yet most special times of my life, and I am honored that God would take the time to teach me and build me up. I'm glad I didn't let fear circumvent all I learned about myself, others and my faith.
So here is why I say all this. I believe this Coronavirus is training. It's new and our country is setting up protocols. It's also allowing impurities in our lives and in our country to sift to the surface, so we can identify them and offer them to God. It is the struggle that WILL help us grow, strengthen us and teach us to lean on God as we unite as one nation. It will also show us that we CAN DO ALL THINGS THROUGH CHRIST WHO GIVES US STRENGTH. We don't have to fear. If God has us going through this struggle, we can trust that He will guide us every step of the way. We just need to listen to Him because our path will be different than the paths of those around us.
Plus, I believe that the actual fight will be way easier than this time of training. Just like my fight was easy, the Coronavirus will be knocked out in no time! And we will be stronger, and our nation will be ready for any new threat that comes our way! We will know exactly what to do, we won't fear and we will rely on the Lord.
Finally, we will learn not to allow fear to dictate our actions. If I had listened to the voices of fear in my life, I would have never have trained to be an MMA Fighter. I would have given up on day one and just kept on being a mom, wife and writer. But I knew God was calling me through the struggle because it is struggle that forces us to overcome and become stronger and more sensitive to God's voice. If we are following God's will, we can trust that He will protect and guide us. We must always put His voice over the voice of fear, anxiety and worry. Our trust should always remain in Him!
You can purchase the book, Following God into the Cage, on Amazon!
Photo by Spida Garay