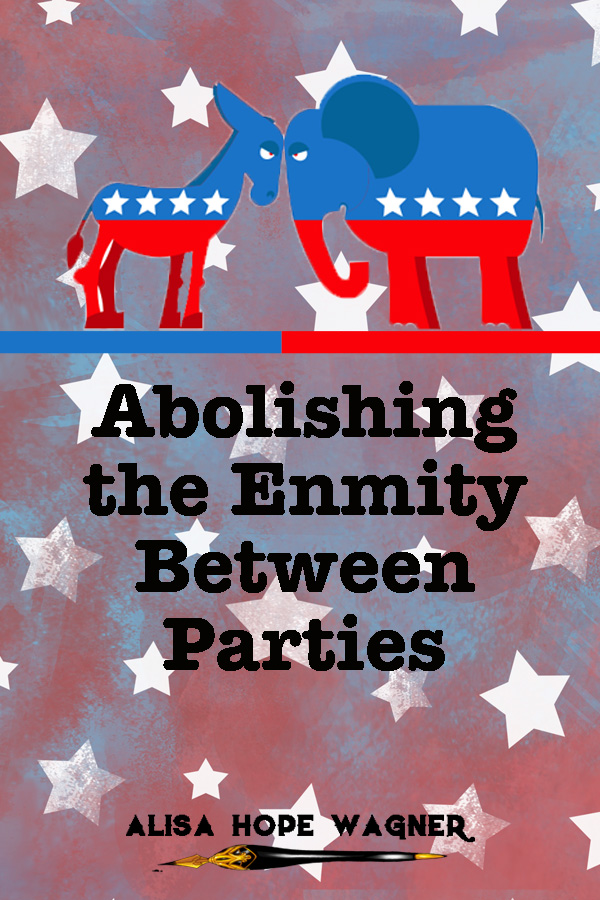 "For He Himself is our peace, who has made both one, and has broken down the middle wall of separation, having abolished in His flesh the enmity, that is, the law of commandments contained in ordinances, so as to create in Himself one new man from the two, thus making peace, and that He might reconcile them both to God in one body through the cross, thereby putting to death the enmity" (Ephesians 2.14-16 NKJV). 
God has been giving me Ephesians 2 for over six months now. I flip to it in my Bible. I listen to it on my Bible App. I see this verse all around me. However, I wasn't understanding what He was showing me. I'm extremely introspective, so I kept applying the verse to my life and what He wanted me to know about me personally. Finally, I read yesterday and realized what He was trying to tell me.
It wasn't specifically about me. I had to broaden my scope to see that God was speaking about the division in the Church right now. Our division is making us weak, and we can't be a force of good in a world that desperately needs us right now. Our nation is oppressed by enmity (the state or feeling of being actively opposed or hostile to someone or something), and the only thing that can unite us is the peace of Christ.
In the Book of Ephesians, the Apostle Paul is writing to the Church about the division they are experiencing. This division is similar to ours because there were two distinct parties trying to get along. However, their division is much greater than ours. The political parties of the United States have been trying to get along for almost 250 years. The Gentiles and the Jews have been separated for thousands of years, and they were just in the beginning stages of trying to get along as Christ-followers.
Jewish people weren't even supposed to go into a Gentile's house, let alone do life with them. Christ came and abolished the barrier between these two groups, and steps to unite were precarious. How could two divided people with extremely different backgrounds, customs and worldviews free themselves of enmity and come together?
"Then he said to them, 'You know how unlawful it is for a Jewish man to keep company with or go to one of another nation. But God has shown me that I should not call any man common or unclean'" (Acts 10.28 NKJV). 
The answer is that we can do all things through Christ (Philippians 4.13 NKJV). Christian democrats and republicans can no longer afford to be at odds. God's will on earth cannot be done through us if we are so divided (Mark 3.24). God is waiting for us to rise over our differences because of our highest calling is to love God and to love others (Mark 12.30-31 NKJV). We can set aside our differences and cling to our mutual love of Jesus, so we can be the driving force to unite a deeply splintered nation.
We must have a Zechariah 8.23 influence on the world:
"Thus says the Lord of hosts: 'In those days ten men from every language of the nations shall grasp the sleeve of a Jewish man, saying, "Let us go with you, for we have heard that God is with you.'"
People will never stop us and beg to experience our God if we are not getting along. In fact, our division is causing people to pull away from us. Who would want to be part of a family that argues all the time? This is the season when we need to seek God's face above all us, so we can have a sense of His divine move on this earth. It is also the time that we can agree to disagree on the smaller issues, trusting that if we can have mutual respect and accord, God's power will be unleashed through us, and He will accomplish even more than we can think or imagine.
"Now to Him who is able to do exceedingly abundantly above all that we ask or think, according to the power that works in us, to Him be glory in the church by Christ Jesus to all generations, forever and ever. Amen" (Ephesians 3.20-21 NKJV).